Register of Nottinghamshire events and special dates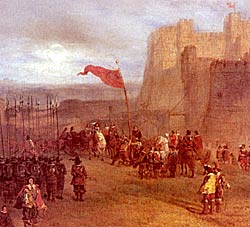 Charles I raises his personal standard outside Nottingham Castle, 22 August 1642 (© Nottingham City Museums and Galleries; Nottingham Castle).
In order to ensure well in advance that special events or dates relevant to the whole of the county are not missed, Thoroton's Council is compiling a register.
The idea is that this will be available for researchers, event organisers, local communities, etc to enable them to plan activities in advance and to ensure that research is underway in good time for publication in the appropriate year.
We need your help to ensure that dates, especially those of a particularly local nature, are not missed.
Please let any member of Council know about dates you feel should be included in the register - they could be births, deaths of notable Nottinghamshire people, battles, catastrophes, when buildings of note were erected etc.
Please send your contributions by 10 July 2005 to Mrs Barbara Cast, Little Dower House, Station Road, Bleasby, Notts., NG14 7FX. You can also email your dates to the Hon Sec at bjcast@aol.com. We look forward to hearing from you.