The Nottinghamshire Bibliography Online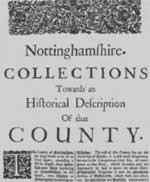 The first comprehensive bibliography of Nottinghamshire history was compiled by Michael Brook and published by the Thoroton Society in 2002. Brook's bibliography includes 8707 items relating to 'books (and discrete portions of books), pamphlets, periodical articles, and academic theses at doctoral and master's levels' published before 1998. The printed version of the Bibliography has been converted to a downloadable PDF (available on the Thoroton Society website) that is searchable at a basic level but cannot be easily updated.
In December 2011 the Thoroton Society and Nottingham University's Department of Manuscripts and Special Collections embarked on a project to update Brook's bibliography and make it available on the Internet. An online database has been developed and the whole of Brook's bibliography has been converted and uploaded to the database. A further 3,800 bibliographical records, covering 1997 to the present, have also been added. The project has also widened the scope of the original bibliography to include a wide range of 'grey literature' (material that has not been formally published) and, wherever possible, provide a link to online versions of publications.
The aim of the Nottinghamshire Bibliography Online project is to provide a single web-based means of access to all bibliographical sources for the history of the city of Nottingham and county of Nottinghamshire, including published books, journal articles, unpublished theses/dissertations and 'grey' literature such as archaeological reports and local authority conservation appraisals.