Society events during Spring 2003
8 March: 'Sundials, Noondials and Meridian Lines' by Mr Douglas Bateman
The last lecture of the winter season was well attended and perhaps encouraged members to think of summer days to come. The speaker is secretary of the British Sundial Society which, although founded only in 1989, already has an international membership of over 600. Mr. Bateman began with illustrations of a few conventional dials, explained something of the theory, and defined some basic terms such as 'analemma' - that (in his words) strange figure-of-eight like curve which formed the principle feature of the rare, accurate and very elegant dial he designed for the H.Q. building of the Defence Research and Evaluation Agency at Farnborough. The mathematics had to allow for the elliptical orbit of the sun, the longitude of Farnborough, the 'skew' in the orientation of the curtain wall, the thickness of the glass, and the problem of leap years.
Mr. Bateman then embarked on a tour of meridian lines and other dials, including one in Bologna Cathedral and two survivors in this country, one at Ramsgate Maritime Museum (a hardboard strip replacing the brass one stolen about 1976) and the other at Durham Cathedral (carved on the floor and wall of the cloisters). Calling at Burton Joyce on the way south, we saw the Millennium Dial on Church Road, before returning to Bromley House Library to view Nottingham's own meridian line treasure.
The quality of the slides enhanced members' enjoyment of a well-presented lecture on an unusual subject. The speaker had also brought along a display of models and examples of portable dials, which was much appreciated.
Members will have a chance to see another type of dial - the sundial maze at Bramcote Hills Park - on the evening of Thursday 10th July, when a joint excursion organized with Bramcote Local History Society will be led by Barbara Brooke and John Beckett (see further details enclosed).
Neville Hoskins
10 May: Excursion to South Nottinghamshire Churches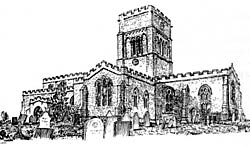 Langar Church in 1905.
The excursion got off to a slow start because of heavy traffic in Nottingham, and the fact that Forest were involved in the 'play offs'. Once clear we made good time to Plumtree and the first of Chris Brooke's erudite and succinct 'sermons'. Saxon foundations, Norman blank arcading and the Bodley & Garner restoration - it made a fitting start to the day. Cotgrave was our next port of call, with its impressive and sensitive restoration after the recent fire, showing that modern architects are quite the equal of their forbears. Its modern glass was particularly attractive. Lunch at Langar followed. Some members of the party checked out the Unicorn's Head – it is, after all, listed in Pevsner. However, the Chips 'n' Cheese soon diverted attention from the architectural merit of the building.
Langar Church, the 'Cathedral of the Vale of Belvoir', with its impressive central tower and its monuments to the Scropes & Chaworths, was visited after lunch, and then it was on to the ruins of the old church at Colston Bassett, which were viewed from the road during a brief stop en route to Kinoulton. Very different from the medieval churches seen so far, Kinoulton Church was built of brick in the Georgian Style in 1792-93. Finally we visited Willoughby-on-the-Wolds – a Simon Jenkins ** church, notable particularly for its alabaster tombs of the Willoughby family. A splendid tea in the church rounded up the day.
Keith Goodman