Events and excursions, Spring 2017
Spring Meeting and AGM, 2017
Report by Barbara Cast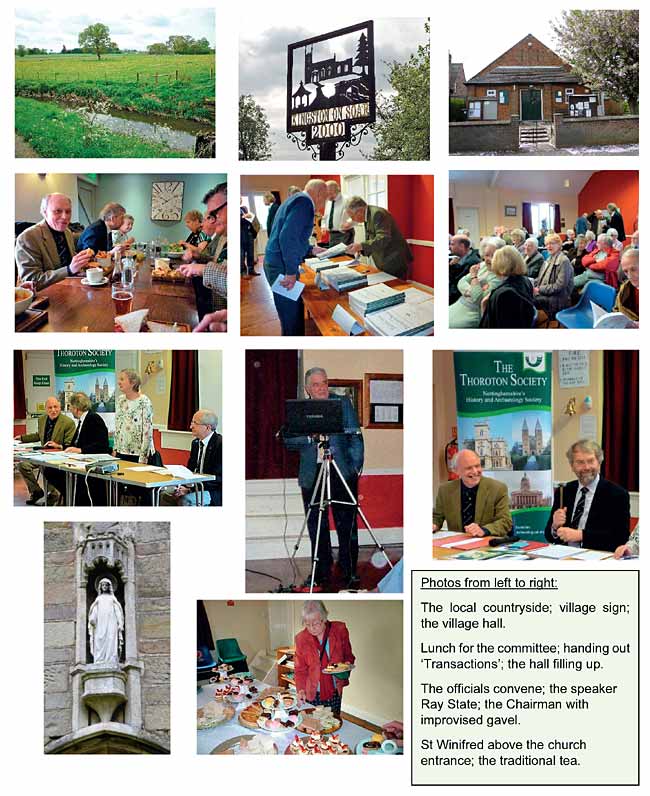 Another beautiful, if a little chilly, Spring Meeting in the lovely village of Kingston on Soar! A goodly number were in attendance, having bravely ventured dangerously close to the south of the county! Again this year the former President, and current Vice-President, Rosalys Coope, was not in attendance but sent her greetings to members. However we were pleased to have Vice-President Keith Goodman with us this year.
The President, Adrian Henstock, welcomed members to our 120th AGM held in the neat and attractive Kingston Village Hall. As has become a tradition with Adrian, he then gave a most interesting introduction to our venue, focusing on some of the people who had owned land in the parish - by coincidence the two main landowning families, early arrivals the Babingtons and then in Victorian times the Strutts, both originated in the same Cromford area of Derbyshire. One of the later Strutts had an interesting life - Frederick, was an enthusiastic amateur archaeologist and naturalist and a member of the Thoroton Society, regularly attending its meetings. His main contribution was the gift of his immense collection of books and prints to the newly formed Notts. and Derbys. County Councils, with this gift being the catalyst for the establishment of archives and local studies services in both counties. Without Frederick, Adrian's career may well have taken a different turn! Adrian also told members of a more modern resident: Dethick Manor House in Kingston, which incorporates the original Babington house, became the childhood, and current, home of Simon Groom. The farm, plus his dog Goldie, featured in numerous Blue Peter programmes of which, as many remembered, he was a presenter in the 70s and 80s.
Professor Beckett then presented the annual report and remarked that it showed what a busy Society we were with many activities in which members could be involved. He noted that it would be Ken Brand's last contribution on Nottingham's planning to the annual report as he was stepping down from Council this year. John Wilson, Honorary Treasurer, presented the accounts which were as usual in good order. There had been a number of welcome additions to funds and he was pleased to report that bookstall sales continued to provide income, with thanks due to Philip Jones, Margaret Trueman and Penny Messenger for their management of this. The Newstead Abbey volume edited by Rosalys Coope and Pete was still selling. Thanks were also given to Alan Langton for ensuring the success of excursions with, this year, a small profit being made. Expenditure this year included the purchase of a new microphone system, a grant to the East Midlands History and Heritage publication and a sum which doubled the Geoffrey Bond Research Award. A new distribution system had been adopted this year which, although the annual costs were not yet clear, was likely to be more expensive than the previous process which was very much master-minded and diligently carried out by David Bagley, who was now stepping down as Circulations Secretary.
The Chair thanked John Wilson for his careful supervision of the Society's finances and also Martin Shaw, the Society's Independent Examiner. In 2018 subscriptions were to be modestly raised across all categories of membership.
Professor Beckett commenced his remarks by paying tribute to a number of members who had died during the past year. These were Stanley Greatorex and Derek Little, whose widows were in attendance, and also Jean Nicholson who had contributed to the Society over many years, notably as Programme Secretary. He expressed the collective thanks to David Bagley, now retiring, who had become a member of Council in 1994 and the next year had taken over as Circulations Secretary - all have been most grateful for his twenty-two years of service. Council was nominating David to be a new Vice-President of the Society. A small gift was presented to David. Professor Beckett informed the meeting that Robin Minnitt, a Vice-President and resident of Yorkshire for many years, had now stepped down.
In commending Transactions, the Chair noted that three of the articles were by non-academic members, and this was a very welcome addition which he hoped others would follow. He thanked the editors, Martyn Bennett and Chris King, for their contribution to producing another excellent edition.
The Welbeck Atlas Record Series volume was now at the printers after a seventeen year marathon preparation. This had been a huge piece of work but Steph Mastoris, at last, could rest on his laurels, being now unable to make any further amendments or additions! Record Series members now look forward to receiving their copies. We are so grateful to the late Eric Coddington for contributing a large sum which went a great way towards paying for its publication.
John Beckett then had a "Lord Kitchener" moment as he entreated members to consider very seriously whether they could offer themselves as the Society's new Treasurer when John Wilson stepped down at the next AGM. If someone to oversee the Society's finances could not be found it would result in professional help being bought in, which would inevitably lead to a further increase in subscriptions. [So a further plea here from Council - John Wilson has simplified the system so that it is a much easier financial process to manage and is willing to help the new appointee as much as they find necessary - if you or someone you know could help, please let us know.]
Professor Beckett then continued with a resume of events to be held in the near future. He then asked Richard Gaunt to inform the AGM of exciting news relating to Nottingham's heritage. The city has been awarded funding by Historic England for the Heart of Nottingham Heritage Action Zone, one of ten awards made, with Nottingham receiving the largest amount. Bromley House Library would be one of the beneficiaries of this endeavour by receiving a repair grant. Heritage at Risk would be central to the project, bringing together the city's conservation areas as a focus. Public consultation, through the Nottingham Heritage Partnership, would be another important element of the process.
John Beckett concluded by thanking the officers for their contributions throughout the year, to Janice Avery for supervising arrangements in Kingston and to Ray State for giving the talk and leading the visit to the church.
Officers of the Society were re-elected, except that our new Vice-President, David Bagley, and Rob James as Distribution and Sales Secretary, were newly elected. Those people retiring from Council, but eligible for re-nomination, were duly re-elected.
After the business had concluded we were pleased to welcome Ray State, historian and author, to talk to us about the history of Kingston on Soar which was most interesting and stimulated a number of questions and comments. Ray had just published an authoritative and comprehensive book entitled "The Alabaster Carvers". [A review of this book will appear in due course].
Tea was plentifully provided by Exquisite Cuisine and which members found much to their taste. Thanks to Jonathan and his team.
After tea members had the opportunity to visit the Grade I St Winifred's Church. A modest church to the beholder standing outside but inside, what a magnificent sight! The Babington Chantry is deemed "the most remarkable chantry in the county" and is a riot of carving with a wonderful Last Judgment, angels with shields around the canopy and pillars decorated all around with more than a hundred babes-in-tuns (babies in barrels) a rebus on the name of the dedicatees, Sir Anthony and Katherine Babington who never seem to have been buried there. This monument is a must for everyone to see!
Another interesting and enjoyable spring meeting in a most attractive and welcoming village.
REPORTS ON LECTURES
The Annual Archaeology Lecture, 11th February 2017
Vernacular buildings of Southwell, test-pitting and work at Burgage Green - Chris King and Ellis Morgan
Members enjoyed a wide-ranging presentation on Southwell's archaeological and built heritage by Dr Chris King, lecturer in archaeology at the University of Nottingham and archaeology editor of the Society's Transactions, and Dr Ellis Morgan, a member of the Southwell Community Archaeology Group.
Ellis presented the results of a Heritage Lottery-funded project focused upon Burgage Green. He summarised succinctly the documentary, cartographic and photographic evidence that had been collated by team members, and reviewed the results of earthwork, geophysical and lidar surveys, test- pitting and archaeological excavations. Trenching and open-area excavations had revealed a wide variety of artefactual and structural remains. These included medieval and post-medieval pottery; medieval and later cobbled surfaces; a medieval ditch demarcating two of several land plots identified during geophysical survey; pits containing medieval domestic refuse; the fragmentary remains of an iron smelting furnace that is thought to be of medieval date; and a stone-lined well that may also date from the medieval period. Excavations on the main green suggested that its curious sunken form may have been created by digging for clay, and it was suggested that some cobbled surfaces had been laid to facilitate the transport of clay, perhaps to a brickyard that was located on the site of Southwell's former House of Correction.
Chris reported on a recently completed survey of vernacular buildings dating from the medieval period to c.1750 in central Southwell, Westhorpe and Easthorpe. This Historic England- funded project had focused upon Southwell's lower status timber-framed buildings and had included detailed investigations of a wide variety of domestic and other structures. These included an early timber-framed building at Westhorpe, incorporating timbers dated by dendrochronology to 1332-57; a 15th century hall associated with South Muskham Prebend; the timber-framed Saracen's Head inn, with its remarkable Elizabethan wall paintings; and Rampton Prebend, embellished with early 17th century diaper pattern brick work. Particular attention was paid to changes in building raw materials, and the session concluded with a lively discussion of the development of early brick buildings in Southwell and beyond.
David Knight