Events during Spring 2022
THE THOROTON ANNUAL GENERAL MEETING, 30th APRIL 2022
The AGM and Spring Meeting of the Thoroton Society was held at Epperstone Village Hall on Sunday 1st May. With just over 40 members in attendance it was really good to have a face to face meeting. Following the AGM and Pete Smith gave an update on the Newstead Abbbey painting being restored in memory of Rosalys Coope. He then gave a fascinating talk on Hardwick Hall and its Loggia. The ladies of Epperstone Women's Institute then provided us with a really delicious tea, appreciated very much by us all. There was then a very informative walking tour of Epperstone led by a resident of Epperstone. This was very appreciated by the members. A full report of the AGM will be in the Annual Report for the year ending on 31st December 2022 which will be published in February 2023.
Paul Baker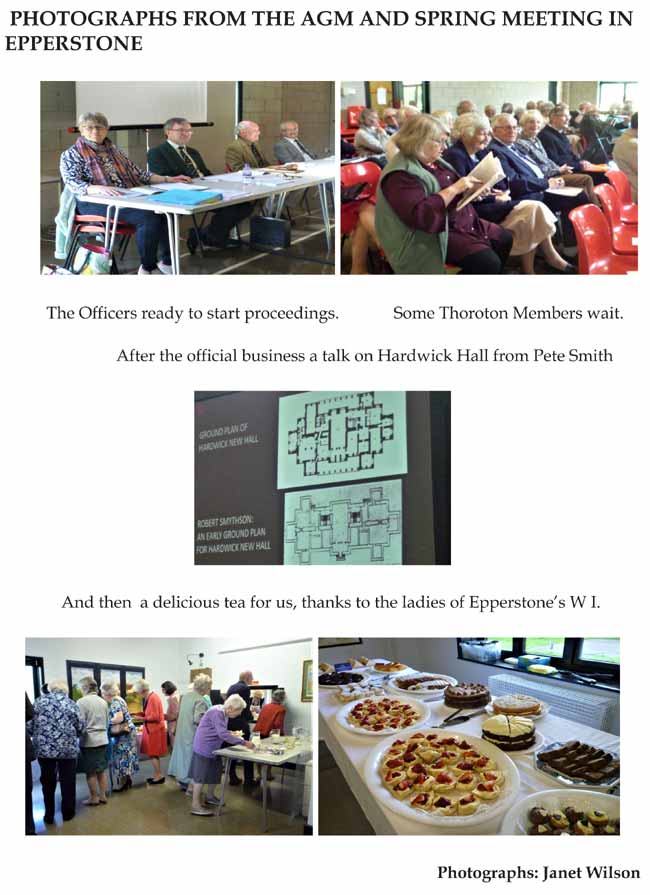 After the Tea, 32 Members joined a guided walk around Epperstone:
EPPERSTONE - A NOTTINGHAMSHIRE VILLAGE
For the Thoroton Society, Epperstone was the home village of Rosalys Coope, our greatly admired and loved late President. She lived at The Poplars, Chapel Lane, nearly all her married life: it is a lovely old house, set in beautiful gardens and with outbuildings showing its earlier life as a farmstead: it merited an appreciative entry in Pevsner. It is near to the church, in which tranquil churchyard Rosalys lies.
Epperstone is likely to have been named from Eorphere, an Anglo-Saxon man whose settlement (tun) it was. It is recorded in Domesday Book, along with Woodborough, as belonging to Roger of Bully with also some of it belonging to Ralph of Limesy. The church, Holy Cross, is basically 13th century and built of the local mudstone; it has some very good features including a fine arcade. It may have been built when Epperstone became the property of a Norman knight, and there may have been an earlier church. There is a more recent chancel of 18th century with further work taking place in 19th century. Amongst the other many attractive buildings in the village, the former library on Toad Lane, given for the use of parishioners, is notable, as are the several dovecotes; especially interesting is the one which stands alone in a field - it is probably of late 17th century build.
Barbara Cast
Footnotes from the Editor
1. In 1086 the Domesday Survey recorded that Epperstone had a chuch and a priest.
2. It is thought that the undulating field behind Church Cottages, off Church Lane inspired the Barrow Downs in Tolkein's 'Fellowship of the Ring'