Events and excursions, Winter 2017-18
The Nottinghamshire History Lecture 2017
Hannah Nicholson, 'Print and Politics in the Nottinghamshire Constituencies, c.1790-1832'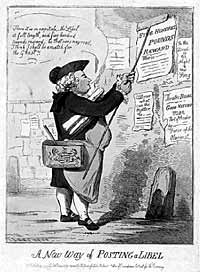 Just in case we thought that modern election contests are something invented in recent times, Hannah Nicholson demonstrated how in the three Nottinghamshire Parliamentary boroughs (Nottingham, Newark, East Retford) either side of 1800, electoral politics were already alive and very well. Hannah is part way through her Ph.D. thesis, and has been studying newspaper reports, handbills, flyers and other ephemera which circulated during election contests. Although many of the people who participated in electoral politics did not have the vote (including women) this did not stop contests being fought with considerable vigour and, of course, in this pre-secret ballot era 'inducements' including food, drink and other entertainment. Hannah explained to the audience how electoral contests worked, the material generated, canvassing, hustings, songs, addresses, poems and various forms of print. Nottingham had more voters than Newark and Retford, and for that reason alone elections were lively events with music, speeches and various other forms of entertainment. At the end of this fun, candidates were elected, bundled off to Westminster and largely forgotten until the next time a prime minister called an election. Hannah's lecture, richly illustrated with examples of handbills and election squibs, will be published in Transactions. Meantime we wish her well as she completes her doctorate in the next twelve months.
John Beckett
The Neville Hoskins Lecture 2017
Dr Clare Hartwell, 'Revising Pevsner's Nottinghamshire'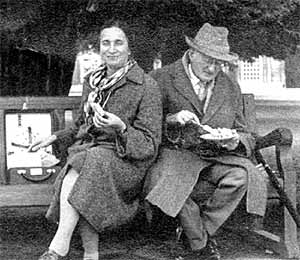 Nikolaus and Lola Pevsner
This year's Neville Hoskins Lecture was given by Clare Hartwell who is at present revising Nikolaus Pevsner's Buildings of England volume for Nottinghamshire. Originally published in 1951, it is one of the earliest volumes to have been completed and the only one surveyed entirely by Pevsner himself. This volume was expertly revised in 1979 by Elizabeth Williamson and is now undergoing a further revision to bring it into line with the new larger format published by Yale University Press which includes colour photographs. Dr Hartwell attempted to give a flavour of Pevsner's original working methods as well as her own work of double-checking existing entries and making revisions in the light of new research, plus hunting for other buildings worthy of inclusion.
Clare Hartwell concentrated her attention - whilst valiantly fighting the recalcitrant technology - on the medieval churches of the county and in particular re-examining the role played by 19th century restorers. Usually derided for their often cavalier attitude to original medieval fabric, she instead suggested that these architects may in many cases have been their saviours, for these long neglected churches were often by that date in desperate need of significant structural repair. In some cases, these restorations even revealed lost medieval fabric such as that carried out by T C Hine who restored the former Thurgarton Priory church in 1852-53. Whilst at St Mary Magdalen's church in Newark Dr Hartwell not only marvelled at the size and quality of the medieval fabric, which clearly reflects the comparative wealth of the county in the later medieval period, but also gave us an example of how a re-examination of the fabric can suggest new interpretations of a building's development.
At Southwell Minster on the other hand she was captivated, as Pevsner had been, by the quality of the original carving left untouched by the careful restoration undertaken by the architect, Ewan Christian, in the 1880s. Clare Hartwell admitted that her previous work for Pevsner in the north-west -Lancashire (2004), Cheshire (2011) and Derbyshire (2016) - had not prepared her for assessing the very different brick vernacular architecture found in Nottinghamshire. She was particularly interested in the plethora of prominent dovecotes which are such a feature of many of the county's farmsteads and villages. Various members of the Society were able to give her advice on sources and published material to assist her with this important aspect of the county's architectural heritage.
Dr Hartwell finished with an illustration of a most interesting contemporary house in Southwell which she is considering for inclusion in the forthcoming volume, and a plea for information concerning the whereabouts of other similar buildings - or any other type or style of building - which members of the audience know about and which might be worthy of consideration.
Pete Smith
Anyone who has corrections for the present Pevsner volume, new information about existing entries or buildings which they think might qualify for inclusion in the revised volume should send their information to: Clare Hartwell, 702 Stockport Road, Manchester M12 4GB or clare@clarehartwell.co.uk
The Norah Witham Lecture 2018
Valerie Wood, 'Vote 100: Centenary of the Representation of the People Act 1918'
The January Lecture is always given in memory of Miss Nora Witham, a long time member and a former Vice President of the Thoroton Society.


Florence Paton, MP for Rushcliffe, 1945-1950
Valerie Wood's lecture considered the impact of the Representation of the People Act of 1918 which enfranchised all women over the age of 30 (subject to certain conditions) and to all men over 21 years. The Act also afforded women the right to stand for election in local city and borough council elections and in the elections for national government. In the immediate period afterwards many women sought representation on local councils, but it was not until 1945 that a Parliamentary seat in Nottinghamshire was won by a woman. Florence Paton won the Rushcliffe seat in 1945 for the Labour party with a majority of over 6,000. Following electoral boundary changes in 1950, Florence stood for the new Carlton constituency and lost to Conservative Kenneth Pickthorne by only 395 votes. She did not win another Parliamentary seat.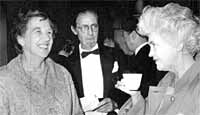 L to R: Ald. Mrs Joan Case JP, first female Lord Mayor of Nottingham; Kenneth White, Manager of the Nottingham Co-Operative Arts Theatre; Jenny Lee MP, Minister for the Arts, October 1968
Many women in Nottingham had been suffragists, rather than suffragettes, from the 1880s and had worked hard to persuade politicians to support their cause. One of these was Lady Laura Ridding, wife of Dr George Ridding, the first Bishop of Southwell. Lady Lara had organised a conference in Nottingham in 1885, which resulted in the founding of the National Union of Women Workers, now called the National Council of Women. In the early 20th century, Asquith, who was originally opposed to the movement for votes for women, began to see the need to compromise. Lloyd George was more sympathetic, and eventually women's suffrage became Labour party policy. Following the first election in which women could vote, there was concern that most women voters seemed to support male candidates. It appeared that those Nottinghamshire women who had been prominent in the fight for suffrage had failed to find a strong identity for themselves after the vote was won. After 1928, when women were fully enfranchised, there was a change in feminist causes.
This was a fascinating lecture about a most significant event in women's history. The number of questions from the audience after the lecture emphasised the importance of commemorating the centenary of the Act.
P.A. Messenger