News for Autumn 2003
Honorary Degree for Council Member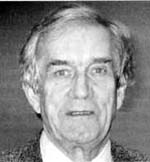 Ken Brand, a member of the Thoroton Society's Council and vice chair of the Nottingham Civic Society, was awarded the honorary degree of DLitt by the University of Nottingham on 8 July. The award was made to commemorate his thirty years of work detailing, recording, and (wherever possible) interpreting the historic environment of Nottingham, and follows the City Council's designation of Ken as Citizen of Honour in 1997. Ken, pictured right, regularly updates Thoroton Society Council on planning matters in Nottingham, and provides information and guidance when representations, and possibly objections, are needed in relation to buildings of importance. He has also, of course, written extensively on some of Nottingham's major architects, including Watson Fothergill and Thomas Chambers Hine. Public orator for the occasion was Professor John Beckett, and an invited guest was Julian Marsh, who designed the D H Lawrence Pavilion on University Park campus, and is one of Ken's 'favourite' local architects! The award was the first to a local historian since Keith Train was made an honorary MA by the University in 1972.
'Nottinghamshire Past'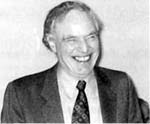 A new book on the history of Nottinghamshire is about to be published, and details are available on this website. The book is a commemorative volume (festschrift) in honour of Adrian Henstock (pictured), to mark his retirement from Nottinghamshire Archives in February this year, and to celebrate his many years of service both to the County Council and to the Thoroton Society. Edited by Thoroton Chairman Professor John Beckett, it includes essays on aspects of the county's history since the 13th-century. A pre-publication copy of the book was presented to Adrian at a surprise party held at Nottinghamshire Archives on 3 July 2003. Among those present were Mark Dorrington (see below), the new principal archivist to Nottinghamshire County Council, David Lathrope (who, as Assistant Director for Community Services, has provided financial backing for the book), and several of the authors. Adrian admitted to being caught unawares: in his own words 'I am overwhelmed and incredibly flattered that anyone should do such a thing in my honour'. The book will be formally published in September, jointly by Merton Priory Press and Nottinghamshire County Council, and a special offer is available up to 31 October: see page on this website.
MARK DORRINGTON: NOTTINGHAMSHIRE COUNTY COUNCIL'S NEW PRINCIPAL ARCHIVIST
The Thoroton Society welcomes Mark Dorrington, who has recently taken up the position of Principal Archivist at Nottinghamshire Archives Office. Mark was born in Kent but spent part of his childhood in Scotland. He has an MA in Medieval History from the University of St Andrews, and a Diploma in Archives Administration from the University College of Wales, Aberystwyth. From 1984-1987 Mark was Assistant Archivist to the West Yorkshire Archive Service, based in Wakefield. He then spent five years as Archivist at York Minster for the Dean and Chapter of York. From 1993 he worked at the Staffordshire Archive Service, being Archivist in Charge at Lichfield Record Office for four years, before taking on the position of Principal Archivist up until earlier this year. He has also taught in adult education at the Universities of Leeds and Keele.
OLD NOTTINGHAM: AN EXHIBITION OF PHOTOGRAPHS
Saturday 18 October, 11am-5pm: Church Hall, St Mary's, Wollaton Hall Drive
Over 1200 photographs, including drawings of Thomas William Hammond, from the Beilby collection, dating from 1858. Bernard Beilby will give an illustrated talk at 2.45pm. Ticket price: £1 in advance, £1.25 at the door; children 75p. Refreshments available. Tickets from St George's in the Meadows Parish Church, or from Bernard Beilby, tel. 0115 978 6891.
HISTORIC MAPS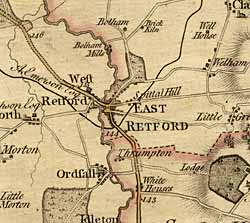 Nottingham County Council have followed up their popular reprint of Sanderson's 1835 map with two more attractive reproductions, this time in full colour, beautifully printed and available from public libraries, information offices etc, at remarkably reasonable prices.
John Chapman's map of Nottinghamshire, published in 1776 and printed at a scale of one statute mile to one inch, is produced as ten A3 sheets in a convenient folder. It benefits immensely from a characteristically informative description by Adrian Henstock, who was heavily involved with the planning and production of this and also the other map - Charles Smith's County of Nottingham published in 1804 and now reproduced at pproximately three miles to one inch on card 23 x 20 inches. The Chapman set sells a £9.99, the Smith map at £5.99. The County Council, the Printers (Technical Print Services) and all concerned are to be congratulated on this venture.
Neville Hoskins
Tenth Congress of the Council for Independent Archaeology Sheffield University, 30 & 31 August 2003
This congress is not to be missed by any enthusiastic archaeologist. This year's programme will begin with 'Public Archaeology and Local Societies', with contributions from English Heritage, the CBA, IF A, and Time Team fresh from the Big Dig. There will be presentations from the 'British Archaeological Pitt Rivers Award' finalists, who will hopefully inspire other groups to enter this very prestigious competition.
There is plenty of advice available for getting grants for specific projects. The Millennium Dome was an example where money was obtained without thinking it all through; the congress will be looking at some successful grants and how they were dealt with. A few thousand pounds can be as difficult as billions if your group is responsible for its disposition and getting value for money.
All are welcome to attend what has traditionally been a fun weekend, and if you want to join in the spirit of the event you could mount an exhibition or display of your work. Booking forms and fees payable are available from Mike Rumbold, The Secretary, The Horseshoes, Main Street, Upper Stowe, Northampton, NN7 4SH, telephone 01327 340855.