News for Autumn 2004
The Plague of 1604
Bleasby has just commemorated, with a series of events, the visitation of a plague to the parish in 1604 which wiped out something like a third to a half of the population. 104 people died that year, whereas the usual annual number of burials around that time was four to five. Research has thrown up a number of places which were affected in this epidemic which started in 1602 - Newark and Worksop had outbreaks and a couple of smaller places, Morton and Linby, had two possible cases each. But nothing of the scale of losses of any other small place like Bleasby has emerged so far. If anyone knows of other outbreaks in Nottinghamshire in 1604 I would be very interested to hear of it: in which case, would you please contact Barbara Cast at bjcast@aol.com.
OBITUARY: DR JOHN SAMUELS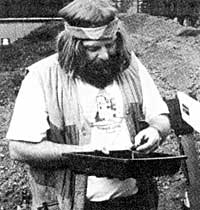 The death of John Samuels at the age of 51 has removed from British archaeology one of its most colourful and stimulating members. He was born and schooled near Gravesend, where he began his life-long study of archaeology, by visits to the prehistoric and Roman antiquities of the Downs. Early excavations included seasons with Brian Philp, and a meeting with Paul Ashbee, which led to working with him on excavations and fieldwork in the Scillies, and to a friendship which continued through his life. The department of archaeology at Cardiff, then with Richard Atkinson, Leslie Alcock and Mike Jarrett in post, strongly favoured excavation and practical work, and it was natural for John to go there for his undergraduate studies. His fieldwork included several seasons at Dragonby, Lines., and, encouraged by Jarrett and the site's director, Jeffrey May, he undertook the study of the Roman pottery, a vast pile of boxes in the basements of Normanby Hall. This corpus, and its comparanda, formed the core of his PhD thesis, published in 1983. Meanwhile John worked as a field officer for the Humberside Archaeological Committee, facilitating the construction of the M180 motorway (1975-6), and then transferred to the University of Nottingham, where he worked for four years with May, processing the results of the Dragonby excavations, helped with the survey and excavations of medieval Welsh houses with Philip Dixon, and undertook a season's excavations at the Old White Hart, Newark.
These medieval experiences helped John when, in 1980, he was appointed assistant director of the Liverpool Rescue Unit, his principal work being at the ruined mansion of Lydiate Hall, where he combined survey and excavation to present a picture of its building and decay. In 1981 he returned to the East Midlands as tutor organiser for the WEA in Nottinghamshire. As is natural for a tutor in his position, John's courses spanned a wide range, from the prehistoric period to modern times, and included local studies far removed from his original work in Roman pottery. His teaching was widely popular, and his classes full. His familiarity with medieval buildings led to classes on the buildings of Newark, and interesting studies of the peasant houses of the Nottinghamshire countryside. Publication of some of these studies led John to set up the Cromwell Press, which under his direction published widely on countryside and historical subjects related in particular to Nottinghamshire. In 1989 he resigned from his official post, and set up as a consultant archaeologist, continuing his work with Cromwell Press, and joining in the management of the local group of the CBA.
The success of his consultancy (known as JSAC) led to a great increase of business, and a widening of the scope of his work. In 1996 he established his credentials in a complex field by co-writing the widely praised Archaeology in Law, and was increasingly sought as advisor on a range of developments, including the Stonehenge project and the Channel tunnel. John was a stimulating and entertaining companion, who enjoyed debate and was on occasion controversial. He was blessed with a robust sense of what was reasonable, and had no hesitation in pointing this out. His contacts ran far beyond the archaeological world, and he particularly relished his clubs, especially the Savages. An evening with John was guaranteed to be humorous, exuberant and instructive. He is a very sad loss. Philip Dixon