News for Autumn 2007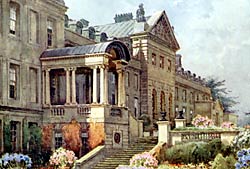 Welbeck Abbey, c.1910.
Lecture: Peers and pitmen, the transformation of The Dukeries
NOTTINGHAMSHIRE LOCAL HISTORY ASSOCIATION invites you to "Peers and Pitmen": The Transformation of the Dukeries', on Saturday 27 October, from 10am-4.15pm, at Thoresby Miners' Welfare, Fourth Avenue, Edwinstowe. Cost is £6.50 to NLHA members, £7.50 non-members. The day will consist of four lectures, lunch, and a short guided walk around Edwinstowe. Contact Derek Walker on 01623 870515 for more information or to book a place (or just turn up on the day).
CONGRATULATIONS to Dr David Crook on being awarded the OBE in the Queen's Birthday Honours, following his retirement in May 2007 from The National Archives (perhaps better known as the Public Record Office). David spent his whole career at the PRO, but he lived in and commuted from Grantham. Consequently he retained and retains his interests in the East Midlands and was for some years general editor of the Thoroton Record Series. In retirement, Dr Crook has kindly accepted an offer to be co-opted onto the Society's Council.
NOTTINGHAM AND SOUTHWELL DAC CHURCH HISTORY PROJECT CALL FOR VOLUNTEERS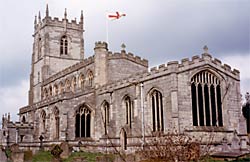 St John the Baptist, East Markham.
We need volunteers for several important churches which are currently not being researched under the above project. These are: BALDERTON ST GILES, CLUMBER PARK ST MARY, CROPWELL BISHOP ST GILES, EAST MARKHAM ST JOHN THE BAPTIST, HAWTON ALL SAINTS, KINGSTON ON SOAR ST WINIFRED, MANSFIELD ST PETER & ST PAUL, WEST BRIDGFORD ST GILES, WEST STOCKWITH ST MARY, and WORKSOP PRIORY ST MARY & ST CUTHBERT There are other, arguably equally important village churches that are not yet being researched; but those listed above are the key outstanding churches that we wish to concentrate on. Anyone wishing to know more, please contact Jonathan Pickett at Nottingham & Southwell DAC (email jonathan-dac@southwell.anglican.org), who will send you a copy of our current briefing document; this gives extensive guidance on how to research a church or church site for the project, which is due to conclude in 2010.