News for Autumn 2020
THOROTON SOCIETY'S NEW CHAIRMAN, Dr Richard Gaunt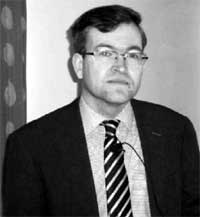 Dr Richard Gaunt, the new Chairman of the Council of the Thoroton Society, is a native of Derbyshire who still lives in Codnor. Richard undertook his first degree in the Department of History at the University of Nottingham, and after training to be a teacher he returned to the University in 1996 on a research fellowship to study the political activities of the fourth Duke of Newcastle of Clumber Park. He completed his thesis in 2000 and was recruited to the academic staff. He is now an associate professor (the modern way of describing senior lecturer/reader).
Richard's historical interests have concentrated mainly on the political world of the late eighteenth and nineteenth centuries. He gave the Nottinghamshire History Lecture in 2000 on, appropriately, the fourth Duke of Newcastle, and in 2003 he published an edited version of the duke's Nottinghamshire diaries as volume 43 in the Thoroton Society's Record Series. Since that time a steady flow of publications have appeared in a whole range of journals as well as several books. Many of the articles have appeared in Transactions of the Thoroton Society, and Richard was History editor of the journal 2008-11. His Nottinghamshire publications are listed with full bibliographical details in the Nottinghamshire Bibliography.
Richard has lectured regularly to the Society and has spoken (often more than once) at numerous local history society meetings around the county. He is active in the Nottingham Civic Society and has also been heavily involved in the recent renovations to Nottingham Castle (under the soubriquet of Curator of Rebellion). He is a member of the city's Heritage Forum. For several years Richard was Chairman of the Friends of Nottinghamshire Archives, and he has been a member of the Thoroton Society's Council since he became editor in 2008.
Richard has curated three exhibitions at the Weston Gallery, Nottingham Lakeside Arts, on Gladstone, Waterloo and (sadly cut off by the enforced temporary closure of the gallery) the Prince Regent (King George IV). His recent interests include caricature, cartoons and songs, and the Pentrich Rebellion.
Outside of Nottinghamshire Richard has been equally active. His publications include a bibliography of Sir Robert Peel, and he is currently lead academic editor for the journal Parliamentary History.
John Beckett
A full account of his academic interests and outputs, as well as a discussion of his historical thinking, can be found at: https://www.nottingham. ac. uk/humanities/departments/history/people/richard. gaunt.
MORE SOCIETY NEWS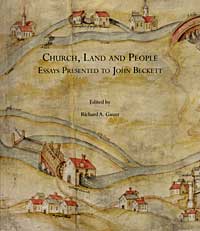 The Society is delighted to announce that the fiftieth volume in its Record Series has been published. Church, Land and People. Essays Presented to John Beckett has been published to commemorate John Beckett's outstanding contribution to regional history, and especially the history of Nottinghamshire, during an academic career of forty five years, the last thirty of them as Professor of English Regional History at the University of Nottingham. The volume also marks the end of John's twenty-eight years as Chair of Council of the Thoroton Society and has been published to coincide with his seventieth birthday. The original plan was to surprise John with the book at the end of the Cust Lecture, which he was scheduled to give at the University of Nottingham as a 'valedictory' on 24 June. Given the intervention of COVID-19, it was decided to make a private presentation of the book, close to John's birthday, to be followed by celebratory opportunities for Thoroton members at the Annual Lunch on 7 November and at the re-scheduled Cust Lecture (date to be confirmed). John is also scheduled to give a valedictory lecture to the Thoroton Society in January 2021.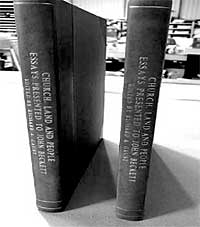 The final presentation volume with companion (Andy Graves).
The presentation copy (see pictures) was specially bound for us by Andy Graves of Sycamore Bookbinding. Subscribers to the Record Section will be receiving their copies by post (if they have not already done so) imminently. The book is available to members of the Thoroton Society who are not subscribers to the Record Section for £22 plus £3 postage and packing; non-members may purchase copies for £32 plus £3 postage and packing. It is fair to say that John was delighted with the book, which is copiously illustrated. He was particularly impressed by the fact that the secret had been kept by everyone involved with the project for a period of three years!
Richard Gaunt
TRIBUTE TO PHIL OWEN 1954-2020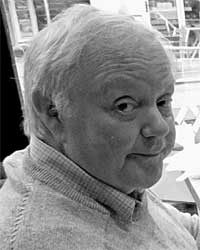 It is with great sadness that we have to report that Phil Owen died on 24th May 2020 after losing his battle with prostate cancer. He will be sadly missed by all his friends.
Phil was very much a Nottinghamshire man. Born in Mansfield, he was brought up in Kirkby in Ashfield. In November 1973, just before his nineteenth birthday, he joined the army in the Intelligence Corps where he served his full term of twenty-two years. During his time in the army he was posted to many parts of the world (including Northern Ireland, Germany, Belize and the Falklands)
which gave him a lifelong interest in travel and the history of the army. On leaving the army he obtained a degree in History at Bolton. Following that, he returned to his Nottinghamshire roots: he bought a place in Bingham and began working for the Nottingham City Council. He obtained an MA in Local and Regional History at Nottingham University. He continued working for the Council until deciding to retire early after he became ill. In 2016 he became a volunteer in the Sherwood Foresters regimental museum at Nottingham Castle.
Phil's interests were wide ranging. The army was always a very important part of his life and his knowledge about it was extensive. He regularly attended both the Saturday Local History Seminars and the Thoroton Society meetings and enjoyed the latter's day trips. He always enjoyed going away on holiday and seeing new places - often with his mother or friends - but he was also quite happy going off on his own, particularly when the trip had a military leaning.
A lover of books, especially about the army, his home was overflowing with them. He was a great walker and also enjoyed meeting friends to go to the theatre or cinema, or for coffee or meals. He was a very private man, polite, friendly and kind who spent a lot of time laughing. He was writing a book about the South Notts Hussars which his mother said he had finished but that he was saddened that he didn't index it before he became too ill to work. A lovely man dying too early.
Harriet & Stewart Buckthorp
ANNUAL LUNCH, NOVEMBER 7th 2020
This year our luncheon is to be held at the Welbeck Banqueting Suite at the Masonic Hall, West Bridgford. There is ample parking with an entrance off Balmoral Avenue. The postcode is NG2 7QW. The date is Saturday 7th November and the time is 1pm - you are asked to arrive by 12.30pm. The lunch will cost just £21 per person for a three course meal, including a traditional main course plus a vegetarian option, and tea or coffee. A variety of drinks will be available for you to purchase from the Bar.
We are using our Annual Luncheon this year to celebrate the services to the Thoroton Society of Professor John Beckett and Mrs Barbara Cast, both of whom are retiring from their respective roles as Chair of Council and Hon. Secretary this year. John Hess (formerly political editor of BBC East Midlands and a Thoroton Society member) will be our Master of Ceremonies. The lunch will also celebrate the publication of Church, Land and People. Essays Presented to John Beckett (volume 50, Record Series).
IMPORTANT NOTE - At the time of writing (23rd July), under social distancing, the Hall is allowed to accommodate only thirty people. However, we will proceed as in previous years, in the hope that by November we can have our usual crowd of around 75 members and friends. If this is not possible and numbers need to be restricted, we will operate a first-come-first-served, members-only system. Anyone who cannot be accommodated will be notified. However, should the coronavirus restrictions still be in place and it is necessary to cancel the event, all respondents will be notified either by email or telephone, and all cheques will be shredded. Should you wish your cheque to be returned to you in the event of cancellation, please enclose a stamped addressed envelope.
John Wilson
FUTURE EVENTS
Due to the continuing pandemic situation we are unable to offer any certainty as to when Thoroton activities will be resuming. The Society officers are working towards a possible restart in November but this will be subject to appropriate guidance from the Government and still liable to change at short notice. We will be keeping members updated through the website and the e-bulletin and, for those unable to access either, there is a contact telephone number for me printed on page 19 of this newsletter.
David Hoskins
THE THOROTON EXCURSIONS
Excursions have been an essential part of the annual programme for members of the Thoroton Society almost from the beginnings of its existence in 1897. Our Newsletter editor Paul Baker has asked me to make a few comments about my time as organiser of excursions, before I hand over the baton to new organisers in 2021. I have thoroughly enjoyed this role in the Society's management since 2005; it has always been most rewarding. There have been some fifty excursions since 2005, and from the start I have been most fortunate to have had the occasional helping hand from several Thoroton members, including Margaret Trueman and Penelope Messenger, Richard Gaunt, Pete Smith, Ceril Little, Philip Jones, David Knight and Adrian Henstock. We have also been very fortunate to have had the expertise and knowledge of so many people associated with the various places we have visited, as well as the host of people who have provided us with luncheons and teas at all these places. I also wish to express my appreciation for the professional and totally reliable way in which Sharpes Coaches have provided us with miles of delightful routes and helpful and very safe drivers, especially on some occasional hair-raising manoeuvres on tight corners and narrow roads. I do also have to compliment all Thoroton excursion participants for the excellent time-keeping on every excursion, and the meticulous obedience to return on time when 'let off under their own steam'. It is very sad that because of the virus, 2020 has proved such a disaster for excursions, even though most of the organising had already been arranged. We do hope to be able to include some of these missed ones in the 2021 programme, or later.
For the record, the list of visits since 2005 includes the following :
| | |
| --- | --- |
| 2005 | Besthorpe and Ossington |
| 2006 | Stapleford, Melton Mowbray, Broughton Solney, and Granby |
| 2007 | Repton, Trowell and Wollaton |
| 2008 | Grantham, Bottesford, Colston Bassett |
| 2009 | Boston, Brant Broughton, North Muskham |
| 2010 | Grimsthorpe, Harlaxton, Worksop, Blyth, Carlton in Lindrick, Winkburn, Horological Institute |
| 2011 | Ashbourne, Beauvale Priory, Ilkeston, Greasley, Scampston Hall, Birdsall House, Stamford |
| 2012 | Lichfield, Archaeological sites, Stamford, Attenborough, Melbourne, Stoke Dry, Deane Park |
| 2013 | Stanford House, Brodsworth Hall, Rotherham, Ashfield, Little Moreton Hall, Cheadle |
| 2014 | Tutbury, Egmanton, Rufford, Newby Hall, Stow, Doddington |
| 2015 | Warwick, Baddesley Clinton, Louth, Heckington, Pilgrim Fathers' Trail, Gainsborough Hall, Ecclesfield, Wentworth Woodhouse |
| 2016 | Bilborough. Southwell, Woodthorpe. Clifton, Sheffield Manor, Kimbolton Castle, Buckden |
| 2017 | Pentrich Rebellion sites, Leicester, Bosworth, Lamport Hall, Hallaton, Tickencote, Helpston |
| 2018 | Broughton Castle. Earl's Barton, Barton on Humber, Marston Hall, Brant Broughton, Middleton Hall, Stoke Golding |
| 2019 | Ashover, Ault Hucknall, Bolsover Castle, Historic sites of Sherwood Forest, Bletchley Park, Fotheringhay, Kirby Hall. |
In addition, we have had several half-day visits to archaeological work at Nottingham Castle, a tour and tea at Burgage Manor Southwell, the gardens at Newstead Abbey, and Welbeck Abbey. Most excursions have averaged about thirty-five participants, and there has always been a hard-core group of regular members, a few even doing all the excursions. The largest number was the fifty who followed Richard Gaunt along the route of the Pentrich Rebellion. Perhaps one of the most unusual trips was the tour of Sherwood Forest by vintage bus which attracted over forty members. Only on one occasion did I manage to leave two people behind, but they followed in their own car and joined the party later! I wish the new Organiser(s) well for the future, although we may well run some of those planned for 2020 in 2021. So there will be some shared responsibilities in 2021. I have thoroughly enjoyed doing the organising, and participating in the trips too, of course. Amazingly, there are still many aspects and sites of historical interest for future programmes.
SOME MEMORABLE EXCURSIONS ORGANISED BY ALAN LANGTON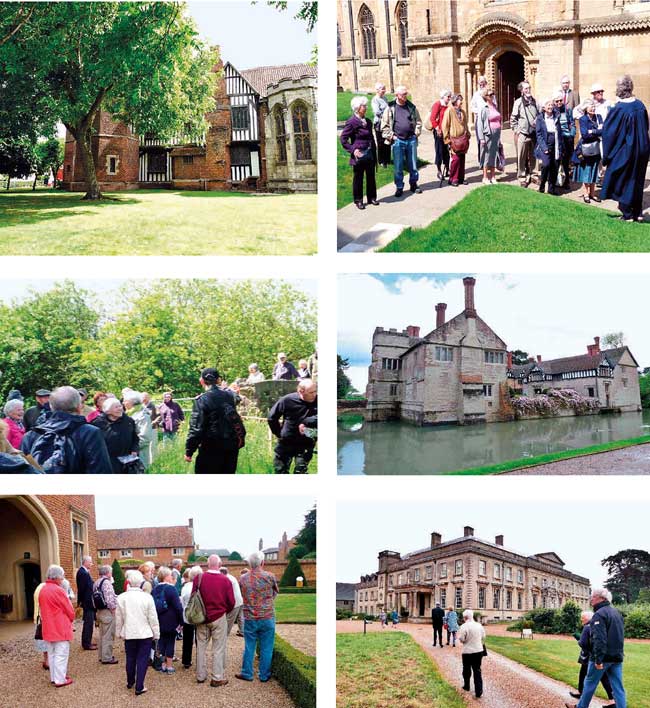 | | | |
| --- | --- | --- |
| Top Row L August 2015 Gainsborough Old Hall   | | R May 2016 Southwell Minster |
| Middle Row L June 2013 By the canal on the Ashfield Excursion | | R May 2015 Baddesley Clinton |
| Bottom Row L June 2014 Doddington Hall     | | R July 2017 Lamport Hall |
Alan Langton