News for Spring, 2001
Thoroton in 2001
This Newsletter comes to members with papers for the AGM on 21 April, and we look forward to seeing you at Papplewick then. In 2000 we had an exceptionally busy programme. Things will not be quite so frenetic in 2001, but we hope you will enjoy the lecture and excursion programme, and that members will feel able to play a full part in the Society's activities. Best wishes for a speedy recovery to Neville Hoskins, our Vice Chairman, who had a major operation shortly before Christmas; and to our Secretary, Barbara Cast, who has also recently been in hospital.
John Beckett
Transactions of the Thoroton Society
All being well, Transactions will be available as usual at the AGM. Do please pick up your copy, together with any others that you can deliver, and thereby save the Society postage costs. Some recent members have asked where they can see back numbers of Transactions. So for your information, courtesy of Mrs Joan Bray: There are full reference sets at the Local Studies Library (Nottingham), Newark, Mansfield, Arnold, Eastwood, Beeston, West Bridgford, Sutton-in-Ashfield, Worksop and Retford. Virtually complete sets are available at Bingham, Kirkby-in-Ashfield, Hucknall; and less at Bingham, Carlton and East Leake. The only large loan collection is at Local Studies, although there are fragments elsewhere.
Nottinghamshire Living History Archive Showcase, Boughton Pumping Station, 25 November 2000.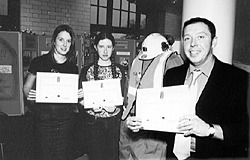 Round One Fellows (left to right) Sarah Milne, Ruth Palmer and David Hopkins from the Manton Colliery Project, pictured with their Scheme certificates.
[Photograph: Trevor Clayton]
Nottinghamshire local history received a real boost when Councillor Jim Napier, Chairman of the County Council, presented Millennium Fellowship Certificates to the first round of awardees on 25 November. This is a project funded with more than £300,000 from the Millennium Commission, and if the first year's work is anything to go by they have got a bargain. Twenty-nine amateur local historians received small grants, training, and support, to research projects ranging from Clifton Estate to Clipstone and Manton Collieries, to Worksop women, and many more. Collectively they put together 350 sound recordings and 150 moving images, and produced ten books. They brought together their findings at the Boughton Showcase, and those of us privileged to be there saw a remarkable collection of research, most of it by people who, a year or so ago, had no expectation that they would ever be published local historians! The Nottinghamshire Living History Archive is one of 81 such projects across the UK, which has already made awards to about 14,000 individuals. This number should rise to nearer 40,000 by 2004. Round 2 of the Nottinghamshire project is already underway, but there is only one more round to go. Surely there are Thoroton members with ideas about a project they would like to research and present in sound, picture, book or website? Successful applicants receive a grant of about £3,000, as well as training, and access to a range of equipment. If you would like to know more, talk to Jean Nicholson (9312998), our Programme Secretary, who is a Round 2 awardee, and is studying the village of Everton. Come on members, you too can make a contribution to this history of Nottinghamshire! Perhaps a grant would enable one of you to become the next Dr Thoroton! Forget the ill-fated Dome: the Nottinghamshire Living History Archive shows that the Millennium Commission has been funding some extremely worthwhile community projects. For more details call the project co-ordinator, Samantha Holgate-Davey, on 01623-662672.
John Beckett
News from Continuing Education
The School of Continuing Education at Nottingham University has made a new academic appointment. Thoroton member Sarah Speight will take up the post of Lecturer in Archaeology & Medieval History from April 2001. Sarah's research will be into the history and development of the adult education programme in archaeology and medieval history. Archaeology in particular really began in the adult education movement, establishing its credentials here before being accepted into the mainstream of University life. Nottingham is well suited to this type of research, possessing as it does the archives of the first adult education department in the country, with course paperwork surviving from the 1940s.
Part of Sarah's brief is also to develop the School's existing seminar programme for the general public by expanding the archaeology content, and to broaden the range of practical and certificated courses on offer. As part of this, the School is offering a new programme of weekend and day courses this spring and early summer:
Archaeology and the Natural World
The programme includes weekend courses on pottery in archaeology, aerial photography & artefact analysis, photography for botanists and biologists. Pamela Marshall is also offering a four-day recording workshop using Wollaton Hall as a case-study. The courses start at the end of April and run into early June. For a brochure contact the Special Programmes Unit: tel. 0115 9516526, email: ce-residential@nottingham.ac.uk
Annual Subscription
Our Treasurer Keith Goodman is grateful to those members who kindly try to ease his lot by paying their subscriptions by standing order. However, a number of these are for the wrong amount, and this causes a lot of extra correspondence, and thus extra cost and more work. Would members paying by standing order please check they are paying the correct amount, and if they find they are not, send in the difference, and amend their standing order for the future? And a gentle reminder to other members whose annual subscription is still outstanding... Keith is eager to hear from you! Contact him at 59 Briar Gate, Long Eaton, Nottingham, NG10 4BQ.
Ordinary Subscription £20
Associate Membership £5
Membership of Record Section for Thoroton Members £10
Membership of Record Section for non-Thoroton members £1
Cornelius Brown online
| | |
| --- | --- |
| | Project Gutenberg aims to make copyright-free information, books and other materials available to the general public by publishing the texts electronically on the Internet. Inspired by the project's philosophy, Thoroton member Andy Nicholson has embarked on a long-term project to make older material on Nottinghamshire local history that is rare outside of local studies libraries and second-hand bookshops accessible on the Internet. Andy has chosen Cornelius Brown's A History of Nottinghamshire, originally published in 1891, as a pilot to evaluate the issues and problems involved in converting hard copy to electronic text. |
| Cornelius Brown at work, c. 1905. | |
Brown (1852-1907) was a journalist and historian, author of a wide range of publications on Nottinghamshire history, including the magnificent and still definitive two-volume work, A History of Newark (1905 and 1907). A History of Nottinghamshire was written with a general audience in mind and provides an historical account of the notable towns and villages in the county, the great county families and the English Civil War in Nottinghamshire. The book grew out of a series of articles Brown wrote for the Notts Daily Guardian in the late 1880s, and although popular in style, is informed by the work of leading contemporary historians such as W H Stevenson, John Raine and J T Godfrey and also key secondary sources such as the PRO Calendars and HMC reports published in the late nineteenth century.
Digitising old tests is a very slow process. Using a tattered, loose-bound, well thumbed copy of Brown's book I scanned every page into OCR (optical character recognition) software which converted the page images into text that can be tidied up and edited in a word processing package. In parallel, I also assembled a rich collection of old illustrations, photographs and drawings and scanned them too. Text and images were then combined to create a series of linked webpages by using a webpage editor called FrontPage 98 and then uploaded to a webserver: the book is now available to anyone with an Internet connection. I have now started work on adding sections from other texts to the website: Leonard Jack's The Great Houses of Nottinghamshire and the County Families; Robert White's Worksop, the Dukery and Sherwood Forest; and, Lascelles and Haggar's Commercial Directory of the Nottinghamshire (1848). Watch this virtual space!
Andy Nicholson
Project Gutenberg: http://promo.net/pg/
Nottinghamshire history website: www.nottshistory.org.uk