News for Spring 2005
LAXTON: HOST TO THIS YEAR'S ANNUAL GENERAL MEETING
No one can doubt that Laxton is Nottinghamshire's most 'famous' village, with its surviving open fields and operating manor court. It is known worldwide, and visited from as far away as the United States of America and Japan. This year's Annual General Meeting will provide members with the opportunity to renew acquaintance with the village, and to see some of the results of recent historical and archaeological work. Keith Challis, who will be speaking at the AGM, has been engaged in work at Laxton's Castle site [pictured right], with our archaeology editor Dr Sarah Speight, and we shall hear at first-hand some of the preliminary findings. For those members no longer able to walk across the open ground to the Castle, our Chairman Professor John Beckett will lead a walk around the village to look at some of the historic farmhouses and buildings; and we hope that members will be able to visit the church.
Mr Peter Coope
Peter Coope, husband of our Vice President and former Chairman, Dr Rosalys Coope, died on 24 January 2005. Members will remember Peter as a regular attender at the Annual Lunch, and the last occasion on which he attended a Thoroton Society event was the lecture given by Rosalys in December. We extend our sympathy to Rosalys and her family at this sad time.
OPERATION PLUM PUDDINGS: AN APPEAL FOR VOLUNTEERS
'Christmas in the trenches! What a time! It will astound everyone who hears about it, which everyone will do in good time', a Cumbrian soldier wrote home in 1914.
Two writers are appealing for information about this Christmas Truce between British and German troops in the trenches in 1914. Information is likely to be contained in personal diaries or letters of serving troops, and also in local newspapers covering the winter of 1914-1915.
Anyone who has access to such information, or who is willing to search microfilms of local papers in their libraries, is asked to contact Alan Cleaver at Operation Plum Puddings, 24 Glenridding Walk, Richmond, Whitehaven, Cumbria, CA28 8SH (or via his e-mail, alancleaver@enterprise.net)
OBITUARY: DR C R Salisbury (1929-2004)
Chris Salisbury died at the end of November after a short illness borne with dignity and courage. He was well known for his kind and genial nature, and for his stimulating lectures and publications which widened our knowledge of the region's prehistory and history. In the 1960s Chris became involved in the exploration of Nottingham's caves and was a founder member of the Nottingham Historical and Archaeological Society. Around this time his interest in the gravel quarries of the Trent Valley began. Although the archaeology of the flood-plain gravels had for some years been investigated by the Trent Valley Archaeological Research Committee, Chris focused on the most recent deposits laid down by the river in which sub-fossil trees and wooden artefacts were frequently found. Chris first investigated Colwick's gravel pits, where many sub-fossil oaks were exposed. His attempts to date the sequence of river channels led him to begin a programme of dendrochronology sampling, and to the establishment of the Tree-Ring Dating Laboratory at Nottingham University, eventually contributing vital data for the 4th and 3rd millennia BC to the national reference chronology for oak.
One of his most important discoveries was three medieval bridges at Hemington, Leics, one dated to the 11th century and the others the 13th, which were probably successive crossing points for the London to Derby trunk road, the precursor of the A6. For this, Chris was named Archaeologist of the Year in 1994 at The British Archaeological Awards; he also won the Pitt-Rivers award for best amateur project. He then re-examined the evidence of the 19th century discovery of bridge piers, allegedly Roman, from the riverbed at Cromwell, showing that the bridge was an 8th-century Mercian structure, considerably later than the nearby Fosse Way and the Roman villa at Cromwell.
Chris retired as a GP in 1992. He was appointed a research associate in the Archaeology Department of the University of Nottingham. He most recently investigated the surviving landscape features of the Owthorpe estate of the Governor of Nottingham during the Civil War, Colonel John Hutchinson. Chris founded the Owthorpe History & Archaeology Society to further this study, and discovered six acres of fishponds and other earthworks. He assembled a considerable archive of material on the estate and the family, but unfortunately the future of Fishpond Wood was still undecided, and the publication of his archive hardly begun, at the time of his death. Gavin Simpson
Exhibitions at the Weston Gallery, D H Lawrence Pavilion, Lakeside Arts Centre
Many Thoroton Society members are already regular visitors to the exhibition gallery in the DH Lawrence Pavilion, on Nottingham University's campus (off University Boulevard), where for several years displays have been mounted of material from the Manuscripts & Special Collections in the University Library. These have given the wider public a glimpse of the extensive University collections and their relevance for Nottinghamshire's local historians.
The latest display in the University's programme is Lawrence in Nottinghamshire: Creation and Re-creation (2 April – 15 July 2005), curated by John Worthen, formerly Professor of Lawrence Studies in the University's School of English. It marks the 75th anniversary of the death of the local writer, and offers a retrospective with a particularly local focus, concentrating on Lawrence's early years and Nottinghamshire associations which shaped his life and work. You will be able to hear his family and his friends talking about him; see pictures of those who remembered him, as well as previously unseen pictures of Lawrence and his family; and explore how Lawrence re-created friends, family, local people and local events in his writing.
A series of free Wednesday lunchtime talks from 1–2pm will be held in association with the display. Advance booking is recommended as gallery space is limited – tel Box Office on 0115 846 7777. Details are as follows:-
13 April: D H Lawrence: 'Creation and Re-creation', by John Worthen, curator of the exhibition.
18 May: 'Lawrence and the Dialect: the Colliery Plays', by Hilary Hillier, formerly Lecturer in the University's School of English Studies.
1 June: 'On not being DHL: Lawrence and local writers', by Peter Preston, Director of the University's D H Lawrence Research Centre.
The Gallery is open Monday to Friday, from 11am–4pm; and Saturday/Sunday/Bank Holidays from 12pm–4pm.
GEORGE F CAMPION: Further memories of Campion from a Thoroton Society Member
I was introduced to Campion in 1949 at his laboratory in Castle Place, where amongst other objects he showed me a perpetual motion machine which looked like the workings of a large clock. I don't know if it was made by him or for him; needless to say, he said it was a failure. Another time he showed me what he said was a lock-up; a small room cut into the sandstone with a door straight off the street. It had a small window fitted with iron bars. I think it was on Malt Mill Lane. Campion also showed me around caves in Hollowstone and the surrounding area. He told me that when he excavated a burial pit, the smell and gases were so awful that he lost his sense of taste and smell. Two of my school friends originally found the two Bronze Age canoes that he rescued from the River Trent. Barrie Waite
DR ROBERT THOROTON AND CAR COLSTON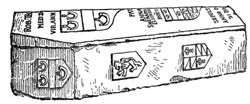 Dr Thoroton's stone coffin.
Members will know of the Southwell Diocesan Church History Project (which can be viewed at http://southwellchurches.nottingham.ac.uk. nottingham.ac.uk), and as each church is researched, all kinds of new material is emerging. Research on Car Colston, for example, has revealed that during restoration work on the chancel of St Mary's church in 1845, Dr Thoroton's coffin was exposed, and was the subject of some 'outrageous behaviour'. The coffin, made of red Mansfield stone, was opened and Dr Thoroton's skeleton removed, and the skull put in the village shop as a curiosity! On hearing of this the vicar, the Rev. John Chaucourt Girardot, immediately ordered the remains to be collected and replaced in the coffin, which was then re-interred. In 1863 the coffin was again dug up, but this time was placed in the church, where it was inspected by the first generation of Thorotonians on their initial excursion which took place in May 1897.