News for Spring 2006
Frederick Neville Hoskins
31 December 1925 – 31 December 2005
Born on his father's birthday, the death of Neville Hoskins on his own eightieth birthday, the last day of the year, brought a 'round' end to a life well lived. From relatively 'ordinary' beginnings as the fourth child of the village draper in Wingate, County Durham, he took up a War Office-sponsored Engineering Cadetship at Constantine Technical College in Middlesbrough. It was here that he met Ann, his wife for over 54 years. Indeed, their Golden Wedding anniversary in 2001 was celebrated with a memorable garden party at Nottingham's Bromley House Library.
National Service took him via Bodmin Moor to Egypt, inspiring a lifelong interest in archaeology. Upon marriage he and Ann settled in Nottingham, where they would spend almost all their married life, acquiring two children, David and Sarah, along the way. Neville originally worked with the Ordnance Survey (his claim to fame being to have set the base line for what became the first motorway in the UK, then the Preston by-pass); later for the Severn-Trent Water Authority and its forerunners.
Following retirement in 1984, an already flourishing career on the local lecture circuit was expanded through the WEA and the Extra-Mural department of the University of Nottingham. His talks, illustrated with his own photography, on such diverse subjects as the River Trent, Tutankhamun, Heraldry, Maidens' Garlands and Local History, are still remembered, not least by his classes of visually impaired students, for whom he took infinite pains to prepare suitable alternative class materials. Neville qualified as a Blue Badge Guide for Nottinghamshire and East Midlands Tourist Boards, and undertook classes to improve his ability as a watercolour artist. Calligraphy and photography were further hobbies and outlets for his artistic talent. He was a Justice of the Peace for 20 years and a Churchwarden for 19, while his own faith gave him the strength to offer comfort to others through his sensitive conducting of non-religious funeral services. He was also a deeply respected member of the Southwell Diocesan Advisory Committee for the Care of Churches. Yet he still found the time to research and help write a guidebook for his daughter's tiny village church in Buckinghamshire – needless to say, finding historical connections with Nottingham in the process.
Neville joined the Thoroton Society in 1960, and progressed through a role on its Council, then as Vice Chairman, to become its President in 2001, enormously proud that 'a mere lad from a pit village' should be acknowledged by such an august and academic body. He was very involved with the running of the Society, including organizing outings and the Centenary celebrations, and quietly keeping an eye on plans for last year's Garden Party at Bromley House. He was delighted that the family connection would be maintained when his son David joined Thoroton Council in 2005. Neville was for many years a Director of Bromley House Library, 'holding court' there even on the day before his death, as every Friday.
Many local organisations benefited from his association, among them the Notts. Building Preservation Trust (of which he was a founder member), Nottinghamshire Centre of the National Trust, the Civic Society, Sherwood Venture Scouts, and the Talking Newspapers Service for the Blind. Especially those involved in local history, architecture and building preservation will miss his wise counsel and unassuming erudition. He delighted in sharing his wide knowledge, accumulated with a lively sense of enquiry over many years of reading and absorbing information. Typical of this modest man's self-deprecating style is the file he kept of his own published papers, labelled, no doubt with that familiar twinkle in his eye as he penned it: 'Fings wot I rote'. Despite the Damoclean threat of the illness that ultimately took his life, he showed a quiet courage and determination to live life as normally, and as fully, as possible. Thanks to Ann's constant support, he was able to do so to the very end.
The Hoskins Family
In Brief
Politics of the 4th Duke of Newcastle
The University of Nottingham has recently launched online access to resources from its Manuscripts and Special Collections on 'The Politics of the 4th Duke of Newcastle'. The website is intended as an e-learning tool which may be used by a variety of audiences, from school and university students to 'life-long learners'. Those people accessing the site will find digitized materials from Newcastle's diaries and correspondence as well as transcriptions of documents, scholarly commentary and a range of supporting resources including a timeline, biographies and cartoons from the period. Completed themes cover 'The South Nottinghamshire by-election of 1846' and 'Working Class Unrest in Nottingham' with a third theme, on Ireland before the famine, to be published in 2006. For further information check out the website at: http://www.nottingham.ac.uk/mss/online/newcastle-diaries/index.phtml.
Richard A Gaunt
Relocation of Manuscripts & Special Collections, University of Nottingham
The department is moving from the Hallward Library to the University's King's Meadow Campus, and will close from 13 April until August. The move has been prompted partly by the department's space crisis. A User Group has been formed to support the project, (one member being Peter Reddish, of Thoroton Council). Leaflets are being distributed to local bodies, and you can check on its progress at: http://www.nottingham.ac.uk/mss. Comments and enquiries are encouraged (email: mss-library@nottingham.ac.uk). The East Midlands Collection will be moving as well, though we anticipate it will be out of circulation for less time than the rare books and archives. Perhaps when the move is complete a visit can be offered to interested members of the Society.
Dorothy Johnston
Register of Nottinghamshire Events and Special Dates
You may recall that your Society requested details of the anniversaries of events in Nottinghamshire so that a register could be kept to aid publication and programme planning. The response was somewhat underwhelming, but I live in hope to receive information on interesting local events or the birth and death dates of people you think are special to your own patch or to the county as a whole.
Last year was, of course, the anniversary of the Gunpowder Plot and at the annual luncheon we explored the local connections with the intrigue. You may be interested that one Luke Akers, worthy of the City of Nottingham who died in 1631, left a bequest to Saint Peter's Church in order that charity sermons could be preached each year to give thanks for the country's deliverance. A second sermon was to commemorate the defeat of the Armada. It seems that the practice lapsed some time ago – does anybody know whether a special sermon was preached last November? Thank you to Peter Hoare for supplying that information.
This year is the 200th anniversary of the death of the Nottingham poet, Henry Kirke White, at the tender age of 21 years (see Terry Fry's article). We understand that there is to be a special event in St Mary's, Nottingham, to commemorate his life. Also look out in May this year for an exhibition in Christ Church, Cinderhill, marking the 150th anniversary of its consecration. I look forward to receiving more information from Society members – or you can pass details to any member of Council. Dates could be of births or deaths of notable Nottinghamshire people, battles, catastrophes, when buildings of note were erected etc. You can also contact me at the following email address: bjcast@aol.com.
Barbara Cast
The Workhouse at Southwell
Students and researchers of the Poor Law and family historians with ancestors who were in the workhouse, will be interested in a new facility available at The National Trust's property, The Workhouse at Southwell. During the restoration of The Workhouse a wealth of research material was collected, most of which has not been accessible to the public. A team of volunteers has catalogued and organized the material, now housed in The Study Room, for learning groups and research colleagues to take full advantage of a professional service managed by trained volunteers familiar with the documentation held within the room. By paying a small annual fee and becoming a member of the Study Room, researchers will have access to various types of documentation relating to the development of the workhouse system, the Poor Laws, and The Workhouse, Southwell, including a database of known staff and inmates, and extracts from the Board of Guardians' minutes. A search service is available for more distant researchers. The National Trust also has a number of special interest tours available this year, including topics such as medicine and mortality, the Revd Becher, the Poor Laws, restoration, and the garden. It also hopes to run family history related study days and workshops. To book any of the above or for further details, contact the National Trust, telephone 01636 817260, or email: theworkhouse@nationaltrust.org.uk.
Philip Jones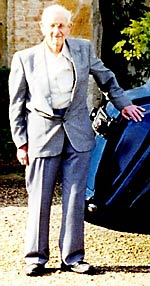 ROWEN WOOD – 100 years old
Members of the Society will be delighted to know that one of our members, Owen Wood [pictured left] was 100 years old on 20 January. My wife and I visited him on the morning of his birthday at the Residential Home in East Leake where he now lives. Surrounded by cards and the telegram from the Queen, and looking forward to two parties, he still retains the old twinkle in his eye. Slightly surprised by all the fuss, Owen told us that he joined the Society in 1970 when he retired. At about that time he wrote The Larger Dairy Herd, and in 1999 at the age of 93 he wrote The History of East Leake. 'Still got West Leake to do', he said. He regularly attended excursions, and I remember how thrilled he was on one of the Centenary visits to be taken home in John Fox's vintage car. 'I went in one of these on my honeymoon', he said. We wish him well as he commences his second century.
Keith Goodman