News for Spring 2007
Centenary History of Nottingham
A decade ago our chairman, Professor John Beckett, edited for publication A Centenary History of Nottingham, in conjunction with celebrations of the granting of a city charter in 1897. The first copy of the book was given to The Queen when she visited the city. The book included major contributions from several Thoroton officers and members. It sold out almost immediately, and has been difficult to acquire ever since (even on E-Bay!). Now, local history publisher Phillimore has reprinted the book, with a few minor errors corrected, and it is once again in local bookstores, including Waterstones. When originally published the reviews were universally favourable, and the book is now established as the most authoritative account of the city's long history. Professor Beckett was consulted by other groups wanting to set up similar projects in their cities – notably Liverpool, which is bringing out a major new history to celebrate its status as European City of Culture in 2008. So, if you missed out last time, you have a second chance to own the book, and at a bargain price: the original was published at £50, while the new edition comes in at £30.
WOLLATON DOVECOTE MUSEUM
Towards the end of 2006 there was an ominous flutter in Wollaton's village dovecote museum, when it seemed the Elizabethan building might have to close after twenty years as a museum. Nottingham Civic Society announced its withdrawal of support, since the Corporation had closed down its shop at the Castle entrance, from which takings were earmarked for the dovecote. However, the wings of alarm have been stilled: a new tenancy agreement has been signed and Nottingham City Council, which owns the 1572 Grade II listed building, accepted responsibility for its maintenance and insurance. The dovecote is forging ahead with plans for a continued future. The museum will open on the Sundays of 13 May, 10 June, 8 July, 12 August and 16 September, as well as on Heritage Weekend (8 & 9 September), with craft demonstrations. The parish church and bell tower of St Leonard's will be open to visitors on 13 May (2-4pm), and performing the ceremony at the Dovecote will be Dr David Marcombe from the University of Nottingham. The 'Wollaton Weekend' will begin on Saturday 12 May with a visit by the Newstead Abbey Singers at 7.30pm; tickets cost £5, including wine: contact Mrs Maureen Jones on 0115 928 2567. Mrs Jones, the Museum's energetic curator since its inception, will be retiring after this year. Emrys Bryson
Nineteenth-century poverty in England and Wales
The National Archives (TNA) is seeking expressions of interest from local history societies, to collaborate on a project to catalogue a proportion of the 19th century English and Welsh Poor Law material held at TNA. These records are mainly the original incoming correspondence to the Poor Law Commissioners/Poor Law Board from the various Poor Law Unions. They are a fantastic resource for local historians – if only they were catalogued in such a way that researchers knew what was in specific volumes!
The correspondence relating to the Southwell Union for the period 1834-1871 has already been catalogued by a team of volunteers at The Workhouse, Southwell, and will be available to search (free) on TNA website from mid-April 2007. Depending on external funding, TNA is proposing to 'scan' sets of Poor Law correspondence for other Unions so that volunteers with computer access can work on them at home (after suitable training). Philip Jones, who has been involved with the project at Southwell, has agreed to act as co-ordinator for the Thoroton Society in this initiative.
If you are interested in taking part, please contact Philip by email at philedjones@yahoo.co.uk, or by post at 40 Regina Crescent, Ravenshead, Nottingham NG15 9AE.
Study Day at Edwinstowe and Rufford – 15 May 2007.
'Rufford Revealed: The History of the Gardens from Cistercian Utility to Edwardian Opulence'
Beneath this popular Nottinghamshire Country Park lie layers of garden history. A study day on Rufford, organized by the Leicestershire and Rutland Gardens Trust, will reveal the hidden narrative through presentations and a guided walk. The venue: South Forest Conference Centre, Edwinstowe, and Rufford Country Park. Speakers include Glyn Coppack and Pete Smith (English Heritage) on, respectively, the Cistercian period, and the formal and landscape period; and Philip Jones (Thoroton Society), on the Victorian and Edwardian gardens. The cost is £30. For further details and to request a booking form please contact Lucy Alcock, Country Parks Community Liaison Officer, Rufford Country Park, Ollerton, Nottingham, NG22 9DF, or you can email her at: lucy.alcock@nottscc.gov.uk
Local history, with special reference to roads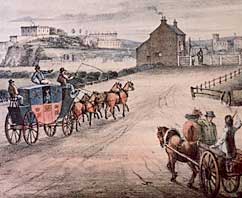 Tony Newman is Research Co-ordinator for the Roads & Road Transport History Association, founded in 1992 as a clearing house for historical research in the subjects of its title. One of its objectives is to bring together academic, museum, specialist and enthusiast bodies. Its website is at www.rrtha.org.uk. Tony is currently trying to find written items that may so far have had a limited circulation in a particular locality, but which deserve greater connection with the strands of national transport history. He has already circulated 80 organizations, with such encouraging results that the Board of the Association has authorized him to carry out a further survey. He would be interested to hear whether any Thoroton members have produced (or are currently working on) anything on the history of any bus, char-a-banc or coach operators, road haulage contractors, removals businesses or similar activities. Such details may form only part of a wider local history, or a small section of a museum, but could prove to be vital pieces of a larger 'jigsaw' puzzle. Tony Newman can be contacted by email at agn4rrtha@btinternet.com
OBITUARY: OWEN WOOD
Members of the Society will be saddened to hear of the death, a few days short of his 101st birthday, of Owen Wood. He was a long time member of the Society and took part in excursions until quite recently. Shortly after his death I was contacted by an advertising company who were trying to get in touch with him. They were working on a new advertising campaign for Muller yoghurt, and were recruiting 100 people aged from 1 to 100 as 'lid-lickers'. Lid lickers are positive people with a love of life and a can-do attitude were to star in the Muller TV ads, and they were wondering if Owen would join them as the 100-year old. I think that it is something that would have appealed to him, but sadly this brief moment of fame eluded him.
The death of Owen means that the search is now on for our oldest member. If you are over 85 years old or have been a member of the Society for over 40 years, can you get in touch with me so that I can compile a list? I promise that I will not publish anything without your approval. Keith Goodman
CALL FOR AN ASSISTANT SECRETARY
If anyone could spare a few hours to assist the Hon Sec with some of the Society's business, this would be most welcome. It would mainly be to help with the AGM and Annual Luncheon arrangements. Expressions of interest to me, Barbara Cast, Hon Sec, hard-worked and short of time, at bjcast@aol.com, or telephone 01636 830284.