News for Summer, 2001
New President!
At the Thoroton Society's Annual General Meeting held at Papplewick Village Hall on 21 April, Miles Thoroton Hildyard stood down as President after forty years in the post, and was succeeded by Neville Hoskins. Paying tribute to Miles, who was Secretary of the Society in the 1950s, Dr Rosalys Coope recalled his many years in the Society and the occasions on which members had been invited to Flintham Hall. The Society is to plant a tree of Miles's choice at Flintham in due course, in commemoration of his presidency.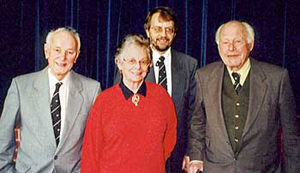 From left to right: Neville Hoskins, Rosalys Coope, John Beckett, Miles Thoroton Hildyard.
Neville Hoskins thanked members for electing him to the Presidency. He noted that the average length of presidency during the Society's life had been twenty-five years: for his part he did not intend to emulate Miles Thoroton Hildyard's time in office. Also during the meeting the Annual Report and Accounts for 2000 were accepted, and Margaret Trueman was voted onto the Council. Geoffrey Oldfield, stepping down from the Council after many years, was made an Honorary Life Member in recognition of his long and productive service.
After the meeting, attended by more than 100 members, Mr Stephen Jackson gave a brief pictorial tour of the history of Papplewick. Then, following a splendid tea provided by Mrs Wilkinson and her team, the Rector of Papplewick, Rev Keith Turner, showed members around the village's Grade 1 listed church of St James.
John Beckett
Meet the new President – Neville Hoskins
Frederick Neville Hoskins was born in 1925 in Bishop Auckland, Co. Durham, the youngest of four children. He spent a happy childhood and schooling in Wingate, Co. Durham. Between June 1943 and December 1945 Neville attended a War Office sponsored engineering course at Constantine College, Middlesbrough (now Tees-side University). He joined REME in February 1946, and in September was commissioned, serving in Egypt and Palestine. Visits to Luxor and Lachish fostered an interest in archaeology.
After his demob in 1949 Neville joined Ordnance Survey as a cartographical surveyor, and thus began a lifelong interest in maps and mapping. He worked on a major post-war re-survey of Great Britain. He moved to Nottingham, and in 1951 married Ann, whom he had met in Constantine in 1945.
In 1955 Neville joined the Trent River Board as a surveyor, and with Harold Potter formed the new Hydrology Department. He stayed with Trent (eventually Severn Trent), until taking early retirement in 1984.
Neville joined the Thoroton Society via the Peverel Archaeological Group in 1960, was elected to Council in 1976, and became Vice Chairman in 1992. Other activities include churchwarden of All Saints Nottingham (1971-90), magistrate on Nottingham City Bench (1975-95), member of council of management of Nottingham Building Preservation Trust, member of the Southwell Diocesan Advisory Committee, and Director of Bromley House Library (1989). Neville's interests include sketching and dabbling in water colours.
P.S. Those of us who can count will note that since Neville and Ann married in 1951, this year they celebrate their Golden Wedding – Congratulations!
Woodborough Local History Group: "Putting Woodborough on the Map !"
Visitors to Woodborough will now have ready access to details of the village's history with 3 illustrated panels in the Main Street telling the story of the significant old buildings around them. Woodborough Local History Society has designed the panels using a National Lottery 'Awards For All' grant, and illustrated them using an 1895 map and photographs from local people. Each panel describes a section of the village showing how it looked when framework knitting and market gardening were its main trades. The Group has also compiled a Village Heritage Trail booklet, available from Woodborough Post Office.
A fourth panel on the Village Hall wall gives a picture of the main local footpath, the Lapwing Trail linking Woodborough with Lambley, which will be followed up on the www.woodborough-heritage.org.uk website currently in preparation. With a previous grant from 'Awards for All' the Group has developed an extensive archive of old photographs of the village, held in computerised form so that in future local schools and researchers can obtain themed CDs or pictures via the Internet to aid studies of a village community and how it has changed over the last 100 years. For further information ring David Bagley, Chairman of the Group, on (0115 965 2511).
OBITUARY: DR RICHARD S. SMITH (1914-2001)
Sadly we have to report the death of Dick Smith, a long-time member of the Society and former editor of Transactions. Dick joined the Thoroton Society in 1952 when he became sub-librarian at Nottingham University. He was joint editor of Transactions with Prof. Maurice Barley between 1959-70, and a member of Council 1984-92.
Dick because University Librarian in 1958, and oversaw the development and building of the Hallward Library on the Highfields Campus. He used his 'privileged' access to the Middleton papers in the University Manuscript Collection to complete a Ph.D. thesis in 1964 on the Willoughby family 1500-1643, and he published a number of articles based on this research, including two in Transactions. The first (vol 65, 1961) was on woad growing at Wollaton, and the second (vol 66, 1962) was on glass making at Wollaton. He also published on the early history of coal mining in Wollaton.
After his retirement Dick continued to attend lectures and to go on the occasional excursion, and He was also involved with the William Morris Society, of which he was Secretary in the 1980s. He died at the end of April, aged 88.
FORTHCOMING EVENTS
CHANGE TO LECTURE PROGRAMME
13 OCTOBER 2001

Please note that John Fox's lecture The Tickhill Psalter will now take place in January 2002.

On 13 October 2001 (2.30pm, YMCA, Shakespeare Street, Nottingham) Dr David Knight will give the lecture 'Excavations of an Iron Age & Romano Settlement at Gonalston' which unfortunately had to be cancelled last year.

Wollaton Village & Park Conservation Society
A WATERMILL IN WOLLATON

Visit a working model of a watermill at Wollaton Village Dovecote Museum.

An extensive photographic archive shows how Wollaton has changed over the last few decades, and a display of photographs depicts the village's millennium celebrations.
Open 2-5pm on 8 July, 12 August, 8 & 9 September (entry free).

---

---

THE KEITH TRAIN LECTURE
TUESDAY 9 OCTOBER 2001

7.30pm, The Post House, St. James's Street (formerly the Albany Hotel)
'The East Midlands into the twenty-first Century' by Dennis Morrison, Government Office of the East Midlands

CBA MEETINGS

29 July: A look at the Abbey Park excavations in Leicester
29 September: A one-day school on 'Saxons in the Trent Valley'

Further details from Jen Eccles, The Barracks, Blythe Road, Ranby, near Retford, DN22 8JH.
BROMLEY HOUSE LIBRARY
Bromley House Library has applied for consent to knock down partitions put in place in the room the Thoroton Society used after it vacated the premises, and to restore it to one room, to be named the Thoroton Room. It is hoped that the President Fay Weldon will open the Thoroton Room towards the end of July. For more details, contact Julia Wilson at Bromley House (tel. 947 3134).
FLINTHAM VILLAGE MUSEUM
Members may be interested to know that Flintham Village Museum has reached the last twenty entries from over 600 in the European Museum of the Year competition. Judges visited all the entrants before selecting twenty to enter the last lap in Pisa, Italy. In May Sue Clayton visited Tuscany to make a presentation before an international audience. It is hoped that the small size of the museum, its volunteer staff and the way it has involved the whole village will all help in its favour and we send best wishes to Sue for a successful outcome. Neville Hoskins
The Nottingham Journal for 7 April 1932 carried a report of the Annual General Meeting of the Society held the previous evening at Bromley House. The headlines made dramatic reading:
The Thoroton Society: Developed and Renamed
Waiting List for Membership
The Secretary, then J. Holland Walker, proposed the renaming to The Thoroton Society of Nottinghamshire. He said "The Society was now working in a much wider world and they occasionally had difficulty in getting themselves identified".There was overspending during the year: the treasurer had only £18:18:0d in hand, compared with £72:0:0d twelve months earlier.
Ken Brand
NEW MEMBERS
The Thoroton Society is pleased to welcome the following new members since February 2000: J B Hamilton; Mrs M Thompson; Mrs G E A Fyles; Mrs M Chilton; J Metcalfe; Mrs S Clark; Mrs O M Byatt-Clarke; P W Roper; Ms B Kirk; Mrs M Sterland; Mrs A M Perkins; D Howard; Mrs S Dymond; Mr & Mrs R Stewart; Ms T Newman; J W Carlin; Mr & Mrs D Townsend; Mrs E White; Dr K Bates; Ms J Roberts; Mrs M C Howard; Mrs J Reid; C R Gill; Ms H Smith; Miss M R Barlow; G Knight; D Webb; Ms T Jones; Mrs P J Brandreth; S Burch; J Wright; Mr & Mrs J Wilson; H S Blagg; Mr & Mrs R Phillips.