News for Summer 2004
NEW APPOINTMENTS
Leslie Cram – Thoroton Programme Secretary
Leslie Cram has known Nottingham and Nottinghamshire since 1953 when his family moved to Hucknall. After that the family home was in the Vale of Belvoir, at Bingham, then just over the border into Leicestershire. Four years ago he retired to Harby, and joined the Thoroton Society.
Leslie's deepest interest in the past is the Old Stone Age and stone tools, and also animal bones and footprints. Previously he worked in Berkshire as Principal Curator for the museum service of Reading Borough Council with the special collections of Thames Valley Handaxes, Mesolithic Thatcham, Roman Silchester and Reading Abbey and its ruined remains. While there he was involved in archaeology and planning, sites and monuments records, rescue archaeology and excavation units. He also arranged lectures and excursions, working with the Berkshire Archaeological Society, and Reading University Continuing Education Department. Leslie admires how the Thoroton Society brings together as equals all people interested and involved in the history and archaeology of the county, ranging from the amateur to those employed in posts responsible for the past.
Alan Langton – Member Of Thoroton Council
Born in Nottingham, Alan's interest in local history was initially inspired by a school project in 1949, when Nottingham was celebrating the Quincentenary of the granting of its Charter. His awareness of the Thoroton Society came about through an article in the Nottinghamshire Guardian on the Society's activities associated with the Quincentenary. An alert and inspirational history teacher then arranged for him, through the kindness of Mr Holland Walker, to have Associate Membership of the Society for an annual fee of seven shillings!
Alan subsequently read History under Professor A.C. Wood at the University of Nottingham, and after a time at Birmingham, he returned to Nottingham to teach. His last post was as headteacher of South Wolds Comprehensive School, Keyworth, which he held for 13 years. Since retiring in 1994 Alan has been able to devote more time to Thoroton Society activities, and looks forward to taking an active part in Council matters. His other main interest has been associated with the Diocese of Southwell, as a Reader for forty years, a member of the Council of Churches Together in Nottinghamshire, and Vice Chair of Governors of a Church of England School. For 'purely selfish enjoyment' he is a keen gardener, a reasonably energetic walker, and an amateur organist.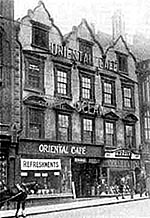 The Oriental Cafe in the 1920s.
A CEILING SAGA
When Peter Smith gave his lecture on 18th-century town houses in Nottingham (January 2004), he showed us a picture of, and talked about, the Oriental Café on Wheelergate which was demolished, after some protests by the Society, in 1961. The spectacular seventeenth-century ceiling was, however, taken down and stored for some years at Eastcroft, and it was subsequently taken to Holme Pierrepont Hall.
Some of us were reminded of the controversy a few years ago when it transpired that the ceiling had been acquired as 'architectural salvage' by Mr Peter Hone in London, and there were rumours about the eventual destination of this Nottingham treasure. There has now been a further twist to the saga, and by the time you read this it will probably have a new owner - the 20 x 16-ft. masterpiece was auctioned at Sotheby's, Sussex, in May, but failed to reach its reserve (as yet we do not know what the reserve price was). Where it will finish up is again uncertain – but watch this space!
The importance of the Oriental Café ceiling is emphasized by an article in the May issue of World of Interiors: a two-page colour spread of the whole ceiling, and two further pages of text and photographs of details. The magazine is not widely available after publication, but libraries sometimes have a copy, and it is well worth looking out for.
The article concludes: 'thus this most itinerant of ceilings will be on the move again, and this time, one hopes, it will finally fulfil its rightful role as the architectural centrepiece of a suitably grandiose manor'. But not, sadly, in its rightful home, in Nottingham.
Dr John Samuels
It is with sadness that we have to report the death of Dr John Samuels, a member of Thoroton's Editorial Committee, who died on Saturday 19 June. An obituary will follow in the next Newsletter.
REMINDER OF FORTHCOMING SPECIAL GUEST LECTURE:
FRIDAY 24 SEPTEMBER 2004: 'Meet the Ancestors' with Julian Richards (archaeologist and TV presenter)
7.30pm, Lecture Theatre 1, The Exchange, Nottingham University's Jubilee Campus, Wollaton Road, Nottingham