News for Summer 2014
Introducing our new President Adrian Henstock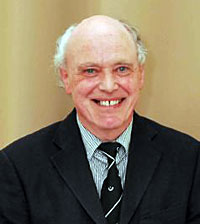 Adrian Henstock is very well known in Local History and wider circles in the County and elsewhere but it was considered that members would be interested in learning a little more about our new President.
Adrian's lifelong passion for Local History was first inspired by his upbringing in the historic Derbyshire market town of Ashbourne, about which he began recording historical notes from the age of 12. After studying at London and Liverpool Universities he commenced work as an archivist in Nottingham in 1964, firstly with the city archives in Sherwood Street and then the county archives in High Pavement, becoming Principal Archivist in charge of both when the two collections were amalgamated in 1974.
During his career he planned and project-managed the new Nottinghamshire Archives building in Castle Meadow opened by Princess Anne in 1993, including supervising the transfer of five shelf-miles of documents.
He joined the Thoroton Society in 1969 and by 1975 became joint (and managing) editor of the annual Transactions, continuing for 33 years and is proud of the fact that he did not miss a single deadline! In 1998 he took over as general editor of the Record Series, a position he still holds. He was also responsible for re-branding the Newsletter of the then Nottinghamshire Local History Council (later Association) as the Nottinghamshire Historian and was its joint editor until 1981.
From the 1970s he ran several adult education classes for the University of Nottingham and WEA in Nottinghamshire and Derbyshire. More recently he has been in demand for giving talks to local history societies. He has published over sixty booklets, editions and articles in local and national journals.
Since his retirement in 2003 he has become closely involved with the heritage research group in his adopted town of Bingham, participating in archaeological field walking in all weathers over four winter seasons. He is also a director of Bromley House Library in Nottingham.
His '15 minutes of fame' were achieved when he was asked to set questions on Nottinghamshire history for a BBC TV Mastermind contestant, and again in 1998 when he did much of the background archival research for a Channel 4 Time Team – History Hunters programme investigating Nottingham's oldest inn, on which he appeared alongside presenter Tony Robinson.
He is married to fellow archivist Valerie (who he first met in the strongrooms beneath the former Central Library) and they have two children and four boisterous grandchildren (aged 6 years to 6 months).
A Petition to Save Clipstone Headstocks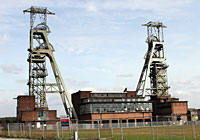 An on-line petition has been recently launched on the Governments petition website to try and save the Grade II listed headstocks at Clipstone. The petition is at www.epetitions.direct.gov.uk/petitions/61497.
Clipstone Colliery headstocks are the tallest headstocks in the United Kingdom. They are Grade II listed structures with one of the only remaining examples of a Koepe winding system inside. They are a national asset, of international importance to the heritage community and a valuable community asset. We believe that they can be re-purposed as a leisure and tourist attraction to help regenerate Clipstone village and the surrounding Nottinghamshire countryside,this will boost the local and national economy, create jobs and re-inspire a sense of community.
The petition is open for several months to come but please give very serious thought to signing it to retain these impressive structures.
50 Years of the Newark Civic Trust
A report by David Hoskins
Newark Civic Trust marked their 50th anniversary with an evening of celebration at Newark Town Hall on 24 April 2014. The evening opened with invited guests being asked to toast the Trust and enjoy a piece of splendid birthday cake.
The Mayor of Newark, Cllr. Bryan Richardson, then welcomed the audience to Newark and praised the Trust for their work and involvement in the preservation of the area over the last 50 years. This was followed by former Secretary, Rupert Vinnicombe, giving a history of the Trust, highlighting some of the buildings and projects that they had worked on and which contributed so much to the current vista of Newark that so many people now take for granted.
The main event of the evening was Professor Martyn Bennett giving the lecture:
The Crucible of War: Newark, three sieges, two courts martial, and one great road to the North
during which he proclaimed the great importance of Newark as a garrison and rallying point during the war. He showed us how a number of local personalities had played their parts as the battles ebbed and flowed around the country, either chasing or defending King Charles I. Professor Bennett also used a variety of evidence to confrm why Newark was the right and logical choice as a location for the proposed National Civil War centre which, when all the funding is in place, will be opening in the Old Magnus Buildings, Appleton Gate. (www.civilwarnewark.co.uk).
The evening closed with the Chairman of the Trust, George Wilkinson, thanking all the speakers and guests for joining their celebration and looking forward to a vibrant future continuing the work to preserve the heritage of Newark.
Web site of the Trust: www.newarkcivictrust.org.uk.
English Heritage New Model Consultation
Members may recall that the Society responded to a request for comments on a draft new constitution for English Heritage.
The Secretary of State for Culture, Media and Sport (at that time Rt. Hon.Maria Miller MP who was also Minister for Women and Equalities) wrote to all who had responded in a letter dated 10 March 2014 as follows:-'Dear Colleague,
Thank you for your response to the consultation on the English Heritage new model. I really appreciate you taking the time to consider our proposals and let us have your comments.
The consultation closed on 7 February and we had over 600 responses. Overall, the majority of respondents recognised the need for change and the benefits the new model would bring: nearly two thirds of those who responded agreed or strongly agreed with our proposals. This is a real endorsement from stakeholders for the innovative approach set out in the new model.
The majority of responses were supportive of our proposals. Some concerns were raised, which we are giving full consideration. Many of you also said that you would like more detail about the business model too. In the light of what you have told us, we will publish a full response to the consultation with additional detail in the course of the summer, once the Government has concluded its consideration of English Heritage's final plans for the new model. The consultation responses will be considered in detail as part of that process.
In the meantime, we will look carefully at all the points you have made. We also thought you would be interested to see a factual analysis of the consultation responses.
Thank you again for your interest in the new model proposals and for giving us your thoughts.'
Nottinghamshire Archives
The last issue of the Newsletter gave some information about developments at the Nottinghamshire Archives and more information has now been received.
'Nottinghamshire Archives is pleased to announce that work to extend the strongrooms and refurbish the public areas will commence on 31st March 2014.
We will endeavour to keep any disruption to a minimum; however, there may be times when selected collections are temporarily unavailable. On 20th October the service will close for approximately three months.
Important dates
31st March 2014 Building work commences. From this date no car parking facilities will be available
20th October 2014 Service closures for refurbishment of public and staff areas
Early February 2015 Service reopens
Late March 2015 Car Park becomes available
May 2025 Official reopening.
Why are we doing this?
Once this work is completed we will have:
secured enough storage to acquire historical documents for the next 20 years
a new storage area with improved standards of security, fire, food and environmental control
provided two meeting rooms, with one on the ground foor
improved visitor facilities
modernised the service offer
Ruth Imeson, Team Manager Archives and Local Studies Nottinghamshire County Council.
Uncovering the History of St. Annes
by Laura Binns, Trent & Peak Archaeology
The St. Annes research project is funded by the Heritage Lottery Fund and was developed with the aim of elucidating the history of St. Annes before the slum clearance programme of the 1970s, and in particular the area around Stonebridge City Farm.
The project was set up by the St. Annes Well Road Pre-Demolition Group, Stonebridge City Farm and Trent and Peak Archaeology. One of the main objectives of the project has been to compile a list of tenants in the area, together with images, maps and newspaper articles, input these into a database and disseminate this information to the public. More importantly, we wanted to record memories of past and present residents that will shed light upon the life of lace workers in St. Anns, the impact of the two World Wars upon the community and life in the 1950s and 1960s.
We had over 50 people visit the sessions arranged at Stonebridge City Farm and we have over 100 members of the Facebook group, all sharing their memories. The Pre-Demolition Facebook Group has over 600 members! We ran two interview sessions on the 2nd and 9th March and had 15 people attend for interviews, one of which lasted 50 minutes!
We are hoping that in the next month or so we will have collated the information and memories into a report that can be distributed to local libraries and Stonebridge Farm. We are also intending to establish a website, which will provide a resource of images and maps, and to which past and present residents may add their memories.
On the 2nd of July, the St. Annes Well Road Pre-Demolition Group are holding their second AGM, where I will be presenting my findings on a stall. Please email lbinns@yorkat.co.uk or phone me on 07767238756 if you are interested in this on-going project or if you are from St. Annes and would like more information about the AGM.
Snippets
Forthcoming events and news items
RUDDINGTON FRAMEWORK KNITTERS MUSEUM
13 June 2014
7.30 pm St. Ann's Allotments: Nottingham's Unique Heritage Gardens. Illustrated talk by Mo Cooper
£5.00
11 July 2014
7.30 pm Talking Silence - the frst 20 years of Cinema Complete with video clips, a talk by screenwriter Michael Eaton MBE
£5.00
12 August 2014
2.30 pm Bombs to Butterfies - the story of Rushcliffe Country Park Illustrated talk by Val Clark
£5.00
6 September 2014
7.30 pm In the Trenches
An audience participation, artefacts session by Jason King. See the uniforms, weapons and other WW1 items
£5.00
2 October 2014
7.30 pm St Pancras Station - The story of the station and Midland Hotel Illustrated talk by Nigel Lowey
£5.00
28 November 2014
7.30 pm Christmas Concert by the MOCtet, a male Barbershop Group
£6.00
Tickets are available from the Museum on 0115-984-6914. Pre-booking is advised due to the size of the hall. Ticket price includes refreshments.
---
MERCIAN ARCHAEOLOGY SERVICES
25-29 August or 1-5 September Training Field School at King John's Palace, King's Clipstone
This is not an ordinary field school but a Training Field School where attendees will learn about all aspects of archaeological excavation and receive hands-on training from archaeological professionals, supplemented with lunchtime seminars. Cost is £225 for a week including catered lunch. To book or find further information visit www.mercian-as.co.uk/fieldschool.html
Summer 2014
Andy Gaunt will be giving guided tours around the archaeology of Sherwood Forest National Nature Reserve throughout the summer.Attendees will learn about the history and archaeology of Sherwood Forest, Forest Law, outlaws, villains, Kings, Keepers of the Forest, daily life in the time of Robin Hood and some of the sites around the wider Sherwood Forest.For more information and to book a place visit www.mercian-as.co.uk/tours.html
14-26 July 2014
As part of the 'Sherwood Forest Archaeology Project' Mercian will be running the Robin Hood's Village Dig as part of the Festival of British Archaeology and in conjunction with the Edwinstowe Historical Society when the history of the village will be investigated through test-pitting. this is a free volunteer dig which has been funded by the Sherwood Forest Archaeology Project. Places are limited so early booking is recommended by visiting www.mercian-as.co.uk
---
THE UNIVERSITY OF NOTTINGHAM MUSEUM
Two free events are to be held as part of the Festival of Archaeology. Book at the Box office on 0115-846-7777
Saturday 12 July: 11am to 12 noon; 1-2 p.m.; 3-4 pm
Behind the scenes of the Museum
A tour which will start in the Museum and include visiting a store room and the Collections Resource Centre.
Mark Laurie, Collections Manager, will discuss the work currently being undertaken with the collections and there will be the opportunity to handle some artefacts. Tours are restricted to 10 people so early booking is advised.
19 July 2014
11am to 4 pm Archaeology Techniques Take part in a wide range of activities based on different types of work undertaken on archaeological finds following excavation and handle real artefacts. This event is run in conjunction with the Museum, the County Archaeology Outreach Team and other specialists.
---
WESTON GALLERY
May 9 to 17 August 2014
All Quiet in the Weston Gallery
The First World War in the University of Nottingham's historic collections. Looks at the war through the eyes of people who experienced it - from the soldier on the battlefield to the worker in the munitions factory, from the volunteer nurse to the wife and mother, and from the British 'Tommy' to the German 'Fritz'.
---
FRIENDS OF BESTWOOD COUNTRY PARK
Saturdays from 10 am to 12 noon
Community cafe at the Dynamo House - freshly brewed tea and coffee with home made cakes! The Dynamo House is adjacent to the Winding Engine House and contains an exhibition of the history of Bestwood Colliery and Ironworks.
18 June Wednesday morning Health Walk. 90 minute guided walks at 10.30 am from the Winding Engine car park.
7 June Mini-Miners 10 am to 12 Noon Free activity for under 5s tunnelling for coal and older children hunting for mining objects around the site. Use the Winding Engine car park.
5 June 10.30 am to 2.30 pm
D.H. Lawrence's Odour of Chrysamthemums. A flm show and readings in partnership with the DH Lawrence Soiety. Details and bookings on 0115-967-2422 (David Amos)
---
NOTTINGHAMSHIRE LOCAL HISTORY ASSOCIATION
The NLHA has launched a new website which contains regular news updates and shows daily local talks and events of interest to local and family historians.
Webmaster Susan Griffiths and David Anderson have worked on the project and there will soon be a facility to contribute directly to the website.
Visit at www.nlha.org.uk
---
WELBECK VILLAGE OPEN WEEKEND
| | |
| --- | --- |
| 14 to 15 June 2014 | A good day out at Welbeck where visitors will be able to explore parts of the village not usually open to the public. |
| | Food from award-winning producers on the Welbeck Estate will be available to try and buy at the Farm Shop. The School of Artisan Food will open its doors with tours, talks and demonstrations. Welbeck Abbey brewery will run scheduled tours of the brewery. The Harley Studios will be open as part of Open Studios Nottinghamshire and the Village Green will host a number of the village's sports and social clubs, including archery, bowls and cricket. The Welbeck Club will be open for a pint and game of snooker and on Sunday the Welbeck farm will be open to explore as park of LEAF's Open Farm Sunday. |
---
NOTTINGHAM CIVIC SOCIETY
The Heritage Walks programme for 2014 has been published. All walks cost £3 for adults and £2 concessions. No booking is required and they will run regardless of the weather!
All walks last about 2.5 hours and cover about one mile in length.
| | |
| --- | --- |
| 12 June 6.30 pm | By Rail, Road & River Meet outside the station main entrance A look at the Carrington Street and London Road area looking at transport by road, canal and railway. |
| 8 June and 21 August | 11.00 am Church (Rock) Cemetery Meet inside the cemetery main gates on Mansfield Road The walk is around the Rock cemetery and looks at the people who are buried here and how this quirky cemetery was created. |
| 26 June 6.30 pm | Old Basford Meet at St. Leodegarius Church on Church Street, Old Basford. A walk around one of Nottingham's suburbs that was once a separate village with an interesting history. |
| 19 June and 9 August | 11.00 am General Cemetery Meet just inside the main entrance on Canning Circus A guided tour of the General Cemetery looking at the history and the people buried in it, some of national importance. |
| 24 July 6.30 pm | Park Estate Meet at Nottingham Castle Gatehouse A walk around the presitigious Park Estate, looking at the grand houses and how the private estate developed through the 19th century. |
| 16 July 6.30 pm | Lace Market Meet at Weekday Cross outside Contemporary A tour around the famous Lace Market looking at how the area developed through the centuries into a national centre of the lace trade. |
| 31 July 6.30 pm | Another Walk in the Park Meet at Nottingham Castle gatehouse This walk explores some of the lesser visited parts of the Estate but still delivers great architecture and also looks at the origin of the street names. |
| 14 August 6.30 pm | Nottingham's 'Colourful Characters' Meet on the Council House Steps This is a new walk which looks at some of the characters who's sometimes 'colourful' past has helped give Nottingham such a great heritage. |
---
NOTTINGHAM ALBERT HALL - Binns Organ Trust concerts on Sunday afternoons at 2.45 pm. Admission £5 under 18 free
| | |
| --- | --- |
| 1 June | The NEAT (Nottingham European Arts and Theatre Festival) Recital by David Butterworth |
| 22 June | The Jim Lodge Recital by Simon Hogan (Assistant Director of Music at Southwell Minster) |
| 10 August | The Oundle Recital by Henry Websdale |
| 7 September | Golden Notes from the Silver Screen by Donald MacKenzie |
| 12 October | Anniversary Concert by Lionel Rogg who is one of the greatest organists of our time. Cost £10.00 |
Further details at www.binns.info where information about the history of the Binns Organ can also be found.
---
CRESSWELL CRAGS
Pin Hole Man Returns
After travelling around the world and featuring in exhibitions in China and Spain, one of the Crag's most significant archaeological treasurers has returned home to Cresswell and is the focus of a new, free exhibition 'Man or Superman' which is in the Visitor Centre until October 2014.
The intriguing 13,500 year old engraving is the only Ice Age depiction of a man from Britain. The bone onto which it is carved is much older being from a wooly rhinoceros, an animal which became extinct in Britain 22,000 years ago. However, the small engraving is a mystery and the exhibition explores three ways in which it has been interpreted.
New Director
After a quarter of a century working on the pre-historic collections at Cresswell, Ian Wall left the Crags for the sunnier climes of Cornwall at the end of 2013. The new Director is Roger Shelley, who comes to Cresswell with a wealth of experience from Derby and Chesterfield Museums. Roger's background is as a local and social historian and is looking forward to getting to grips with the fascinating Ice and Stone Ages evidence centred on Cresswell and the limestone plateau.
---
LAXTON HISTORY GROUP
Laxton History Group has Received £31,4000 from the Heritage Lottery Fund to support their project ' A Snapshot in Time, Laxton in Peace and at War (1900-1920).
Professor John Beckett says: This is an extraordinary opportunity to find out more about this unique English village and to recreate the lives of the villagers at the turn of the century until after the First World War.
Roger Cottee, Project Leader said: We are thrilled to have received the support of the Heritage Lottery Fund and we are confdent that the project will give us an opportunity to work together to help to preserve Laxton's unique heritage and to make it more widely available locally, nationally and internationally.
We know many people still living in Nottinghamshire and nearby have connections with Laxton and we are looking forward to making contact with as many as possible to discover the photographs, diaries, letters and other items they may have which will shed light on the village of 100 years ago.
Vanessa Harbar, Head of the Heritage Lottery Fund East Midlands welcomed the project and said: We look forward to seeing this project underway. Laxton had a truly unique surviving medieval farming history and the volunteers of Laxton History Group have presented exciting plans to share it with the wider community.
Laxton History Group was founded in 2008 and involves villagers and others interested in its history. LHG welcomes information about the village from anyone who has lived there or had relatives living and working in the village in the past.
Laxton Heritage weekend on June 28 and 19 will promote the project. Details at www.laxtonheritage.org.uk.
---
NOTTINGHAM PARK RESIDENTS ASSOCIATION
The Association holds a regular talks programme dealing with aspects of The Park and Nottingham's history.
Details can be obtained from David Hill at david.hill5020@live.co.uk or 0115-941-0963.
All talks are held at The Squash Club, Tattershall Drive with doors and bar opening at 7 pm for a 7.30 pm start.
---
HELP REQUIRED
Nottinghamshire County Council are working alongside an archaeology consultancy called ArcHeritage to try and record all the physical remains associated with the mining industry in Nottinghamshire. This ranges from pit shafts and buildings through to railways, chapels and model villages - so quite an ambitious project! The aim of the project is that it will provide a permanent record of the remains therefore ensuring their future preservation and conservation. Alongside this they would like to record what documentary archive material there is associated with the physical remains.
Maria Smith has been asked to contact local Nottinghamshire Groups to see frstly if they hold any material and, if so, what sort of material it is; i.e. maps, oral history recordings, documents, plans etc.
If anyone can help please contact Robert.Portman@creswell-crags.org.uk
---
FURTHER HELP REQUESTED
Member Julia Hodson is studying Art History and Visual Culture at the University of Nottingham and is researching some of Norman Wilkinson's travel posters for the Rail Companies.
One particular image is cslled Midlands Coal Field and was painted in 1930. It is believed to be of a Nottinghamshire Pit and Julia is hoping that Thoroton Society members might be able to identify the particular colliery or at least suggest a direction for further enquiry.
If anyone thinks they can help please contact the editor who will put you in touch with Julia.
---
PHONE 'APP' TO REVEAL NOTTINGHAM'S HIDDEN CAVES
David Strange-Walker told the BBC in February that a new mobile phone app has been developed which will allow people to explore Nottingham's caves from above ground. There is a map function to allow the caves to be located and a panoramic view showing what they look like inside.
The application is free and should be available by now.
---
THE MALT CROSS, NOTTINGHAM
The Malt Cross in Nottingham is the only surviving saloon music hall outside London. A Lottery grant of £1.4 million will allow this music hall, which was once a monastery, to open three more floors to the public, including 12th century monastic caves beneath the present Victorian building.
---
THE WORKHOUSE PAUPERS
The National Trust has announced that there is a new look for the Workhouse Paupers with new costumes being made for use at The Workhouse living history and storeytelling events.
The costumes were researched and created by the Dorcas sewing group with the 1840s outfits being made to the last detail. A checked cloth was specially woven in Ireland to exact specifications and the blue colour was taken from the blue of Newark smocks housed in the local Museum.
---
1ST NOTTINGHAMSHIRE LOCAL HISTORY and ARCHAEOLOGY DAY
The University of Nottingham Museum is organising the above event on Saturday, 21 June 2014 with the aim for Local History and Archaeological Societies to show the work that they are undertaking.
There will be stalls for the participating Societies to display items relevant to their research, talks, object handling sessions and coin identification opportunities.
The day runs from 12 Noon to 4 pm and details can be obtained from the Museum.