News for Winter 2000/2001
Thoroton Society website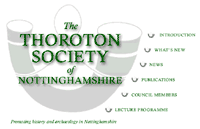 Council, at its October meeting, approved a recommendation to upgrade the status of the Society's Website. We now have the domain name of www.thorotonsociety.org.uk, and will be making a series of additions to the site to increase the information about the county and local history which it carries. News and events which we cannot carry in the Newsletter will appear on the website, together with information for which we do not have space. So that Society members who do not have access in their own homes to the Internet will not feel discriminated against, we are co-operating with the County Library's NewLinc programme, which offers access to the Internet through the following libraries: Arnold, Beeston, Bingham, Bircotes, Cotgrave, Eastwood, Hucknall, Kirkby-in-Ashfield, Mansfield, Newark, Nottingham Central, Ollerton, Retford, Stapleford, Sutton-in-Ashfield, West Bridgford and Worksop. Just go along during normal opening hours and start surfing!
ALLOTMENTS IN MID-19th CENTURY NOTTINGHAMSHIRE
Jeremy Burchardt is seeking information on various aspects of Nottinghamshire allotments 1820-60, particularly in regard to land access by framework knitters, allotment provision and Chartism, and the promotion of allotments by James Orange. Anyone who can help is asked to contact Jeremy Burchardt at Rural History Centre, PO Box 229, University of Reading, Whiteknights, Reading RG6 6AG.
Georgiana 4th Duchess of Newcastle by Janet Roberts.
This 28-page booklet tells the life story of Georgiana Elizabeth, daughter of local coal owner Edward Miller-Munday and the Dowager Lady Middleton. Born in 1789, she grew up at Shipley Hall near Ilkeston, and married Henry Pelham Clinton, 4th Duke of Newcastle. The illustrated booklet includes extracts of love letters between the Duke and Duchess. Price £2.99 post-free; available from www.nottinghamshirenotes.com.
MILESTONES 2000
A request for all interested in saving these often neglected historic highway markers was made earlier this year in the national press. Since then great interest has been expressed throughout the country and it is hoped to form a national society. If you are interested in joining this, require further information or are willing to pass on information on milestones, guideposts, boundary or other way-marks in your own locality, contact Mervyn Benford, Cloudshill, High Street, Shutford, Banbury, Oxford, OX15 6PQ, or e-mail mbenford@bigfoot.com.
Welcome Back!
Members who attended the AGM in April 2000 will recall that we said goodbye on that occasion to Dr Carol Allen, who was stepping down as Archaeology editor of Transactions. As it happens, a whole series of events since April mean than Mrs Pamela Marshall, who was to have been the new Archaeology editor, is unable to take up the post, but Carol has returned to the East Midlands and has slipped back into her old position! Our grateful thanks to Carol.
Standing Committee
To facilitate the Society's business, at its October meeting Council agreed to establish a Standing Committee, which will have a particular remit of looking at strategy and planning. Further details in subsequent Newsletters.
Woodborough Local History Group has just produced Woodborough Heritage: a Village Trail, a brief, illustrated guide to the village, and an excellent introduction to Woodborough. Enquiries to David Bagley: tel. (0115) 9652511.
Council for British Archaeology
Advance Notice: AGM and Reports Meeting, 24 March 2001 at St Hughes Church, Lincoln
Contributions to the Newsletter
Please send contributions for Newsletter No.1 of 2001 by 14 February 2001 to Janice Avery, Department of History, University of Nottingham, Nottingham NG7 2RD (telephone 0115 951 5929, fax 0115 951 5948, or e-mail janice.avery@nottingham.ac.uk). The views expressed in the Newsletter are not necessarily those of the Editor, the Society or its Council.