News for Winter 2006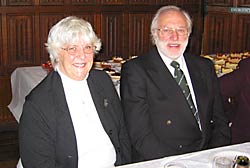 Pauline and Brian Miller enjoying the ambience of the Great Hall. Since they had clearly finished the main course, and the puddings can be seen on a table behind them, full marks for restraint!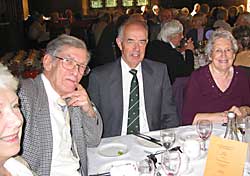 Jim and Pauline Chettle, Peter and Ann Reddish. Peter is proudly displaying his Thoroton tie. Any members yet to acquire a tie can purchase one from the bookstall at lectures!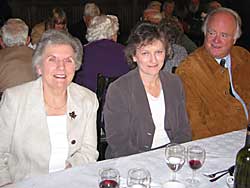 Ann Hoskins, Sarah Hoskins and Peter Bloomfield.
The 2006 Society Luncheon – Back to The Great Hall!
This year's Luncheon, which was held on 18 November in the Great Hall of Southwell Minster, was a great success. The room, in all its medieval resplendence, was welcoming and attractive, the food was superb and plenteous, and the company was in good form. Memories of our past President, Neville Hoskins, were recalled by the Chairman, Professor John Beckett, and by our new President, Rosalys Coope. Claire Wells gave the toast to the Thoroton Society, and in her reply the President particularly thanked Mr Adrian Henstock for his years of service as senior editor, and Mrs Barbara Cast for organizing the lunch and, more generally, for her work as the Society's Honorary Secretary. She also remembered our late President, Neville Hoskins.
The lunch was rounded off by a talk by Professor Michael Jones, which was given to mark the 1050th anniversary of the Southwell Charter of King Eadwig — a fitting talk for this venue with past Minster worthies staring down at us from the walls.
A weekend in Swansea?
Many members of the Society will remember Steph Mastoris, who has lectured to the Society, led excursions, and was a long-serving member of Council. Steph left Nottingham to become Director of the National Waterfront Museum in Swansea, which opened with great ceremony last summer.
Steph has suggested that members might like an excursion to Swansea, which he would lead, and which would include a visit to the Waterfront Museum, a tour of the city's historic buildings, and possibly visits to the Dylan Thomas Centre and the Swansea Museum (established 1841). But as it is a long haul to get to Swansea, he suggests a couple of options: either a 7am start and 11pm finish from Nottingham, or a two-day event including an overnight stay in Swansea (cost about £60 per person). He would be happy to organize the accommodation.
We could do this, but Council was anxious not to commit our hardworking Programme Secretary and his helpers to start work on such an unusual excursion without an indication of whether there would be sufficient support from members and their friends. We intend to put out a list at the December lecture for members to sign up if they would be interested in the visit.
If members cannot come to the lecture but would be happy to come to Swansea, please let either Barbara Cast or me know as soon as possible. We would probably be looking at a Saturday/Sunday weekend; but a mid-week excursion might be possible if there is sufficient support. Please email BJCast@aol.com or telephone 01636 830284, evenings only. John Beckett
NEW RECORD SERIES VOLUME LAUNCHED
It's been a while coming, but the latest volume in the Thoroton Society's Record Series was launched at the Harley Gallery, Welbeck, on Friday 3 November. The book (reviewed here) is an edition of the manuscript diary of William Gould, a Derbyshire farmer who in 1780 became chief land agent to the Duke of Portland's Welbeck Abbey estate. It has been edited for publication by Michael Hanson, a direct descendant. At the launch Mr Hanson talked about Gould and his activities, which included being a tenant farmer at Pilsbury, and spending some time as agent for the Dukes of Devonshire at Chatsworth, as well as the Welbeck connection.
On behalf of the Society, the Chairman, Professor John Beckett, thanked Mr Hanson, and his wife Ann, for their hard work on the volume; and also Adrian Henstock, the General Editor, for the effort he had necessarily had to put into preparation of the book for publication. This was not made any easier when the printers went into liquidation on the day Adrian turned up with the text for printing!
Professor Beckett presented a copy of the book to Robin Brown, William Gould's current successor as agent to the Welbeck estates [see picture above]. In the background is Adrian Henstock. Also present at the launch were Derek Adlam of the Welbeck estate, Lisa Gee, Director of the Harley Gallery who allowed us to use the Gallery, and, representing the Derbyshire Record Society which will be making the book available to its members, Dudley Fowkes and Philip Riden. Thanks were offered to Valerie Henstock and Barbara Cast for providing refreshments. John Beckett
Sherwood Forest Trust –A celebration of Sherwood Forest
The Sherwood Forest Trust is planning to produce a book to celebrate Sherwood Forest, and is collecting photographs and recent living memories of the forest area. The themes are the Spirit of Survival, Spirit of Fun, Spirit of Robin and Sherwood Forest at War. For further information contact the Trust at adrian.andrews@nottscc.gov.uk, or log on to their website at www.sherwoodforest.org.uk
OBITUARY: Mrs Ida Coultard 1905-2006
Members who knew Ida Coultard will be sorry to learn of her death earlier this year at the age of 100. Ida was born in 1905 into a Southwell family, which for generations had played an important role in the Nottinghamshire lace industry. She taught at schools in Southwell, Bilsthorpe and Bildworth, and at Farnsfield Church of England School for nearly thirty years.
Ida owned her own motorbike and car, at a time when very few people had cars. She travelled far and wide, from the Northern Highlands of Scotland to Lands End, and on several occasions to the continent. Once she and some friends found themselves struggling to escape from Czechoslovakia, at the time when Hitler annexed the entire frontier districts of the country. When war broke out she joined the Red Cross, and remained an active member for some years afterwards.
Ida's interests outside teaching included local and family history and archaeology. It was through her digs with the Thoroton Society that she met her husband Edward (Ted) whom she married in 1958. After her teaching career came to an end, and with Ted's support, she devoted much time to researching the history and development of Halam village, resulting in 1978 in Halam: The Story of a Nottingham Village. Geoffrey Oldfield
The Nottinghamshire Register of Events
This year sees the 450th anniversary of the martyrdom of Thomas Cranmer, Archbishop of Canterbury, a son of Aslockton in Nottinghamshire.