Articles from the Thoroton Society Newsletter
An Artistic Mystery: Why was a Portrait of a Nottinghamshire Physician painted by an Italian Grand Master?
Adrian Henstock
The Society recently received an enquiry from Mr Dana Josephson, a retired portrait conservator at the Bodleian Library in Oxford, for biographical information about a Georgian physician George Oakley Aldrich (died 1797) who lived for many years in Nottinghamshire. The Bodleian holds his 'handsome and expressive' portrait which has recently been attributed on stylistic grounds to the Italian artist Pompeo Batoni (1708-1767), who painted portraits of the emperors of Austria and other nobility. This raises the question - how and why did such a major Italian artist come to paint a Nottinghamshire physician?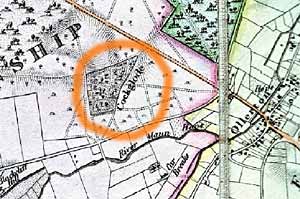 Location of the former Cockglode House (c.1835)
It is not known for certain how George Aldrich came to be connected with Nottinghamshire. Aldrich's father Thomas was linked to St Andrew's, Holborn. George went up to Merton College, Oxford, whence he became B.A., M.A., and M.D. He married first in 1753 Anne Bland in Chertsey, Surrey and subsequently in 1783 Sibylla Benson, one of five daughters of the Rev. Thomas Benson, rector of Bilsthorpe (d. 1810), who was some 42 years his junior. We have been able to find several passing references to him in the diary of William Gould, estate agent to the Dukes of Portland of Welbeck Abbey (published in the Thoroton Record Series, vol 44, 2006). These show that in the 1780s he lived at the now demolished Cockglode House near Edwinstowe as a tenant of the Dukes under a lease of 1777, having previously lived in Mansfield Woodhouse in 1770. He was one of a group of medical and other gentlemen who helped raise subscriptions across Nottinghamshire for the benefit of the Nottingham General Infirmary in 1787. He was also a commissioner of the Worksop-Newark turnpike road in 1788. There are also two letters from him to the Duke in the Portland archives deposited at the University of Nottingham's Dept of Manuscripts and Special Collections.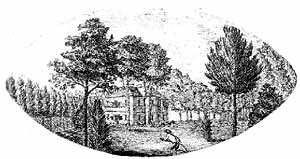 Cockglode House as sketched by John Throsby, c1790.
Aldrich's will has been located. It is very long and indicates considerable wealth. He left bequests to several women, in one case explaining why he is leaving less to his wife's brother than to her sisters! It goes to great lengths to ensure Sunday services at a local church that had largely gone without any. He also endowed three professorships (lectureships or readerships) at Oxford, in chemistry, anatomy, and medicine.
Aldrich's executors were John Gally of Langold and Samuel Smith of Nottingham. The former must be a member of the Gally Knight family of Warsop and district and the latter one of the famous Nottingham banking family who founded Smith's Bank in the Poultry. Another legatee was his goddaughter, Mary Bernardiston Neale, the daughter of the late Rev. John Neale, rector of Tollerton. He is obviously a member of the Pendock-Barry-Neale family, squires of Tollerton (they kept changing their surname!). There are references in Abigail Gawthern's Diary to the Rev Pendock Neale in the 1790s.
The portrait was donated to the Bodleian in 1837 by a Miss Benson of East Retford, a sister of his second wife who died in 1802, but by which one of the unmarried sisters - Frances, Anne, Laetitia or Mary - is not known. Her offer of the portrait was made through a letter written on her behalf by a friend, Ms/Mr W. Allison. There are also outstanding questions concerning the burial-places of Aldrich and Sibylla. There are records that he was buried at Ollerton and she at Kirton - why apart? - but the husband of the current priest-in-charge at Ollerton (for St Giles, St Matthew, and St Albinus) has been unable to locate a memorial or grave for Aldrich.
To return to the original question, Aldrich is documented as being in Rome in 1750 on the Grand Tour along with the Rev. John Neale, although not in the company of the second Duke of Portland. This coincides with the early part of Batoni's career and success with painting English visitors on the Grand Tour.
Another possibility is that Aldrich was employed as a personal physician to William Henry Cavendish Bentinck, 3rd Duke of Portland (1738-1809) and accompanied him on the Grand Tour of Europe; he is known to have visited Poland, Germany, and Italy between December 1757 and October 1761. However, neither option explains why Batoni should have painted a mere physician.
If any Society member has further information on Aldrich, his family or other contacts please let me know so that I can pass it on to Mr Josephson.
The portrait, which is reproduced on the front cover, can be seen on the ArtUK website (https://artuk.org/discover/artworks/george-oakley-aldrich-17221797-228779). Later this year there will be a programme about it in the BBC 4 series Britain's Lost Masterpieces.
< Previous