Articles from the Thoroton Society Newsletter
Balloonacy?
by Terry Fry
On 15 October 2012 Felix Baumgartner made the highest balloon jump from 24 miles up above New Mexico. This achievement reminded me that it is exactly 200 years since the first successful flight by a man in a balloon above Nottingham.
The initial success in 1783 of the Montgolfier Brothers, Joseph and Jacques, the French inventors and pioneers of hot air ballooning, excited considerable interest around Europe. For example on 13 July 1785 a Mr. Blanchard ascended with his new balloon and travelled a few miles from Rotterdam. Only a few days before on 4 July a Mr. Cracknell advertised his intention of making the first ascent in Nottingham from the Forest Racecourse. Shops were shut and thousands of spectators crowded round the apparatus, at first waiting patiently. Unfortunately it took far too long to fill the balloon with hydrogen and by 7 p.m. some of the spectators lost patience and cut the cords, releasing the balloon without an occupant. Then they destroyed all the apparatus and made a bonfire of it. The balloon landed near Horncastle and was found by some labourers who cut it up and shared the pieces.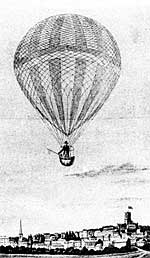 This print, thought to be by Richard Bonington, senior, shows the flight undertaken by Mr. Sadler on 1 November 1813. The illustration is taken from Ken Brand's book 'Nottingham: an illustrated history.
It was another 28 years before England's first successful manned ascent in Nottingham. Then, on Monday 1 November 1813, the experienced balloonist James Sadler went up in his hydrogen balloon from the Canal Company's wharf. The Nottingham Review reported that he ascended in a most beautiful and majestic style amidst the cheers and gratulations [sic] of thousands of admiring spectators. The gentle breeze carried the aeronaut across the Trent and the Vale of Belvoir, and he was distinctly seen with the naked eye from St. Mary's tower for 45 minutes. After a pleasant journey lasting 59 minutes and covering 32 miles Sadler came down near Pickworth in Rutland. His descent was very rapid and he fell with the car on one side of a high hedge and the balloon on the other, although little damage was done to either. The following Sunday collections were made on behalf of Sadler in the public houses of Nottingham.
The next time the population of the town witnessed a balloon ascent was on 3 November 1823 when the aeronaut was Windham Sadler, the son of James. It was estimated that about 2,000 spectators paid 2 shillings each to see him lift off from the Castle Grounds, and about 6,000 watched from a distance for free. Using coal gas instead of hydrogen, the balloon passed over Nottingham and descended finally at Thorpe-on-the-Hill near Lincoln. In August 1826 Charles Green made his first ascent above Nottingham, leaving via the Market Square. His balloon was also filled with coal gas, and ladies and gentlemen paid half a guinea each to go up in it, then to be pulled back to terra firma by ropes attached to the car. Eventually a Mr. Saywell of Leicester paid 25 guineas, a huge amount, for the privilege of flying with Green as far as Edwalton.
Green returned to Nottingham in August 1847 to perform his 370th ascent, this time from Nottingham Barracks near Derby Road. The balloon, filled with hydrogen, was called Royal Victoria and was made of 12,000 yards of silk in alternate stripes of crimson and yellow. Again shops were closed in the town as about 1,500 spectators paid a shilling each to enter the Barrack yard. Two gentlemen accompanied Green on the flight, which eventually ended on the lawn in front of Staunton Harold Hall, where Earl and Countess Ferrers and guests gave them a hearty reception.
We still see balloons over Nottingham from time to time, but nothing can match the excitement of that first ascent on 1 November 1813. Some were seeking the added frisson of a possible fall to earth by this balloonatic. Others saw it as bringing Man nearer my God to thee. Yet others viewed it as an invasion of God's space and therefore a sin.
< Previous