Articles from the Thoroton Society Newsletter
Battle Bridge, Upton
By
Nick Molyneux
Battle Bridge today is little more than a mundane culvert on the A612 between Upton and Averham. But does its name hold clues to a more interesting past? Nick Molyneux takes a closer look at possible origins.
The bridge lies on a bend, crossing what appears to be an unnamed watercourse running from the western side of Mickleborough Hill down into the Car Dyke, then to the Pingley Dyke and on into the river Trent at Averham. In its current form, it is a fairly undistinguished structure on a pronounced kink in a modern A-class road. It is so low-key that many motorists are probably not aware they are crossing a bridge at all. There is no road sign to confirm its identity as "Battle Bridge". There seems to be a current local belief that the name Battle Bridge is connected to the sieges of Newark during the English Civil Wars of the mid-seventeenth century. A quick google search for 'Battle Bridge, Upton, Nottinghamshire' soon found a family history website suggesting that '... the entrance to the village ... over Battle Bridge (so-called due to the activities at that location in the Civil War)'. But is it?
The Current Build & Watercourse: The present bridge dates from 1964, when it replaced an earlier brick-arch structure. It consists of prestressed concrete planks with an in situ concrete deck and has the reference number 3216C. Although Ordnance Survey maps seem to have no name for the water running under the bridge, the county highways contractor, Via East Midlands Limited, refers to the watercourse as Beck Drain. The Trent Valley Inland Drainage Board, which has responsibility for the watercourse between the bridge and the Trent, refers to it as Battle Drain or, perhaps rather less interestingly, TVB301407.

Botwulf's Bridge?: I was originally drawn to Nottinghamshire's Battle Bridge after reading a very informative paper about St. Botolph, the 7th century East Anglian saint, by Dr. Sam Newton. St. Botolph (Botwulf) is associated with bridges, boundaries, trade and major road routes. This association with travel is perhaps most strikingly illustrated by the fact that three of the main gates into the medieval City of London each had its own church dedicated to the saint. Each of these dedications survive: St. Botolph without Aldgate; St. Botolph without Bishopsgate and St. Botolph without Aldersgate. As the names imply, all were located just outside the walls. A fourth St. Botolph's was by the Thames wharves at Billingsgate, another entrance into the city. It burned down in the Great Fire of 1666 and was not rebuilt. Like London, Lincoln also has an extra-mural roadside dedication in St Botolph-by-Bargate, the church being on what was once the southernmost boundary of the town on the main road to the south. Also in Lincolnshire, perhaps his most famous association with a given place is Boston, the place-name meaning either Botolph's (Botwulf's) settlement (tun) or preaching-stone (stan). The town's magnificent Boston Stump is one of some 65 to 70 churches which have been dedicated to the saint and there are a number of other place-names which may also be associated with him. Amongst those other places was a Battle (or Bottle) Bridge across the river Nene into Peterborough, recorded in Domesday as Botuluesbrige ("Botwulf's Bridge"). Could there be a similar origin for our Battle Bridge?
St. Botolph Dedications in Nottinghamshire?: For those of us who had forgotten, St. Botolph's Day is the 17th of June. So, there was more than just a touch of serendipity about correspondence I received from Dr Denis Pepper of The Society of St. Botolph on that very day last summer. The Society is free to join and has a very informative monthly newsletter, which shares information on all things Botolphian. I was enquiring as to whether or not the 7th century East Anglian saint had any known dedications or connections to the County of Nottinghamshire. Dr Pepper's news was disappointing. It seems that Nottinghamshire is and always has been a Botolph-free county. If there was no obvious local connection between St. Botolph and the bridge, it was time to look elsewhere.
The English Civil War and a Case of Mistaken Identity?: If the name did not derive from the protector of travellers, perhaps the local belief in an origin associated with the English Civil War was correct? The main road between Nottingham and Newark ran through Upton and over the bridge and might reasonably be expected to play some role in the conflict. The importance of Muskham Bridge on the Great North Road across the river Trent during that period is well documented. It was a major tactical objective for the attacking forces in the sieges of Newark in both 1644 and 1646. However, if Battle Bridge was the site of an important engagement during the Civil War, I've struggled to find reference to it. Coincidentally, there was a significant Civil War action fought on the 28th of August 1651 involving the daring capture of a bridge at a place called Upton... Upton-upon-Severn. A small group of Parliamentarian troops under Colonel John Lambert captured a badly damaged structure across Severn, allowing the New Model Army to block Royalist communications with Wales. Could knowledge of this event have encouraged a belief in a Civil War derivation for a Battle Bridge in Nottinghamshire's Upton?
The English Place-name Society (EPNS): The EPNS' survey of the County's place-names is clear that in 1585 it was called Bartlebridge, significantly pre-dating any connection to the Civil War. Dr. Paul Cavill has kindly shared further work on the place-names of Upton, which confirms a series of "Bartle" references during the 17th and 18th centuries. (See Appendix I below). So, even within living memory of the Civil War, the name had not acquired any formal association with military action.
The Ordnance Survey (OS) Name-change: Henry Steven's 1820 Survey of the Trent clearly shows our bridge as being called Bartle Bridge. Similarly, in the OS First Series sheet 70 published in 1856 the name is still Bartle Bridge (see Map 1 below). However, a change takes place in the second-half of the 19th century when the OS maps begin to use the term "Battle Bridge". Quite why the name changed is still uncertain. Perhaps a map-maker's "correction" for local dialect or the learned opinion of a country parson or school master?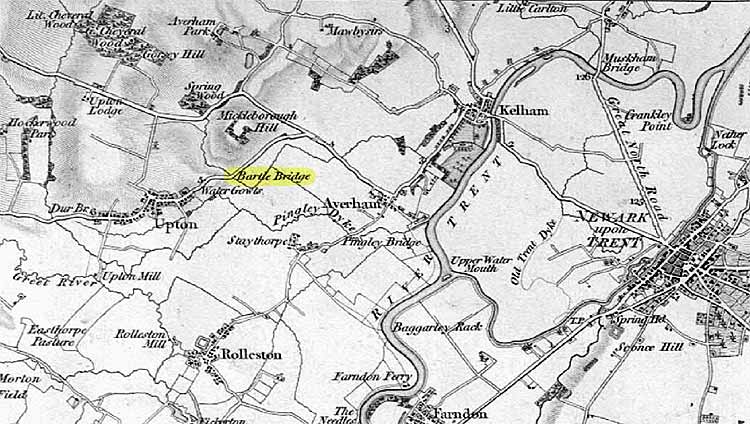 Map 1: Ordnance Survey First Series, Sheet 70 (1856) showing "Bartle Bridge", Upton

The meaning of Bartle?: The EPNS currently concludes that the "Bartle" element is obscure. Yet the surname Bartle is not uncommon in surrounding parishes. Appendix II below gives the number of individuals named Bartle in Nottinghamshire according to the 1841 census. Of 63 people so named, just over half are in the Southwell area. There are also a number of bridges across Nottinghamshire named for families or individuals (see Appendix III below). We may never know who the Bartle was who was first associated with Battle Bridge or why but it seems most likely that the bridge originally took its name from that of a local family. In doing so, the naming of the bridge is following something of a local tradition.It may lack the excitement of a spot where Roundheads and Cavaliers fought a skirmish. It may not have the significance of a holy place where pious travellers sought the protection of a venerable saint but for the best part of three hundred years it proudly bore the name of a Bartle. I wonder if there might be any appetite to change it back?
If any reader knows of any connection between an individual or family named Bartle with a connection to the bridge, or has evidence as to the reasons for the name-change, please e-mail the author at n.molyneux@live.co.uk
Appendix I - EPNS References to Bartle Bridge (JEPNS 40) - Bartle Bridge 1638 CWA, 1670, 1703 Deeds, 1709 AbstrT, 1745 DioTerr, 1757 Deeds, 1770 Terrier, 1795 EnclA, bartle bridge 1612, 1625, 1632 CWA, Bartle Bridg 1670, 1684 Deeds, Bartle brig 1687 DioTerr, Bartlebridge 1724 ib, 1739, 1764 Deeds (cf. Bartle Bridge Leys 1684 Deeds, ~ ~ close 1684 ib, 1733, 1766 AbstrT, 1817 DioTerr, Bartlebridge Furlong 1776 AbstrT; v brycg, the first element is obscure).
Appendix II - the 1841 Census - Nottinghamshire Distribution of Surname "Bartle" - Whatever the distribution of the surname Bartle when the term Bartle Bridge was first recorded in the 16th century, by the mid-19th century the area north of Southwell was something of a family stronghold.
| | | | |
| --- | --- | --- | --- |
| Rank | Census Area | Settlements | Persons |
| 1 | Southwell | Boughton; Eakring; Farnsfield; Kneesall; Laxton | 34 |
| 2 | East Retford | Bevercotes; Clarborough; South Leverton; Tuxford | 9 |
| 3 | Gainsborough | Misterton | 8 |
| 4 | Radford | Lenton; Sneinton | 6 |
| 5 | Nottingham | St. Mary | 4 |
| 6 | Newark | South Collingham | 1 |
| 7 | Worksop | Carlton-in-Lindrick | 1 |
| | | TOTAL: | 63 |
Appendix III - Other Family-named Bridges - Nottinghamshire has a number of bridges named for local families or individuals. The English Place-name Society Place-names of Nottinghamshire (1940) notes the following examples:
| | | |
| --- | --- | --- |
| Bridge Name | Settlement | Explanation |
| Mann's Bridge | Cotgrave | Associated with the family of Mary Mann (1754) |
| Grimesbrig | Epperstone | Earlier name of Wash Bridge (1280), near Grimsmoor from Old Norse name Grimr. |
| Gray's Bridge | Clayworth | Associated with the family of Samuel Gray (1850) |
| Otter's Bridge | Clayworth | Associated with the family of Roger Otter (1682) |
| Pickin's Bridge | Perlethorpe | Associated with the family of William Pickin (1790) |
| Hartrey Bridge | Mansfield | From woman's name Heahthryth as Eghtredesbrug (1227) now Newbound Mill Bridge |
Sources: (1) BCWProject (British Civil Wars, Commonwealth & Protectorate 1638 - 1660) website: [http://bcw-project.org/]; (2) Cullens of Upton Family Website [http://members.bex.net/jtcullen515/Upton.htm]; (3) The Botolphian - Newsletter of The Society of Saint Botolph, Issue 85, June 2020; (4) The Forgotten History of St. Botwulf (Botolph), Dr. Sam Newton, first published in The Proceedings of the Suffolk Institute of Archaeology and History, 43 (2016), pp. 521-550; (5) The Place-names of Nottinghamshire, J.E.B. Gover, Allen Mawer and F.M. Stenton, English Place-name Society, 1940 reprinted 1999; (6) Upton, Thurgarton Wapentake, Nottinghamshire, Jean Cameron, Paul Cavill, and Richard Jones, JEPNS 40 (2008), 23-34; (7) Find My Past website: [https://www.findmypast.co.uk/]; (8) Ordnance Survey First Series (Old Series) Sheet 70 (1856); (9) Genesreunited.co.uk website.
With thanks to: Dr. Paul Cavill, English Place-name Society; Mike Hawkins, Bridge Manager, Via East Midlands Ltd.; Neil Hunter, Technical Support, Water Management Consortium and Doncaster East Internal Drainage Board; Jason Mordan, Senior Practitioner Historic Buildings, Nottinghamshire County Council; Dr. Denis Pepper, The Society of St. Botolph.
< Previous