Articles from the Thoroton Society Newsletter
Bishop Llewellyn Gwynne, former Vicar of Emmanuel, Nottingham
By Terry Fry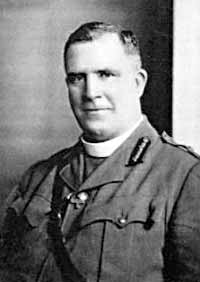 Bishop Gwynne as Deputy Chaplain-General in France (Photo from 'Pastor of the Nile, H.C. Jackson, 1960).
Henry Llewellyn Gwynne was born on June 11th 1863, the fifth child of Richard Gwynne who taught in a little school on the outskirts of Swansea. There were six sons who all went to Swansea Grammar School. After school Llewellyn had what we now call a 'gap year', when he taught at Beverley. Then he entered St. John's Hall theology college in Highbury, London, from where he was ordained in 1886.
His first appointment was as curate at St. Chad's, Derby. He was a keen sportsman and while there he played football for Derby County, as a bustling centre-forward. According to their Complete Record book he was the only reverend to play for the club - but in one game only! That was on January 7th 1888 in the 5th round of the FA Cup away to Crewe Alexandra, which Derby lost 1-0. Bishop Ridding was concerned about betting on football matches, but Gwynne re-assured him by saying that some people would bet on anything, including the length of the Chaplain's sermon.
St. Andrew's, Nottingham
After three years at Derby, Rev. Gwynne was sent to St. Andrew's, Nottingham as second curate. He inaugurated a 'top hat' Bible class for boys, so called because some of them turned up in top hats when home from public school. He was appointed Vicar of Emmanuel, Woodborough Road, in 1892 and quickly got to grips with the completion of the chancel, consecrated in March 1893. The parish was in a very poor area and Rev. Gwynne and his flock worked hard to raise funds, particularly by American Fairs and Sales of Work. By the time of Rev. Gwynne's departure they had paid for the Parish Room and the chancel and a small amount was left for the Mission Room and Men's Institute.
Rev. Gwynne modestly claimed to be young, very inexperienced and not very clever, but his flock taught me more than I could teach them. Between them they started a coffee tavern and Boys' Club run by the ladies of the Temperance Society, who were also responsible for the Tea Tent on the Forest. Rev. Gwynne was a teetotaller all his life and fully supported the temperance movement. He also set up open air meetings with choir, clergy and speakers for those parishioners who never came to church.
A fine all-round athlete, Rev. Gwynne led Emmanuel football and cricket teams to great sucess. He actually played cricket to a high standard for Notts. Amateurs. He was once challenged to a sporting wager - £100 for Emmanuel Church if he won - in seven sports: golf, cricket, boxing, billiards, tennis, 100 yards dash and 100 yards swimming. The score was 1-1 when his challenger moved to South Africa.
Missionary to the Sudan
He enjoyed his time in Nottingham but always knew he would go overseas. His hero was General Gordon, who was killed in Khartoum the day before Emmanuel's consecration, so an appeal for missionaries to go to the Sudan was a magnet for him. He left Nottingham in 1899 with a monthly salary of £12.10s. However, it was some time before he was allowed to teach Christianity in a Muslim country. In the meantime he involved himself in many ways, including refereeing football matches, in one of which he broke up a howling mob by laying about him with a whip. He impressed the labourers of Port Sudan by winning a cricket match with a score of 83; then they were willing to attend a little church.
Gwynne was a good boxer and sometimes fought in the British barracks, and once had to preach on Sunday sporting a black eye. He was also a good shot, killing ibex and ariel for example, but never on Sundays!
Archdeacon, Bishop and War Service
He worked very hard spreading the word and was made an Archdeacon in 1905. Three years later he became, in spite of his protests, Bishop of Khartoum. A bishop needs a cathedral and he soon began the campaign to collect funds for one, including touring the British Isles. Finally, in 1912, the cathedral in Khartoum was opened for worship. The litany stool was a gift from his former parishioners at Emmanuel, Nottingham.
When the First World War broke out Bishop Gwynne insisted on joining the Army as a chaplain, although he was now 51. He was eventually accepted and reluctantly parted with his moustache. He insisted on going to the front line but was appointed Deputy Chaplain General of the British Army, much against his wishes. However his function supervising hundreds of chaplains was invaluable. (By the end of the war there were 900 Church of England chaplains and 98 died in the confict). Some were difficult to manage, such as Captain G.A. Studdert-Kennedy (Woodbine Willy) and Captain Theodore Bayley Hardy V.C., D.S.O., M.C. They were unconventional and didn't toe the military line, but General Gwynne supported them, realising how much they inspired the men. Hardy had been a master at Nottingham High School when Gwynne was the Vicar of Emmanuel.
General Gwynne threw his weight behind the Church's National Mission which attempted to persuade soldiers to believe in prayer and the Gospel. During the course of the Mission controversy arose over the use of women speakers. Gwynne, a pioneer in many ways, said The Church will be forced to employ in every department the ministry of women.
Field Marshal Haig thought that Gwynne's job was one of the most important in the Army. Haig was a devout Christian, as were many of the generals, who believed that God was on their side. One of them, General Plumer, went so far as to say that Gwynne was the man who did the most to win the war. Modestly he never wore the C.M.G. and C.B.E. awarded to him during the war, although he was proud of the Honorary D.D. bestowed on him by Glasgow University.
Return to Africa
He returned to Africa in the summer of 1919 and began to strengthen the ties between Anglican, Greek, Syrian, Coptic and Armenian Churches. He even introduced a 'Church on Wheels', a railway coach which could be attached to any train and used for services anywhere. It travelled 500,000 miles in 20 years. A church for lepers was established, as were secondary schools for girls. In 1920 he became the Bishop of Egypt and the Sudan. He was determined to have another cathedral built in Cairo (designed by Adrian Gilbert Scott) which was consecrated in 1938.
His sermons in Cairo cathedral were a source of inspiration in the Second World War, but he often leaked information, which worried the 'Top Brass'. He was still fit and active for a man who was 80 in 1843, but occassionally overdid things.
He broke his arm trying to climb a bunker and was told it would be permanently bent. Later, however, he fell between the platform and a train and he was delighted to find that the porters, in pulling him out, had inadvertently straightened his arm! He retired after the war but returned to Cairo cathedral in 1951, aged 88, to dedicate the memorial window to men of the Eighth Army. (he came back to Emmanuel Church in October 1929 to unveil memorial windows for J. Potter Briscoe, churchwarden for many years).
Epping Upland in Essex was the place he chose for his retirement. But he still got up at 5.30 a.m. and just before he died he said The older I get the harder I work. Not enough people attended his local church, so he went to the pub to meet others and tell them fascinating stories about his long life, which ended on December 9th 1957. He was 94. There were 1,300 people at his memorial service in Westminster Abbey on January 27th 1957. Bishop F. Barry said He was a burly man every inch masculine, a man's man. Yet he was patient and gentle as a mother. His ashes were buried in Khartoum Cathedral near those of his hero General Gordon. A processional cross in his memory was dedicated at Emmanuel Church in Nottingham, which had played a significant part in the career of this remarkable man of the Anglican Church.
< Previous