Articles from the Thoroton Society Newsletter
George Brough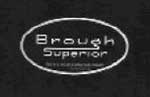 By Ken Brand
This article originally appeared in Newsletter 154 (April 2014) of the Nottingham Civic Society without the illustrations and is reproduced by very kind permission of the author and editor of that Newsletter.
Illustrations have been provided by the author and some additional ones taken from the internet.
George Brough was born on 21 April 1890 at 10, Mandalay Street, Basford, Nottingham. He was the second son of William Edward Brough. His elder brother, also William Edward, was born on 18 June 1885. His father, who was a colliery electrician/engineer started by tinkering with 'motorised bicycles' at home but he decided to concentrate full time on building motor cycles in the mid 1890s at a factory he had acquired on Vernon Road. The first real Brough appeared in 1902.
After leaving school both sons entered the family business, William left in 1909 and joined a ship building company, George developed a passion for motor cycles and increasingly took an interest in the frm's future. Riding Brough machines he took part in various competitions of the time, most notably winning the MCC London-Edinburgh-London time trial three years running 1910-1912. In the years leading up to the First World War he started planning high performance motor bikes without really convincing his father of his vision. His father constructed a few motor cars at this time.
Part of his war service was spent in the Air Inspection department, where as an aside he managed to check out and ride a wide range of motor cycles then available. He found time to marry in 1916.
After the war George spent two years trying to persuade his father that future development of the firm should include making high performance motorcycles. Unable to change his father's thinking he decide to start up his own company. He found a site on Haydn Road, Sherwood, in late 1920. He moved into his new premises which were mainly pre-fabricated, in January 1921 and was in production by April 1921.
To avoid confusion with his father's Brough machines he called his range of motor cycles Brough Superior, a name allegedly suggested by a friendly fishmonger. It is said his father responded by saying 'I suppose you consider my motor cycles are inferior'.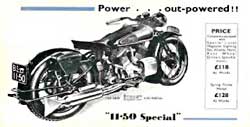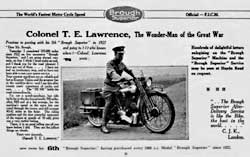 T.E. Lawrence (Lawrence of Arabia) was a faithful customer, owning seven in total and was riding an SS100 at the time of his fatal accident in May 1935. Above: A Brough advert featuring Lawrence.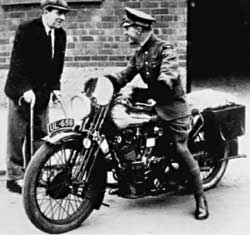 Lawrence and George Brough outside the factory when Lawrence collected a new machine.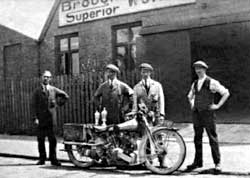 The first Brough Alpine model outside the works. Note the trophies placed on the seat.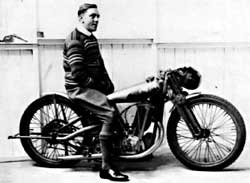 George Brough in 1928 and an SS100 model. The figures after the letters denote the speed in mph at which the machines had been tested!
George's machines were soon acclaimed for power, performance and quality. In the early 1920s Rolls Royce were noted for their technical excellence, so it was not long before the Brough Superiors were described as the 'Rolls Royce of Motor Cycles' and it became the firm's marketing slogan. A story, apocryphal no doubt, but often related by George concerns a visit to the Haydn Road factory by a representative from Rolls Royce who were worried about the unapproved use of their respected name. After the visit this man, suitably impressed, emphatically declared Brough Superiors were indeed the Rolls Royce of motor cycles.
Brough Superiors were the first super bikes; they were big bikes. George said you sat in them, not on them. They were not cheap, most were custom built to customers' requirements using the best components. T.E. Lawrence of Arabia, who died while riding his seventh Brough machine, was apparently of relatively small stature and so his bikes were fitted with a smaller rear wheel.
Brough was always a small firm; the largest number employed, recalled a former employee, was about 150, who completed not more than 10 machines a week. Nevertheless in 21 years of production 19 different models were designed and an overall total of 3,048 motorcycles produced. Although production fnished c1939, it is claimed that around 1,000 Brough Superiors still exist, although any person wishing to buy a Brough Superior in good condition would be looking at an asking price of £286,000; an October 2010 purchase.
This is not the place to run through the features of the various models. One of the earliest models was the SS80, those who bought the machine received a certifcate that the machine had indeed travelled one kilometre at 80 mph. George Brough testing out a Superior SS80 at Brooklands in 1922 achieved unoffcially a lap at 100 mph (160 km/h). Similarly a later model the SS100 was tested to 100 mph before delivery.
Alongside manufacturing motor cycles George was testing and racing them, at times with great success. In 1928 at Arpajon, south of Paris, he set up, unofficially, the world's fastest speed for a solo motorcycle of 130.6 mph (210.2 km/h).
In the early 1930s George started developing an eight cyclinder Brough Superior car; managing to get it registered as 'GB 1933'. Manufacture of cars continued until 1938 using American engines. A local directory for 1936 listed Brough Superior Cars Ltd. next to George Brough motor cycle maker on Haydn Road.
Just prior to the outbreak of war George and his team developed a four cyclinder motor cycle, better it was claimed than that from BMW of Germany, the market leader. However, the outbreak of war ended the Golden Dream, with only four or five built.
The war brought an end to motor cycle production and the factory was turned over to produce Rolls-Royce Merlin aero-engines. The work force increased to around 800 working in three shifts. After hostilities had ceased there were no suitable engines available so the company switched to general engineering. Brough Superior Engineering carried on as sub-contractors with Bonser Engineering their main contractor. After George died Bonser started to make fork lift trucks and needed a machine shop, so to ease financial constraints the Brough firm was sold to Bonser. A newspaper report reveals the Brough Superior Engineering works was closed down in August 1981.
As a successful businessman and acclaimed racing motor cyclist George had a number of celebrities as friends; including among Hollywood stars Orson Welles and the Head of C20th Fox pictures, as well as George Bernard Shaw!
George died at his home, 'Pendine', Redhill on 12 January 1970, aged 79. The house was named after Pendine Sands, the seven mile stretch of beach in Camarthen Bay which provided 'The finest natural speedway imaginable'. Not only did George test and race here, it was used by Sir Malcolm Campbell for his record attemps in Bluebird.
[Ed. For a survey of the Brough Superior motor cycle one could do worse that find a copy of Ronald H. Clark's book 'The Rolls-Royce of Motor Cycles' (1964, Goose & Son, Norwich)
< Previous