Articles from the Thoroton Society Newsletter
Early members of the Thoroton Society: Cornelius Brown
By
John Beckett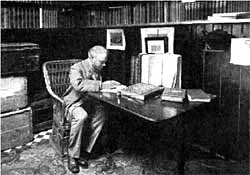 Cornelius Brown in his study.
Cornelius Brown (1852-1907) is best known in Nottinghamshire as the historian of Newark. He joined the Thoroton Society in 1898, became a member of Council in 1900, a life member in 1902, and a Vice President in 1903. He died, aged only 55, in 1907.His magnum opus was his two-volume history of Newark (1904, 1907), but he also wrote other books, and articles for Transactions of the Thoroton Society. He was known for the lively way in which he led Society excursions, especially those which took place in and around Newark. When, in 1899, preparations began for starting the Victoria County History in Nottinghamshire, Brown was recommended to William Page, the General Editor, as one of the county's leading local historians.
Cornelius Brown was born on 5 March 1852 at Lowdham. His father was described in the 1861 census as a baker and grocer, and in 1871 as a baker. Cornelius was described in the 1871 census as a reporter, but by 1881 he had moved to Southwell, and was described as a newspaper proprietor. By then he had married Hannah Wright (born London, 1849) and they had three children: Percy William (b. 1879), Herbert (b. 1880) and a third child, Ethel (1883-1968) born in 1883. In 1881 as well, Brown had a servant, and two residential guests, his mother in law Mahala Wright (b. 1816) and a cousin, Zillah Ashton. In 1891 the household consisted of Cornelius and Amelia, the three children, and two servants both aged 15, an indication that Cornelius was doing well. The family was living in The Friary on Appletongate, Newark. In 1901 the family had moved to 1 Magnus Street, Newark. Herbert was still living with his parents and working as a banker's clerk. Ethel was living in the household but without a recorded occupation, and there was an 18-year-old servant. Brown himself was described as a 'journalist and author. When he died in 1907 a probate of his will was granted to his widow and his son Percy, now described him as a gentleman. Trained as a journalist on the Nottingham Guardian, in 1874, aged just 22, he became editor of the Newark Advertiser. He was also a historian, hence his membership of the Thoroton Society from 1898 and of Bromley House Library. His History of Nottinghamshire was published in 1891, and when in 1899 arrangements were being made to launch the Victoria County History in Nottinghamshire, he was regarded as one of the obvious contributors from within the county. Charles Gerring, a local bookseller with a shop on Victoria Street in Nottingham, wrote in June 1899 to the VCH General Editor, H. Arthur Doubleday, recommending that 'there are three names that occur to me at once that might be helpful as workers: Mr Cornelius Brown of Newark, Mr T.M. Blagg of Newark, and Mr J Potter Briscoe FRHS, of the Free Public Library in Nottingham'. Brown was an active member of the Thoroton Society, leading excursions, and contributing papers to Transactions. A paper on Beauvale written by Brown in 1889 and subsequently revised for publication was read on an excursion in September 1907. Other papers by Brown on Worksop Priory and Newark church also appeared in Transactions.1
As a vice-president of the Thoroton Society he was always willing to lead excursions in the area around Newark, and whenever the Society visited Newark he generally acted 'as guide and lecturer in his own inimitable way'. Without any doubt, Brown's major work was his History of Newark, curiously subtitled 'the life story of an ancient town', which he claimed took him fifteen years to research and write. It appeared in two volumes, of which the second was published only after his death on 4 November 1907, although he did correct the proofs.2 It was typical of its genre in late Victorian England, but nonetheless important as a contribution not just to the history of Newark but also to urban histories more generally. Volume 1 covered 'earliest times' to the incorporation of the borough; and volume 2 covered the period from the reign of Edward VI to Edward VII.3 It was a chronological account written monarch by monarch - a method typical of the period, while the research on which it was based was largely in the London repositories where Mr R Westland Marston was the contracted agent. T.M. Blagg of Car Colston, another leading Nottinghamshire local historian, was also profusely thanked for his help. For the depth of his scholarship, Brown was elected a Fellow of the Society of Antiquaries, and a Fellow of the Royal Society of Literature.4 Honours were welcome but he had no illusions that such promotions might lead to financial gain. Those local historians who enter on such an enterprise do not usually look for financial reward, and if they do, they usually look in vain. The recompense comes in other ways, and no doubt the author of this history of Newark will for the rest of his days feel a sense of satisfaction in the thought that he has been enabled to set forth the historic fame of a town that incited and justified his best efforts. Brown died in Newark in November 1907 after a short illness, but even today his name is inextricably linked with the history of the town. His history was reprinted in 1995, and more recently has been digitized and is available free on the internet. Although it is now dated in terms of urban history, the evidence it contains and the knowledge it conveys reminds us that Brown was a journalist at heart, with an understanding of how town histories were written.
1. Cornelius Brown, 'Beauvale Priory' Transactions of the Thoroton Society 11, 1907, 35-9; 2. 1905 (83-9), 4(1900) 67-72; 3. Cornelius Brown, 'A History of Newark-on-Trent, Being a Life Story of an Ancient Town', 2 volumes 1904, 1907; 4. Douglas P Blatherwick, 'Cornelius Brown, the Nottinghamshire Historian', The Nottinghamshire Magazine Vol 1, No 2 (December 1932)
< Previous