Articles from the Thoroton Society Newsletter
Dr Robert Thoroton, the Barret Family Coat-of-arms, and the Heraldic Visitation of Nottinghamshire of 1662-64
By Adrian Henstock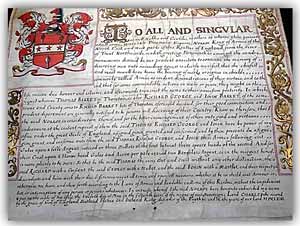 Barret of Thoroton Grant of Arms 1663.
The Society recently received an enquiry from Mr Mark White of Lindfield in West Sussex seeking information relating to a grant of a coat-of-arms issued to the Barret family who lived in the village of Thoroton near Bingham in the 17th century. The document had been passed down through at least four generations of his family but he had no knowledge of its origins other than the fact that Barret was the maiden name of his Victorian great-grandmother who lived in London.
Such grants-of-arms are quite a rare survival for Nottinghamshire, and this one is of especial interest in that not only was the Barret family related to Dr Robert Thoroton, but also that he almost certainly compiled their pedigree which was an essential prerequisite of such a grant. It is also unusual in that the grant was made to four brothers and their descendants rather than to a single person as was normal.
Most members will know that our Society was founded in 1898 and named in honour of Dr Robert Thoroton, who published the first history of the county - the Antiquities of Nottinghamshire - in 1677. Although he was a practising physician from Car Colston near Bingham, he possessed a passion for family and local history. He traced the history of his own family and was then persuaded to undertake genealogical research for some of his neighbours in the area; this eventually broadened into an interest in county-wide history.
The heraldic 'visitation' of the county in 1662-4 first brought him to the attention of the chief herald from London's College of Arms, Sir William Dugdale. He had published the first-ever English county history - of his native Warwickshire - in 1656, and he encouraged Dr Thoroton to do likewise for Nottinghamshire.
The College of Arms had oversight of all heraldic and official ceremonial issues relating to the upper classes, and the heralds made periodic visitations to selected counties to investigate claims of persons to bear arms and to call themselves 'gentlemen'. As possession of 'gentle' ancestry was almost as important as possession of a substantial estate in land or investments, genealogical research was a vital part of the process. This was particularly important in 1662 after the social upheavals of the Civil War when 'the world had been turned upside down', leaving many ancient families impoverished but throwing up numerous well-off newcomers aspiring to gentility.
Dugdale held the position of Norroy King of Arms, a title referring to the ten northern counties for which he was responsible, and he undertook a visitation of them all. He began in Nottinghamshire by holding court in August 1662 at the Castle Inn, Nottingham, then moved to the George at Newark and later at Retford and Mansfield; in all of these places he received and recorded claims to arms and examined pedigrees brought in by local families. He was thorough in his investigations and in fact some 70 Nottinghamshire men who were either claiming arms without authority or who did not wish to go to the expense of purchasing them were subsequently formally 'disclaimed' as being 'no gentlemen'. This took place at the Nottingham assizes in March 1664 by a bailiff, heralded by two trumpeters.
Dugdale relied on Dr Thoroton to research and certify at least eleven pedigrees during the period up to March 1663. As well as his own, these were mainly of neighbouring families from the Vale of Belvoir, such as the Stauntons of Staunton, the Scrapes of Langar, and the four Barret brothers - Thomas, Richard, George and John - of Thoroton. The Thoroton family derived their surname from Thoroton village as they had owned land there since the Middle Ages, although in c1517 they had disposed of their property in the parish to George Barret and moved three miles away to their other estate at Car Colston and Screveton. Dr Thoroton acknowledged kinship with the Barrets as both the mother of the four brothers and his great-grandmother were from the same family - the Owtrams of Car Colston. In the entry for Thoroton parish in his Antiquities he stated that 'my cousin Barrett had about 21 oxgangs' of land (c 200-250 acres?) there in the 1670s. In addition Thoroton reproduced in his book part of the Barret family pedigree which he had helped to research. The pedigree goes back to the late 1400s and shows that over the centuries Barrets were small freeholders who had married into several yeomen farming families in the Bingham, Newark and Southwell areas. Dugdale was satisfied with it and it was duly recorded in the rolls of the College of Arms. The family paid their fees and received a beautifully illuminated grant-of-arms on 12th May 1663. The arms comprised a silver band (fess argent) decorated with three red stars (mullets gules) and two smaller gold bands (or) against a red background containing three gold spear heads; the whole was surmounted by a crest depicting a multicoloured horse's head.
Thoroton reproduced these arms in the Antiquities as one of a series of 'thumbnail' sketches of arms of the county gentry. They also appear on a memorial inside Thoroton church to William Barrett, gentleman, who died aged 47 on 6th June 1706. He must have been the son of son of Richard Barret - one of the brothers recorded on the pedigree in 1662. Little is known about other contemporary family members. A Rev. John Barret (1631-1713) was rector of Nottingham St Peter's Church from 1656 but was ejected from his living in 1662 for his Presbyterian sympathies. However, he cannot have been the youngest brother John named as aged 24 in 1662 but may have been a cousin?
Dugdale remained Dr Thoroton's mentor, guide and friend, and the two men frequently corresponded over genealogical matters. Thoroton was rewarded in 1664 when Dugdale granted him a lion rampant crest to be used with his ancestral coat-of-arms. This crest had been used by another branch of his forebears of which he was very proud - the Norman baronial family of Lovetot who had founded Worksop Priory over 500 years earlier.
< Previous