Articles from the Thoroton Society Newsletter
The Gibbs family, clock and watch makers of Nottingham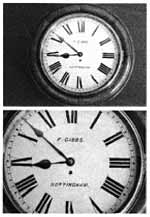 Earlier this year, our Secretary, Barbara Cast, received a letter from Mr and Mrs Farrelly in Melbourne, Australia. The Farrellys own a large clock, 22 ins. in diameter, made by F. Gibbs, Nottingham. Do we know anything about the maker? The clock had originally been purchased by Mrs Farrelly's uncle from an antiques shop in Melbourne, so they had no knowledge of the clock's earlier history.
Harold H Mather Clock and watch makers of Nottinghamshire (1979) published by Friends of Nottingham Museums - gives the following:
GIBBS Frederick 1864-1877
Stoney Street 1864
Also at 4 Goosegate and 23 Goosegate, Nottingham
The founder of the family business was Frederick William Gibbs. Born in Redditch in about 1837, he came from a large family, the fourth of six children. By 1851, Frederick was a watchmaker's apprentice, living with the family of George Jackson, a 'ribbon warehouseman' in Coventry as a lodger. George must have had means, as he employed a 20-year-old man as a servant. Frederick, presumably once he had served his apprenticeship, moved to Nottingham, again as a lodger, as in the 1861 census he is living with James Lonit, a maker of camera bags. Frederick soon made a success of his trade, married Martha in about 1863-4 and moved to his own home in Nottingham. By 1871 he had a six-year-old daughter and a son, Frederick Richard, aged 1 year. The family seem to have 'lived over the shop', as the address of the business is given as 4 Goose Gate, the same as their residence. The 1876 Post Office Directory also gives a business address as 10 Milton Street, presumably a second shop. By 1881 the business had expanded and Frederick now employed a man and two boys. In 1891 the family were living at 119 Sherwood Street in Nottingham, and their son was now an apprentice watch-maker, presumably apprenticed to his father. The family also had a servant.
Frederick William Gibbs died in 1897 and is buried in the Church (Rock) Cemetery in Nottingham. His business had prospered and in his will he left the very large sum of £19,056 17s 4d to his son Frederick Richard and his daughter Fanny. By the 1901 census,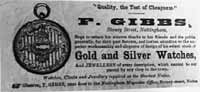 Advertisement in the Nottingham Magazine, November 1862 image courtesy of Nottingham Local Studies Library.
Frederick Richard and his family were living at 32 Heskey Street in Nottingham. Frederick Richard and his wife had a son, Frederick William, aged 1 year. They also had a 15-year-old servant living with them. It would seem that the Gibbs family sold their shop at 10 Milton Street, as by 1902 the premises were occupied by 'Geo. Baxter, jeweller and watchmaker' (Wright's Directory of Nottingham 1902).
Frederick Richard's business seems to have prospered, as by the 1911 census they were living in a substantial house, 'Castledene', in Alexandra Park, a fairly well-to-do area. Frederick
Richard died in May 1930 and was buried in the family grave in Nottingham's Rock Cemetery. It is possible that Frederick Richard's son Frederick William took on the business, making three generations. Frederick William died on 1st April 1978 and was cremated on 6th April 1978 at Nottingham's Wilford Hill Crematorium.
Large clocks by the Gibbs family seem to have been very popular in offices and schools. An example was for sale recently at £935.
Mather (above) states that 'A gold centred-seconds chronograph No 25872, English-type lever escapement, enamelled dial, case plain with cast floral band, was sold by Christies on 5th July 1971'. If the chronograph had a registration number, it implies that the quality of the work from the Gibbs workshop was of the highest order.
Obituary of Fredrick Richard Gibbs, Nottingham Evening Post 27th May 1930:
'For over 40 years a well-known watchmaker and jeweller at 4 Goosegate, Nottingham, the death took place, with distressing suddenness, last night at his home, Harby, Melton Mowbray, of Mr Frederick R. Gibbs. On retiring to bed last night, he was stricken with a heart attack and passed away before a doctor could reach the house.
Mr Gibbs's business was one of the oldest watchmaking and jewellery establishments in the city, founded as it was by Mr Gibbs's father 70 years ago.
Mr Gibbs, who was 60 years of age, was a life-long member of the Castle Gate Congregational Church, and he was a trustee of the Cullen Memorial Homes at Mansfield Road, Sherwood. He leaves three sons and a daughter. '
John Wilson
< Previous