Articles from the Thoroton Society Newsletter
John Theodore Heins (1697-1756) : a group of Nottingham portraits?
John Theodore Heins was born in Germany in 1697. He was also known as Dietrich or Dirk, Dietrich being the German form of Theodore. He settled in Norwich in 1720, when Norwich was the second city to London in importance, and had a successful career painting detailed portraits of the local gentry, wealthy merchants and members of the Corporation. His portraits are often distinguished by a faint oval painted on to the canvas to frame the sitter. His wonderfully detailed portraits are treasured by future generations, who feel they have an accurate portrayal of their ancestor; but perhaps because his style of painting was not original and did not influence other artists, he is not as well known as other eighteenth century portrait painters such as Thomas Hudson, Gainsborough and Reynolds.
In 1746 Thomas Bardwell was commissioned by Norwich's artillery company to paint a portrait of William Crowe, who became Mayor the following year. This marks the end of Heins's monopoly of civic portraiture. He died in Norwich, his will being proved 30 August 1756 by his wife, Abigail. Accounts of his life in books and on line do not record any documents suggesting he lived anywhere other than Norwich, but it would be understandable if he looked elsewhere for clients in the late 1740's/early 1750's, after the success of Thomas Bardwell. A series of coincidences has led me to believe that Heins came to Nottingham in 1752 to continue his career painting portraits of the local gentry and merchants.
These Nottingham portraits can be divided into two groups:
Hartopp connections:
Mrs Hayward of Mariston, Devon. 'Heins 1752'.
Mr Gerard [General?] Chiverton Hartopp, Governor of Plymouth. 'Heins 1752'.
Mrs Gerald [wife of General Chiverton?] Hartopp. 'Heins 1752'.
Beaumont and Smith connections:
Susannah Beaumont (Mrs John Walker). 'Heins 1752'
Rev. George Beaumont of Darton, Yorkshire, and later of Nottingham. 'Heins Fec. 1753'.
Elizabeth (Betty) Beaumont of Nottingham.
The Hartopps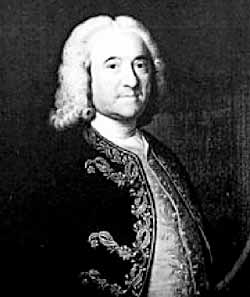 Chiverton Hartopp
Barbara Chaworth Musters, of Vancouver, British Columbia, contacted the Thoroton Society Secretary, Barbara Cast, to ask her to thank me for an article on the inhabitants of Stanford House that had appeared in the Thoroton Newsletter. This lady had been asked to look at a portrait painted by T.J. Heins listed as a Lady of the Musters Family. While trying to work out how this portrait might fit into the Chaworth-Musters family Barbara Chaworth-Musters looked at a website that has a listing of portraits by the artist J.T. Heins: http://www.iihc.info/heinsiohntheodore1756.htm
One of these portraits was of particular interest: that of 'Mr Gerard Hartopp Governor of Plymouth'. It is one of a pair from Annesley Park, and had been sold at the 1973 Annesley Park Sale. On checking the sale catalogue she discovered:
Item 1077 D. Heins. Portrait of Mrs Hartopp, half length, in white satin dress, lace collar with diamond clip, white veil on hair, and portrait of Gerard Hartopp, Governor of Plymouth, half length, in blue and gold uniform, red waistcoat, white powdered wig, a pair 30 x 25 in; signed and dated 1752.
I had written an article on the inhabitants of Stanford House, which proved useful, as Barbara Chaworth-Musters realised the portrait was of Chiverton Hartopp (not Gerard or Gerald), and that there were also portraits of his wife and daughter, both named Catherine. Catherine junior married James Modyford Haywood of Maristowe, Devon, in 1754, by special licence at the home of Chiverton Hartopp. Their daughter, Sophia (died 1819) married John Musters (1753-1827) of Colwick, hence the Chaworth-Musters connection. (The Musters were an established Nottinghamshire family, tracing their history back to Sir John Musters of Hornsea, Middlesex, who bought the manors of Over and Nether Colwick, Nottinghamshire, from the Byron family in the mid-seventeenth century.)
'Mr Gerald Hartopp', or correctly, 'Chiverton Hartopp', was born in 1690, and married Catherine Mansfield in 1726 at St Mary's Church Nottingham. He inherited Stanford House, Castlegate, Nottingham, from his aunt, Elizabeth Bennett, in 1751, when he was Deputy Governor of the Citadel in Plymouth. Stanford House was known locally as 'Howe House'. There is no record of the Howe family owning the house, but they may have rented it. Chiverton and Catherine Hartopp had another daughter, Mary, who married Earl Howe (then a Captain) in 1758. Four months later Richard Howe's eldest brother died at Ticonderoga during the American war, and Richard became the next Viscount Howe. The two daughters, and of course their husbands inherited Stanford House after Chiverton's death. There is no record of the Howe family owning the house before 1758, but they may have rented it.
Major Chiverton Hartopp was in the Duke of Kingston's Light Horse during the 1745 rebellion, and became Deputy Governor in Plymouth soon after. The Corporation of Nottingham had given him the Freedom of the Town in 1740 because of his eminent services "against the rebels in the Northern part of this United Kingdom". He was Lieutenant Governor of Plymouth between 1747 and 1754, but is recorded as voting for Viscount Howe in the Nottingham election of 1754:
"The Governor of Plymouth was always a person of high rank, and, except in times of crisis when he assumed the role of Commander-in-Chief in the town, was normally absentee. The Lieutenant-Governor was resident and responsible for day-to-day operations"
This account explains the connections between three of the portraits: Chiverton Hartopp and his wife and daughter. However, as Catherine Hartopp did not marry until 1754, this makes me question the 1754 date of the portrait. Was it painted in 1752 before Catherine married and the title added later?
The Beaumonts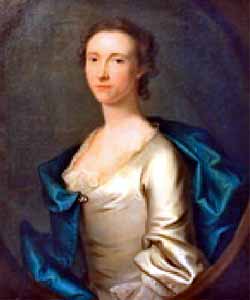 Susannah Beaumont
In June this year Edward White gave a talk on 'The Smiths of Bromley House'. This talk was attended by Edward Beaumont who is related to the family, and who made contact with Edward White and me to discuss the family connections. Sir George Smith built Bromley House, Angel Row, Nottingham in 1752. His wife, Mary Howe, was the second cousin of Richard Howe, who was her closest relative. George Smith's parents were Abel Smith, banker of Nottingham, and Jane Beaumont, of Chapelthorpe, Yorkshire. Abel Smith and Jane Beaumont married in 1713, Jane's parents and grandparents had recently died, and so Abel and Jane looked after her younger siblings. Edward Beaumont knew that John Theodore Heins had painted a portrait of the Reverend George Beaumont, 'of Darton Yorkshire and later of Nottingham' and his wife Elizabeth (Betty) Beaumont, who he married in 1753; and George's sister, Susannah Beaumont (Mrs John Walker).
St Nicholas Church is situated near Stanford House, and was the local church. The Reverend George Beaumont (1726-1773) was Rector there, but not until 1766. He graduated from Cambridge in 1751, and then returned to the Nottingham area.
Edward Beaumont was also aware that there were portraits of Sir George Smith's brother, Abel Smith junior and his wife Mary by Heins also painted in the early 1750's. Those portraits are in the collection of the 6th Baron Carrington, a descendant of this couple. (Sir George Smith's nephew, and Abel Smith junior's son, Robert Smith, became the 1st Lord Carrington). Baron Carrington has portraits with 'Sir George Smith' and 'Lady Mary Smith' written on them, but the portraits are far too early (about 1690) for this to be accurate. Bearing in mind that this couple are the links between the Hartopp and Beaumont families, it is possible that there are portraits of Sir George and Lady Mary Smith by Heins that have not been identified. Their new home was finished in 1752, the year that Heins appears to have been in Nottingham, and an appropriate time for their portraits to be painted. Edward Beaumont was kind enough to donate a postcard book of Smith portraits to Bromley House Library, which includes the portraits of Abel and Mary Smith.
The Norwich Mercury of February 17th, 1864, has a list of portraits of the Lord Mayors. All portraits, (except the one for 1737) of the Mayors from 1721-1752 are by Heins, as is one of 1759. Those for 1753, 54, 55, 56, 57 and 58 are by Bardwell or Stoppelaer. As Heins died in 1756 the latter is was presumably painted before the sitter became Lord Mayor.
More information is needed to establish with certainty that John Theodore Heins came to Nottingham in 1752 in order to continue his career as a portrait artist at a time he was finding it difficult to find clients in Norwich. 1 'Citadel; a History of the Royal Citadel, Plymouth', by F.W. Woodward, Devon Books, 1987.
With thanks to Barbara Chaworth-Musters, Edward Beaumont, and Lord Carrington.
The website on J.T. Heins is produced by J.J. Heath-Caldwell.
Elizabeth Robinson
[If anyone has any further information on J.T. Heins, the whereabouts of any of Heins' pictures, or on the families mentioned in Elizabeth's article, please contact me at wilsonicus@btinternet.com and I will pass the information on - Ed]
< Previous