Articles from the Thoroton Society Newsletter
Throwing light on a sundial at Newstead Abbey
by John Wilson
Newstead Abbey has a long history as a private house1 and was owned by several prominent families. The most famous of these is the Byron family, who owned Newstead for 263 years until 1818 when the sixth Lord Byron, the poet, sold the property to his friend Colonel Thomas Wildman. The Wildman family owned the Abbey until 1860 when it was purchased by William Frederick Webb, who made many alterations and improvements to the house.
William Frederick (1829-1899) was the son of Frederick Webb and his wife Mary Shiel. Frederick, who had been in the Army, died in 1847 when William Frederick was just seventeen, leaving the latter a very wealthy young man. William Frederick entered the Army after education at Eton but did not stay long, although it is known that he served in the Crimea at some point2. He resigned his commission as a captain in the 17th Lancers to go to South Africa, where he became a close friend of the explorer David Livingstone2. William Frederick's younger brother Augustus, also a captain in the 17th Lancers, died in November 1854 of wounds received at the Charge of the Light Brigade. He is commemorated by a plaque in Newstead Abbey3.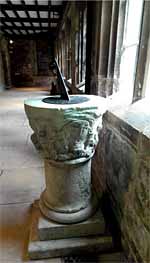 The sundial in situ in the cloister at Newstead Abbey.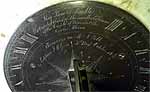 Inscription on the dial plate of the Newstead Abbey sundial.
There is, in the Cloister of Newstead Abbey, an unusual sundial consisting of a marble pillar with a mid-19th century bronze dial plate. The sundial once stood in the Fernery4, then was apparently transferred to a position in the American garden5, but at some point was brought into the Cloister. The dial bears an inscription:
This piece of marble, the capital of one of the smaller columns of the 'Temple of Venus' at Piraus, Athens. Presented to Mrs F. Webb by Cap'. F.W.Gore 3rd Reg' October 1856
The dial plate is of bronze, with a simple gnomon. The plate is inscribed with hour lines and compass directions in a fairly common pattern for the mid-nineteenth century, and a maker's mark 'Osmond Sarum'.
The questions that come to mind are:
- who was Captain Gore?
- who made the sundial, and where?
- what was Captain Gore's connection to Mrs Webb?
Captain Gore
Captain Frederick William Gore (1825-1909) had been commissioned into the 3rd Foot (the 'Buffs') in 1846 and saw service in many war theatres, including the Crimean War. His unit was moved to Piraeus in November 1854 and stayed there until March 18556. After a spell in Malta and further service in the Crimea, Captain Gore returned to England in 1856. Presumably it was during the stay at Piraeus that Captain Gore 'acquired' the capital from a column at the Temple of Venus. Captain Gore's military career took him to high rank and he retired in 1867. The following year he married Millicent, daughter of Major Robert Miller Mundy, RA, who was Lt Governor of Grenada.
Osmond Sarum
There is no sundial maker by the name of Osmond known to the British Sundial Society. However, a search of Kelly's Directory of Wiltshire for 1867 revealed two Osmonds in Salisbury (Sarum) at that time: Osmond, William, and Son, stone masons and sculptors, St John Street and Osmond, Thomas, boot and shoe maker, of St Ann Street. (The latter can of course be discounted.)
Mr William Osmond (1793-1875) was appointed Mason to Salisbury Cathedral in about 1818, and worked in that capacity for many years7. In addition to restoration work on the cathedral itself, he supplied many monuments for the cathedral and other churches. He was a close friend of the influential Gothic revival architect AWN Pugin. It is quite conceivable that Captain Gore asked Mr Osmond to obtain a suitably engraved sundial and mount it on the Greek column brought from Piraeus, so that he could present it to Mrs Webb. It is possible that one of Osmond's employees would have had the skill to make the bronze sundial plate and gnomon.
The Salisbury connection
There is a connection with Salisbury in that Frederick and Mary Webb lived in Wiltshire for many years, in the village of Hamptworth8. There is a memorial plaque to Frederick Webb in Salisbury Cathedral, made by Osmond9 which states:
Sacred to the memory of Frederick Webb esq of Westwick county of Durham and Hamptworth in this county. Youngest son of the late Sir John Webb Baronet; who departed this life at Brighton on the 4th of February 1846 aged 56 years.
Also of his youngest son Augustus Frederick Cavendish Webb esq., Captain 17th Lancers who died at Scutari on the 6th of Nov 1854 aged 22 years from wounds received in the brilliant Light Cavalry charge at Balaklava on the 25th of October 1854.
After Mary's death on 28 August 1860, the entire east window in the Church of St Andrew at Landford in Wiltshire was installed and dedicated to her memory. This would indicate that she had worshipped there on a regular basis for some time.
The Gore-Webb connection
So why did Captain Gore present the mounted sundial to Mrs Webb? Recently, a set of papers of the Webb family was donated to the Nottinghamshire Archives. A preliminary search of the archive revealed two documents of interest:
- a letter from Elizabeth Gore, dated 22nd April 1916, to her friend Mrs Fraser (a descendant of the Webbs), asking about the 'rumoured' relationship between their two families.
- a list of 'notes from a Bible' giving names of members of the Webb family and their dates of birth.
An internet search revealed the family tree shown below: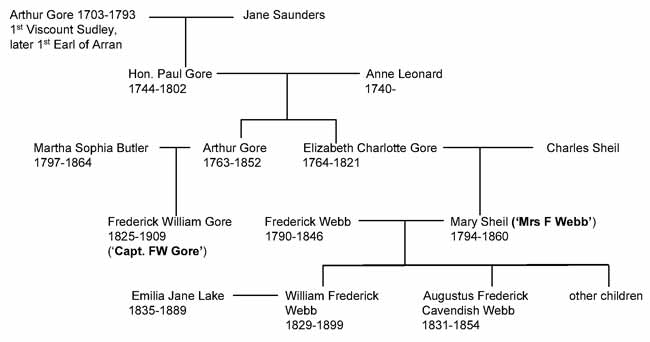 Captain Gore was therefore a cousin of Mrs Webb, as can be seen from the family tree. It is entirely possible that on his return from the Crimea, he gave the gift of the mounted sundial to his cousin Mary, in memory both of her husband Frederick who had pre-deceased her and of her younger son Augustus who had died at Scutari. Mary died in 1860, the year that William Frederick Webb purchased Newstead Abbey, so she would probably never have lived there. However, no doubt her son would have thought it important to bring the sundial, with its family connections, to Newstead.
The Gatty connection
Those Thorotonians who went on the excursion to Wentworth Woodhouse last year will recall the very fine church of St Mary's, at Ecclesfield, where we stopped for coffee (see the report in the Winter issue no 82 of the Newsletter). There is a connection between the Rev Alfred Gatty (Rector of Ecclesfield for 64 years) and his wife Mary, and the Webb/Gore family. The Gattys' son Stephen Herbert Gatty married Katherine, daughter of Mabel Chermside and her husband Alfred Morrison. Mabel was the sister of Herbert Chermside who had married Geraldine Webb, the daughter of William Frederick Webb10.

Notes
1 Rosalys Coope and Pete Smith (2014) Newstead Abbey - a Nottinghamshire Country House 1540-1931 Thoroton Records Series volume 48
2 Personal Communication, National Army Museum, 2015
3 The plaque reads
In memory of Augustus Frederick Cavendish Webb, Captain 17th Lancers who died at Scutari 6 November 1854 of wounds received at the charge of Balaclava 25 October 1854 aged 22 years. Erected by his brother William Frederick Webb
4 Allen, Richard (1874) The Home and Grave of Byron: A Souvenir of Newstead Abbey, Nottinghamshire Pub. Richard Allen and Son, Nottingham. A copy of this work is in Bromley House Library.
5 A postcard, of c. 1912, clearly shows the sundial in the American garden.
6 Personal Communication, Tony Margrave, (2015)
7 A Biographical Dictionary of Sculptors in Britain, 1660-1851
8 John Martin (2015) A History of Landford in Wiltshire
9 http://www.churchmonumentssociety.org/Wilts_2(Salis).html accessed 11.10.2015
10 Rosalys Coope (2001) The Webb family and its ownership of Newstead Abbey, Nottinghamshire, 1860-1925 Transactions of the Thoroton Society 105: 137-154
I would like to thank Haidee Jackson, Curator of Newstead Abbey, for helpful discussions and permission to photograph the sundial.
< Previous