Rosalys Coope: a centenary appreciation
Rosalys Coope, our much loved and appreciated recent President of the Society, would have been a 100 on the 13th November 2021.
It is fitting to mark this centenary with a tribute to Rosalys and to look at her life and achievements.
Rosalys Torr was born in 1921 at Little Buckingham Farm in Old Shoreham, Sussex, to Freda and Harold. She was their second child, Penelope (known as Pen) having been born in 1916. Sadly their mother died some ten months after Rosalys' birth. Harold married again and half-siblings Iris and John were born, all playing happily together on the farm. Rosalys retained happy memories of the farm and its people, such as Ashie, the gardener, who made her a garden of her own with tree trunks for seats, and Mr Tuppen, the shepherd, who taught her how to read the weather.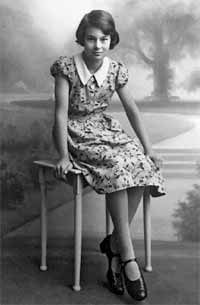 The young Rosalys attended the village school for a while and then joined Pen at Chilgrove Manor School near Chichester - it was for "empire children'' most of whom saw little of their parents - while there she did learn some useful skills such as telling the time (learnt while sat on a rocking horse) and dancing in a pink dress with a sash!). Whilst at her next school, St Margaret's in Bushey, she contracted appendicitis and, being very unwell, convalesced with her godmother, Vera Bates, who subsequently arranged for her to attend a school in Switzerland where children who had health problems were educated - and where there was a high standard of education available - it was here that Rosalys learned to speak fluent French.
She returned to England when she was about 14 and was sent to a school called Glynn House which she hated! She never took the School Certificate because, as she said "I couldn't do maths so they knew I would fail". While at Glynn House she remembered hearing on the radio the announcement of Edward VIII's abdication in 1936. Leaving Glynn House when 17 she joined a group of "young ladies" to study art with friends of her godmother, Lina and Aubrey Waterfield, she an author and newspaper correspondent, he a painter. They were based at the Villa Poggio Gherardo in Settignano near Florence. However, she also travelled in Italy with the Waterfields and the other girls, learned some Italian, painted, drew and received lectures on painting and the history of Italian art from Aubrey. She remembered hearing Mussolini giving a speech during a visit to Rome and learning from Pen about the Munich Crisis. Back in Little Buckingham by 1939 she and Pen were enrolled at the Hertfordshire Agricultural College, which neither of them much enjoyed.
Training for the Women's Land Army was offered there so that might have been the reason for their attendance. Luckily (according to Rosalys) she got stomach ulcers while there and had to 'escape' to Godmother Vera to recover. Rosalys was very fond of Vera who was very important to her and a sympathetic influence. She lived with her in the early years of the war, first in Oxfordshire and then in White's Cottage in Berkshire, in part because she found living at the farm at Shoreham difficult due to not getting on very well with her stepmother. Rosalys was given a pony at this time with the responsibility, as part of the Local Defence Volunteers, of riding up to the Ridgeway to "look out for German soldiers dressed as nuns'', who might be parachuted into the area. Had she had any sightings she was meant to leap onto the pony and carry the news to Wantage but, as she used to take a picnic and a good book with her, she may well have missed seeing them even if they did come! She was joined by Pen in Berkshire where plans were made for the future - Rosalys decided on an art course and enrolled at the art school at Beverley. Pen joined her in Beverley where they rented a bungalow together, sleeping under a table when there were air raids. The college was badly damaged by bombs which released Rosalys who had found that maybe art wasn't quite her forte.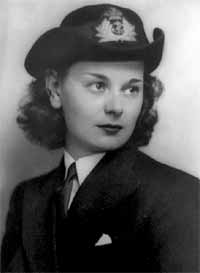 In January 1942 Rosalys joined the Wrens and was sent to Chatham where she became a "writer" i.e. using a decoding book to turn signals into plain English.
After various postings she was sent to Dartmouth where she did a lot of sailing and having fun. Then she was sent to Greenwich for officer training, which involved a great deal of drill and naval history! It appears that marching up and down in front of the Queen's House at Greenwich was the inspiration for her to study architectural history.
On her commission she became Third Officer Torr, working in London as a coder and apparently, being involved in the anti-invasion preparations. She was then posted to Ceylon which did not suit her at all - scorpions in her shoes each morning, the tropical humidity and heat were too much. She became ill and was transferred to the better climate of Trincomalee - continuing her cypher work and also having an enjoyable social life (one of her favourite stories was when she forgot to remove her diamante earrings after a dance and got them caught on the drum of the cipher machine). She was not to last as Third Officer Torr, being relieved of this role as a result of "non officer-like qualities"! After Hiroshima she returned to England and - what next?
She decided she would like to work at the National Gallery so wrote to the Director, Kenneth Clark. As she had no school or academic qualifications, he suggested she should first consider studying art history. She applied forthwith to the Courtauld Institute and, although lacking the usual qualifications, on explaining at her interview her experience in Italy with the Waterfields and her ability to speak French and Italian, Margaret Whinney, who was, in essentials, responsible for the Institute during the war, accepted her. When she first started she was still in her Wren uniform. She and other students newly back from the war were told that they could work as volunteers at the Institute until the end of the summer term and she was placed in the 'slide collection'.
After this Miss Whinney arranged for her to stay in Cambridge as the paying guest of a friend of hers to "swot" in the University library and prepare for an entrance exam to the Courtauld, which she passed. At this point she was told that she wouldn't be able to get a degree because she hadn't matriculated but she could be awarded an academic diploma if she did well enough - and she did. She subsequently worked as a freelance researcher. One day when she was in the library at the Courtauld the Director, Professor Anthony Blunt, came in and asked her if she would be interested in cataloguing the drawings of Jacques Gentilhatre held at the RIBA. It kept her busy for many years! However, in late 1949 she became the Personal Assistant to Kenneth Clark, working for him for eighteen months doing a lot of "running about" collecting and returning slides. She also remembered peeking at glamorous guests arriving for parties at the Clarks' house - including Laurence Olivier and Vivien Leigh.
It was while in London, sharing a flat with Pen, that she met her husband, Peter Coope.
They married in 1951 and settled into The Poplars in Epperstone.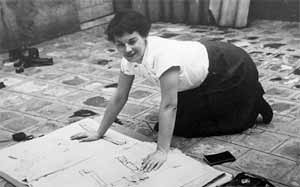 Fontainebleau, 1949
It was here that she continued her work for a PhD on French 17th century architecture under the supervision of Anthony Blunt. This culminated in her book Salomon De Brosse and the Development of the Classical Style in French Architecture from 1565 to 1630 - her young daughters called Salomon "Mr Brush"!
In the early days of their marriage both Rosalys and Peter joined the Thoroton Society, having been introduced to it by the invaluable Miss Whinney, and Rosalys soon became actively involved. It was in 1955 that Rosalys became a member of the Thoroton Society Council - not the first woman on Council, but those who were members were greatly outnumbered by the male stalwarts of the Society - including Miles Thoroton Hildyard, Maurice Barley, Keith Train, Professor AC Wood and Stan Revill. At first she found the experience of being on the Council somewhat intimidating - maybe partly because most of these male stalwarts were not particularly welcoming of this "young woman". It must surely have impressed those Council members when, in 1961, "young" Rosalys was elected as Fellow of the Society of Antiquaries.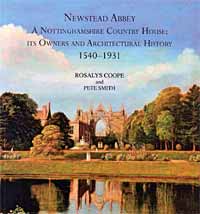 It was following a Thoroton excursion to Newstead Abbey in 1973 that she decided to turn her attention to that most interesting house, conveniently sited in the vicinity of her home, and so her long association with the Abbey commenced. The post-Dissolution history of the Abbey was little understood at the time and Rosalys spent many, many hours in research there along with City Council staff, her great friend and mentor, Professor Maurice Howard, and, of course, Pete Smith, who collaborated with Rosalys on the acclaimed 2014 volume Newstead Abbey: a Nottinghamshire Country House: its Owners and Architectural History 1540-1931.
We should also thank Rosalys' family who encouraged her in updating her work on Newstead Abbey and were so helpful to the Society in achieving the publication of what became a best-selling volume. Pete remembers that in the '80s, when he was a student, he attended a Society of Antiquaries conference entitled Archaeology and the Country House, where one of the papers was given by Dr Rosalys Coope, the subject being Newstead Abbey.
He was already familiar with her work on Salomon de Brosse from when he was studying French renaissance architecture. The conference consisted of, in the main, very dry papers given by archaeologists involved in major restoration projects armed with professional photographs and other cartographic images. Rosalys, however, offered an historian's personal account of piecing together the history of a house without professional support. Her deferential and slightly informal delivery, with stories of following electricians and other maintenance men around the house every time a piece of panelling was removed or a floorboard taken up for some necessary repair, brought not only laughter but a human approach to the subject without detracting in any way from the seriousness of her study or the correctness of her observations.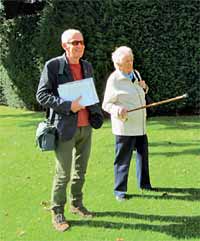 Rosalys with Pete Smith.
Pete learnt that day, he says, that architectural history could be really enjoyable: thereafter, on all the conferences, visits and study days which he shared with Rosalys in the years after, she was always interested and enthusiastic and, more importantly, always ready to have fun.
Rosalys became the Society's first female Chair of Council on 17th May 1984 and she retained that important position until April 1992 when she stood down on the grounds that she was about to "fall off her twig".
We heard that expression regularly during her period as President, Vice-President and beyond, but the twig remained robust for many years. Rosalys was a great President, a position she held from 2006 until 2014, when she became a
Vice-President. She was also a great advocate for the Society and attended almost all lectures, the AGMs and the annual luncheons.
She was also fully involved in special events arranged by the Society such as at the millennium. Rosalys was jointly responsible with me for planning the visitation to Thurgarton Wapentake and, in preparation for this, I walked with Rosalys up the hill to Old Ox above Oxton - it was a very windy day and we had to cling together, especially on the descent, but we managed the walk and enjoyed our expedition - and the successful subsequent visitation. As well as being a champion of the Society she made a massive contribution to its academic work. Almost all of her work had a focus on Newstead Abbey, and it was the subject of eight articles in the Transactions. Her final contribution was a shorter piece on the watercolours held at Newstead which was collated by Pete Smith in 2017. Of course Rosalys had other interests and involvements, including in her own village of Epperstone. She also kept a proud eye on her family, daughters Clare and Helena, Clare's husband, Bob, and grandsons Matthew and Laurence.
There was a sad time for the whole family when Rosalys' husband, Peter, died in January 2005.
Rosalys was very involved in Bromley House too, becoming a Director in 1988 and serving as such until 2005. Rosalys edited, with the librarian Jane Corbett, a book about Bromley House at the time of the library's 175th anniversary: Bromley House 1752-1991: four essays celebrating the 175th anniversary of the foundation of The Nottingham Subscription Library (1991).
She was greatly respected by Bromley House staff and the other directors.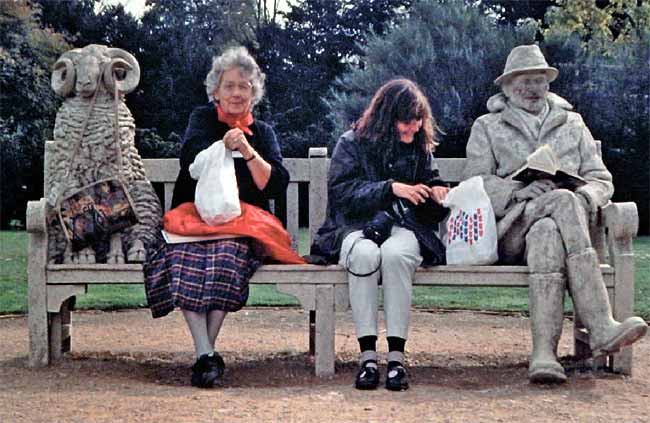 Rosalys with Elain Harwood at Rufford Abbey.
She also maintained a strong involvement in the Society of Architectural Historians of Great Britain, particularly enjoying its annual conferences where friendships were made and renewed, and also provided opportunities to debate buildings of all types and periods. Always interested in the people who she came to know, in her later life Rosalys found those who supported her also another source of interest and friendship.
She was greatly missed when she was no longer able to attend Society events - her Society friends felt the loss of her cheerful and interested presence.
The last of her generation, Rosalys finally "fell off her twig" on 13th November 2018, peacefully at home with her family around her and at the tender age of 97. The esteem and affection felt for her by so many was demonstrated by the numbers who attended her funeral in Epperstone. A rich life - Dr Rosalys Coope was a woman of great achievements; she was a good friend of many in the Society and is much missed by all who knew and loved her.
Barbara Cast (with thanks to Clare Coope and Pete Smith for their invaluable help)
< Previous