Victoria County History of Nottinghamshire Group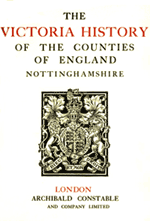 Work has been in progress for nearly four years on VCH in the county, following its revival thanks to funding from Nottinghamshire Archives. Since Spring 2012, the work has been under the auspices of the Thoroton Society.
A small but effective group of volunteers has been meeting regularly at the record office (on alternative Tuesday mornings between 10.30 and 12.30) to work on the history of a parish of their choice, following guidelines set out in a Nottinghamshire VCH Handbook compiled by the county editor, Philip Riden. A growing quantity of draft text, completed to the usual high standards of VCH, is becoming available on the Nottinghamshire section of the VCH website.
Anyone with an interest in a particular parish, who may already have collected a good deal of information needed for a VCH history, is very welcome to come along and find out what is involved in completing a text on VCH lines. This can then be mounted on the VCH website. Anyone who feels they might be interested in joining us may like to contact Philip Riden (philip.riden@nottingham.ac.uk) for more information about what is involved.