Articles from the Thoroton Society Newsletter
Bendigo - A Nottingham champion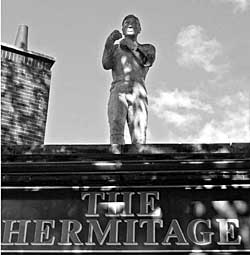 Bendigo's statue on the Hermitage pub in Sneinton. The pub was formerly called the Bendigo and is now for sale. Photo: Howard Fisher.
2011 is the 200th anniversary of the birth of William Abednego Thompson, the youngest of 21 children and the third of triplets named after the Old Testament characters, Shadrach, Mesach and Abednego. Born 11 October 1811 in the slums of Nottingham in what is now known as Trinity Walk where there is a plaque marking the place.
William was 15 when his father died and he and his mother ended up in the Workhouse for some time but after they left, William sold oysters on the streets before gaining work as an iron turner. However, he had an ability to box and by the time that he was 18 he was fighting for prize money, defeating his first eight opponents. At 21 he was a regular prize fighter; standing five feet ten inches and weighing just over 12 stones he was smaller and lighter than many of the best fighters of the time and he turned this to advantage in the ring.
Prize, or bare-knuckle, fighting was against the law but, nevertheless, many fights regularly took place, usually in open countryside or barns, away from urban areas and the magistrates who could close a fight down.
William earned the name of 'Bendigo' due to his fighting method which involved much bobbing and weaving thus "Bendy' Abednego became 'Bendigo', a name by which he was known for the remainder of his life. He fought in a southpaw stance, trained hard for all his fights and was a tricky fighter.
In 1835 he first fought Ben Caunt, a boxer born in Hucknall, who was three stones heavier and six inches taller than Bendigo. The fight lasted 22 rounds until Caunt hit Bendigo whilst the latter was kneeling on the ground and so was disqualified. Rounds had no set time and ended when a fighter went to the ground and there was then a half minute break before the start of the next round. Rules were few but one was that a fighter 'down' should not be hit. The fighting was rough and tough with literally no holds barred.
Between 1835 and 1837 Bendigo fought three more fights, the first of 52 rounds against John Leachman of Bradford; the second 51 rounds against Charley Langham of Newcastle and the third 92 rounds against William Looney of Liverpool. The latter fight took place at Chapel-en-le-Frith. In 1838 he met Caunt again, the fight went 75 rounds and ended when Bendigo was disqualified for going to ground without a blow being struck, although contemporary accounts back his assertion that he slipped.
Bendigo got his chance to become All-England champion in 1839 when he fought 'Deaf 'un' Burke for the title at No Mans Heath, Leicestershire; a crowd of 15,000 saw Bendigo win in ten rounds on a foul by Burke head butting.
His last fight was in 1850 when he was 39 years old when he defeated a much younger man, Tom Paddock from Redditch. Paddock lost on a foul when, by all accounts, he was winning the fight. So ended an illustrious career in which Bendigo lost only the one fight.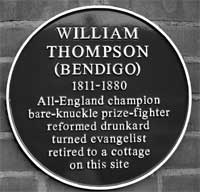 The plaque in Beeston unveiled on 11 October 2011. Photo: John Beckett.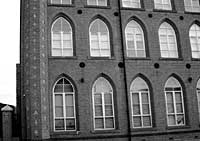 The plaque is sited on the pillar on the far left of this picture, taken to show the building in Beeston where it is sited. Photo: John Beckett.
Outside the fight ring he enjoyed fishing and was proud of winning fishing competitions. However, he had a darker side, was addicted to alcohol and mixed with the Nottingham Lambs, a group of thugs who were involved in political violence and rioting. Indeed, the Lambs had been his staunchest supporters during his fighting career and caused much havoc at many of the fights when mixing things with supporter gangs of Bendigo's opponents. Shortly after retiring from the ring he was appointed boxing coach at Oxford University but that didn't last long and he soon returned to Nottingham. He became a notorious drunken mess, was sent to the House of Correction 28 times for being drunk and disorderly although, when he was 59, he rescued three people from drowning in the Trent.
During his 28th session in the House of Correction he reflected upon his lifestyle and when, in 1872, he attended a religious meeting held by Richard Weaver, an ex coal miner, he was invited onto the platform and delivered a sermon. Although illiterate he became a popular preacher, regaining the respect he had lost in his alcoholic days. He died after a fall in his Beeston cottage on 23 August 1880 at 69 years of age. His funeral procession was a mile long and the streets were lined with thousands of people and The Times newspaper printed an obituary. His grave is in Bath Street Leisure Gardens. The Old Wrestlers pub in Sneinton was renamed the Bendigo but, after closing in the 1990s, reopened as the Hermitage.
Much has been written about this man who is remembered still for his exploits as a fighter and preacher, who lifted himself from the slums of Nottingham to become known throughout the land, rubbed shoulders with some of the highest in the country, who fell back into bad ways and then raised himself again to regain the respect of people. This respect is still strong 200 years later. As Sir Arthur Conan Doyle wrote of him:-
'You Didn't know of Bendigo?
Well, that knocks me out!
Who's your Board School teacher?
What's he been about?
Chock a block with fairy tales -
Full of useless cram,
And never heard of Bendigo,
The pride of Nottingham.'
On Tuesday, 11 October 2011, a blue plaque was unveiled in Beeston by the Beeston & District Local History Society, Stapleford & District Local History Society, Beeston and District Civic Society and Bramcote Conservation Society, to mark the place where Bendigo lived in Beeston.

< Previous