Missing houses: proposals for Clumber Park
by Richard Gaunt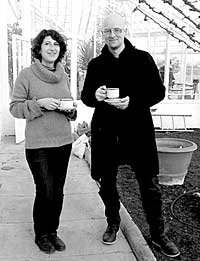 'Support Structure' enjoying a hot beverage at the end of the park walk-about. Photo: Kevin Powell
.
The country house has been an integral part of the English aristocratic estate for over two centuries. However, Clumber Park has been a landscape without a house for nearly 75 years – posing a considerable day-to-day problem of management and interpretation for the National Trust, in whose care it now resides. For six months in 2011, "Support Structure' – a partnership between architect Céline Condorelli and artist-curator Gavin Wade – were in occupancy at Clumber, as part of a series of artists' residencies designed to connect more people to National trust properties. Their proposals for the future of the mansion house site were published in a small booklet, Missing Houses, in February 2012. Several of the forty proposals it contains have already been realised; together with the booklet (proposal 1), the existing model of Clumber House was removed from its situation and mounted (temporarily) 'on a large empty plinth in a large empty gallery' at Nottingham Contemporary (proposals 12-13) whilst a series of horror films (expressive of the ghostly or 'resurrected' nature of Clumber House) were also staged – an adaptation of proposal 7. Members of the public were invited to attend a park walk-about in February, ostensibly designed to be a 'run-through' for a 'Clumber Park zombie movie' featuring 'a couple who argue about where to build their house over the entire length of the film' (proposal 8) and with similarities drawn throughout between the vanished mansion house of Clumber and the Kröller-Müller House, designed by Mies van der Rohe, in Wassenaar, The Netherlands, in 1912, which enjoyed parallels with it on several levels.
Though it is easy to be cynical about the practicalities of some of the proposals advanced by 'Support Structure' – including the annual construction of a 1:1 scale model of one of Clumber's main pavilions on its original site 'so that children in the local district can freely and with impunity burn down the model as a cathartic act' (proposal 25) or the invention and circulation of 'a myth of a Clumber Park alternative to the Loch Ness Monster' (proposal 27), never mind the 'Amsterdam style' coffee shops charged with selling coffee comprised from Clumber-grown cannabis (proposal 35) – the Trust is to be congratulated for encouraging re-consideration of the site's future.
Few visitors to Clumber fail to marvel at the beauty of the still-extant chapel or rue the decision (which long pre-dated the Trust) to deny future generations the pleasure of touring the once-splendid mansion house of Clumber. In spite of some valiant attempts by volunteers to provide more on-site information to visitors, in recent years, there is ample opportunity for an accurate, sensitive re-telling of the Clumber Park story, utilising the riches of the archives preserved at the University of Nottingham's Manuscripts and Special Collections and drawing upon the expertise of locally-based scholars. Whilst the creative energy of conceptual thinkers like 'Support Structure' is to be encouraged, this whole venture felt like something of an unrealised opportunity to highlight the lives and input of estate workers, farmers, labourers and builders as well as individual Dukes of Newcastle to the creation of the Clumber landscape. One can only hope that the Trust's 'New Art' initiative (of which this residency formed a part) produces a parallel collaborative scheme which can help re-invest life into the Park, rather than treat it as a species of the 'un-dead'.