Articles from the Thoroton Society Newsletter
Famous entertainers in early Victorian Nottingham by Terry Fry
In 2009 Michael Payne's dissertation for his MA from the University of Nottingham was entitled Theatre and Entertainment in Nottingham 1700-1900. I found it fascinating, especially when I read about two characters called Thomas Dartmouth Rice and Isaac Van Amburgh who appeared in the town between 1839 and 1844.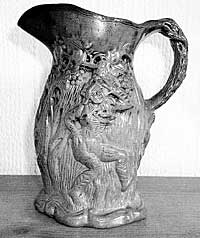 For many years I collected 19th century jugs including one each for these two entertainers, but I had not realized that they brought their acts to Nottingham.
Rice was an American vaudeville performer who brought his character Jim Crow to this country in 1836. It was the first known example of a white man 'blacking up'. His famous song 'Jumping Jim Crow' included the verse:
Turn about an' wheelabout
And do jis so
An' everytime I turn about
I jump Jim Crow.
The relief moulded salt-glazed jug shows Rice dancing whilst he sings the song. It would have been made as a souvenir when he was at the height of his fame in the late 1830's and early 1840's.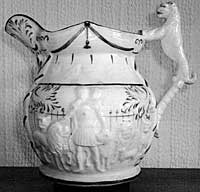 There are various accounts about the origin of the song and name Jim Crow. One claimed that it was based on a song and dance done by an old black man while grooming a horse, another that Rice saw a crippled black boy called Jim Crow performing on the streets of New York.
In November 1839 the Nottingham Journal reported that, at the Theatre Royal, 'the great attraction of the week is the celebrated Mr. T. D. Rice, the original and inimitable Jim Crow of the London stage ... Mr. Rice made his first appearance in two new pieces, The Mummy and Jumbo Jim, both of them well adapted for the display of his peculiar style of Yankee-negro humour …'.
Unfortunately 'Jim Crow' became a derogatory term Americans used for a black person. It also refers to the practice of segregating black people in the South which continued until the 1960's. So-called Jim Crow Laws were designed to enforce segregation and deny civil rights until they were declared illegal in the 1950's and 1960's, following massive protests and civil unrest.
I also have a cheaply made relief-moulded jug (with a lion as the handle) portraying Isaac Van Amburgh, a famous American 'Lion Tamer' who appeared in Nottingham three times. 'Cat Acts' began in the United States in 1833 when Van Amburgh first entered a cage occupied by a lion, a tiger, a leopard and a panther. Dressed like a Roman gladiator in toga and sandals he forced the animals to do his bidding with the help of a crowbar. When criticized for cruelty he inaccurately quoted the Bible:'God said in Genesis 1:26 that man should have dominion over every animal on the earth'.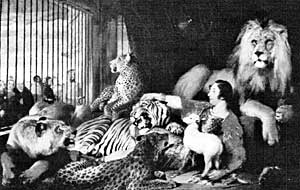 He actually acted out scenes from the Bible, including one where a lion lies down with a lamb. Queen Victoria was a great fan of his act and saw it many times until the lion seized the lamb in its jaws. Van Amburgh's fame led to a painting of him and his animals by Landseer in 1839.
Van Amburgh first appeared in Nottingham in September 1840 at the old Theatre Royal, then the following year at the New Pavilion, Burton Leys (now Trinity Square), which could hold several thousand people, and finally in December 1844 at the Amphitheatre in Thurland Street. The Nottingham Journal reported the event and was impressed by the 'immense brick building which has been erected in a wonderfully short space of time; it is neatly papered within and fitted up in the style of the ancient Roman Circus … The elephant Bolivar was an especial favorite'. But it was the portrayal of Van Amburgh and his lions on the jugs which led to their purchase after the show.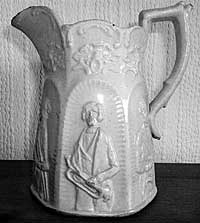 I have another relief-moulded jug portraying the Distin family of musicians, which would have been sold after performances. John Distin, who had played bugle in the Victory Parade after the Battle of Waterloo, and his four sons formed the Distin Quintette (sic) which toured Britain and abroad.
They played old-fashioned pace-horns until they met Adolph Sax in Paris, when they were completely besotted with his new instrument, the Sax-horn. There is a long advertisement in the Nottingham Journal November 8th 1850 for a concert at the Corn Exchange, Nottingham, in which they proudly proclaim that 'Mr Distin and his Sons will perform their Silver Sax-horns which were presented to them by the late Louis Phillipe in Paris in 1844'. The Journal expected the Corn Exchange would 'be crowded to overflowing', especially as everyone would be given a copy of Distin's Polka and a chance to win a 'new cabinet piano-forte manufactured by Mr. H. Farmer and a silver cornet-a-piston'. Later Henry Distin left the group and settled in London establishing a firm making musical instruments. Today that firm has become Boosey & Hawkes. I am grateful to Michael Payne for his help with this article.