Articles from the Thoroton Society Newsletter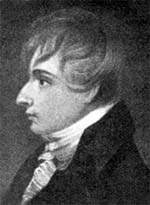 Kirke White in 1807, aged 21 years: by courtesy of Nottingham City Council and 'Picture The Past'. Thousands of pictures of local interest are available for view at the Picture the Past website, which includes images from Nottinghamshire and Derbyshire library and museum collections.
HENRY KIRKE WHITE
Poet and Hymn Writer, 1785-1806
Henry was born on March 21st 1785 in Exchange Alley behind the Exchange Building, Nottingham, which was the precursor to the Council House now on the site. He was the second son of John White, a butcher whose premises were in the Shambles, a jumble of shops behind the Exchange. There were three sons and three daughters in the family, all baptised at the Independent Chapel, Castle Gate. However, Henry grew up to become a convinced supporter of the Church of England. In 1804 he studied under the guidance of the Rector of Wintringham, Lincolnshire.
Henry's mother, Mary Nevill, was the daughter of a Nottingham framework knitter but her father came from a long line of Staffordshire yeoman farmers. Kirke was the surname of his mother's Great Uncle Samuel, a Nottingham grocer. Mary was much better educated than her husband, and she opened a girls' school in 1798 or 1799.
It was obvious from a very early age that Henry was very bright. He started at Mrs Grassington's school at the age of three and stayed there for two years. Later he wrote a poem about his time there:-
First at the form, my task for ever true
A little favourite rapidly I grew.
And oft she stroked my head with fond delight
Held me a pattern to the dunce's sight.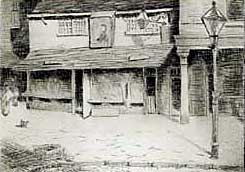 Kirke White's birthplace in Exchange Alley, Nottingham.
At seven he was sent to the Nottingham Academy where Byron was a pupil in 1799. There Henry learnt English, Latin and Greek. At 13 he was the youngest member of the Nottingham Philosophical Society. From then until he was 18 he virtually taught himself law, chemistry, astronomy, electricity, mechanics and drawing. He was also a proficient musician and carpenter. He hoped to become a lawyer so studied oratory and when he was only 15 he gave a two hour lecture to a Nottingham Literary Society on the genius of Thomas Chatterton, who influenced his own poetry.
None of this appears to have impressed his father who had wanted him to be a butcher, although he was put to a stocking frame when he was 14: Henry hated it. But his mother came to the rescue and got him an apprenticeship with Coldham and Enfield, attorneys, of Rose Yard (now King John's Chambers). He worked hard from 8am to 8pm and studied and wrote poetry in his spare time but deafness denied him a career in law. When his health deteriorated due to tuberculosis, his enlightened employers gave him leave of absence for a month. He chose to stay in Wilford, writing poems in the little gazebo which stood in Saint Wilfrid's churchyard. Here he wrote:-
Here would I wish to sleep, this is the spot
Which I have long marked out to lay my bones in.
Sadly they are not.
When Henry was 17 he published a volume of poems which attracted much attention. One of the better known ones was 'The Fair Maid of Clifton' and another was 'Clifton Grove' in which were the controversial lines:-
Or, where the town's blue turrets dimly rise,
And manufacture taints the ambient skies,
The pale mechanic leaves the lab'ring loom,
The air-pent hold, the pestilential room,
And rushes out, impatient to begin
The stated course of customary sin.
In 1815 John Blackner, in 'The History of Nottingham', said that White should be horse-whipped for this libel of Nottingham's mechanics. Two hundred years later White's views seem not inappropriate for any Friday night in town.
In 1804 he was well enough to take up a place at Saint John's College, Cambridge, with financial help from his mother, brother and friends. His deafness was a handicap in lectures but he did well in all subjects except mathematics. He worked hard and, in June 1806, he won the University prize for classical composition and was very excited to be first man of his year at Saint John's. But he still overworked to his ultimate cost.
Henry had suffered from tuberculosis for years and wrote about it in 'Dance of the Consumptives' and the autobiographical 'To Consumption'. But at Cambridge he also had to cope with insomnia and palpitations. At Christmas 1805 he wrote that his "nerves were miserably shattered". He had a fit in July 1806 and bled and blistered, normal treatment at that time. In a letter home he wrote that he was "well except for the doctors".
He died in his room at St John's on October 19th 1806: he was 21. He had written:-
I would not have my corpse cemented down
With brick and stone, defrauding the poor earthworm
Of its predestined dues.
In fact he was buried under a flagstone in All Saints Church, Cambridge. When the church was demolished in 1870 his remains were dug up and cremated. According to the Nottingham Guardian of June 7th 1930, his ashes were found in a dustbin in about 1927 and scattered in Wilford churchyard, but this has not been corroborated. However, in St Wilfrid's Church there is a fine marble medallion of him and a stained glass window bearing the words "In Memoriam HKW". At St John's Cambridge an American admirer paid for a marble tablet with profile and verse, still to be seen in the chapel.
There is a fine metal plaque in Exchange Arcade, Cheapside, on the site of Kirke White's birthplace. Originally a Holbrook plaque was erected on the actual dwelling but, when that was demolished prior to the erection of the Council House, another was put up on the wall of 17 High Pavement where White later lived. Now that plaque has also disappeared. On the colonnade at the Castle is a bronze bust of Henry, also donated by William S Holbrook. It was designed by Oliver Sheppard who included an allegorical figure of Genius on the pedestal.
How talented was Henry Kirke White? Byron, Southey, Wordsworth and Browning all admired his poetry, but Blackner accused him of plagiarism, with some justification. At his centenary banquet in 1906, Professor F Granger of University College said that Kirke White and his contemporaries, Gilbert Wakefield, Richard Parkes Bonington and Marshall Hall, were the most eminent persons Nottingham had ever produced, thus making it a "centre of genius and learning".
However, few people read White's poetry now, although one of the ten hymns he wrote, 'Oft in danger, oft in woe', is well known and still sung. One has to remember that Henry Kirke White wrote most of his poems and hymns while he was still a teenager but, in the end, his reputation was possibly exaggerated by his romantic and tragic early death.
Terry Fry