Articles from the Thoroton Society Newsletter
Adam Nightingale - A Nottingham Author
By James Eady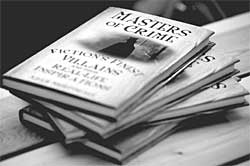 Adam Nightingale is a writer, based in Nottingham, whose books have included Murder and Crime in Nottingham; Heroes and Villains of Nottingham (which thankfully do not include Robin Hood in either category) and most recently Masters of Crime: Fictions Finest Villains and Their Real Life Inspirations.
You may have heard Adam talking about Masters of Crime on the Today Show on BBC Radio 4, Newshour on BBC World Service and the John Holmes Show on BBC Radio Nottingham. In the Radio 4 discussion he was asked who his favourite fictional villain was and responded with Professor Moriarty's (at which point James Naughtie jumped in with, 'Ah yes, the Napoleon of crime') right-hand man, Colonel Sebastian Moran. It is like Adam to come up with a less-than-conventional answer. He always references the Hollywood actor and sometime pugilist, Victor McLaglen, in his interviews and this has become somewhat of an in-joke amongst his friends.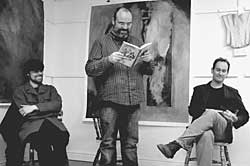 Adam Nightingale reading from his latest book.
I worked with Adam at the Galleries of Justice for some years. Although his latest book contains mainly London criminals, he remains a great advocate for the (woefully) neglected Georgian criminal history of Nottingham. His knowledge of Nottingham's darker history is encyclopaedic and his descriptive powers are great. He freely admits that he is not an academic historian, but he is an effective communicator to the layman. He describes himself as a 'failed actor', who now writes 'books about crime and punishment, war and rioting, and fictional criminals'. There is often a Biblical style to his writing, and his research is extensive. When I worked with him I discovered that before writing an educational mock-trial for the National Centre for Citizenship and the Law (the educational arm of the Galleries of Justice) he would read everything he could on the subject.
At the time of writing this article, Adam was working on a one-man show for the Galleries of Justice, called Georgian Bloodbath. I was lucky enough to see a preview of this show last
August: it is very dramatic and aimed at people with a good knowledge of history. He used gory props and the concept of the Georgian Darwin Awards for stupid deaths to engage the audience.
LeftLion said, 'this isn't a show for children, or for those not terribly interested in history. But if you're an adult with an irreverent sense of humour and a penchant for the macabre, watch out for this show. It's fun and interesting, and part of Nottingham's wonderful cultural vibe.'
The show does seem to fit with the Zeitgeist. We can see that with popularity of Horrible Histories on television how useful the darker parts of history are at getting children and young adults interested in history. Adam's show is bringing criminal history to a larger audience. At the preview people went away talking about the stories he had told and this continued for several days. Perhaps a children's version is the next, logical, step. In a recent interview for LeftLion, Adam said that 'historical distance confers a degree of colour and exoticism that makes the awful things some of these people do seem alien and almost like fiction. There's an attraction in that.
Ed: LeftLion is an online magazine which lists and reviews much of Nottingham's cultural and sporting activities. See it at www.leftlion.co.uk

< Previous