Articles from the Thoroton Society Newsletter
Thomas Forman and his Nottingham newspapers
By Terry Fry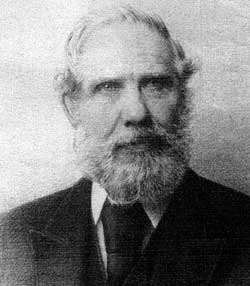 Thomas Forman.
One hundred and fifty years ago, on 1 July 1861, a dynamic businessman from Lincolnshire, Thomas Forman, introduced The Nottingham Daily Guardian to the town. At the age of 42 he was already very experienced in editing and printing newspapers for this area.
He was born in Louth on 19 January 1819 and was apprenticed in the printing trade there. In 1846 he moved to Bedford to keep a bookshop, but not for long. Two years later his growing reputation as a skilled printer and an astute businessman led the owners of the failing Nottinghamshire Guardian and Midland Counties Advertiser to seek his services.
At the height of the debate over the repeal of the Corn Laws in 1846, seventy of the landed gentry of the county, including the Dukes of Newcastle and Portland, established the Nottinghamshire Guardian simply to promote Protectionism. They were terrified of the effect of Free Trade on their profits. Unfortunately they knew little about printing or editing and the paper was soon in debt, Fortunately they were impressed by Thomas Forman's skill and ideas. In March 1849 they unanimously accepted his proposal that he pay all the costs of production so that, in effect, it became his newspaper. Not only did he put it on a sound commercial footing, although it never really affected the circulation of Job Bradshaw's Nottingham Journal, but he also confidently introduced two more papers. These were the Midland Sporting Chronicle in 1852, mainly for racing enthusiasts, and the Midland Counties Observer in 1857, mainly for cricket fans. These activities were soon absorbed into Forman's next venture.
The time was ripe for another local newspaper. Following the Enclosure Act of 1845 Nottingham enjoyed the greatest boom in its history. Phenomenal advances were made in its two staple industries of lace and hosiery, and the introduction of steam power boosted engineering and machine building. Thomas Forman was able to tap into this prosperity after Gladstone abolished the duty on newspapers, 'a tax on knowledge', in the Budget of 1861. On 1 July Forman brought out the first issue of the Nottingham Daily Guardian, not to be confused with the Nottinghamshire Guardian. It cost 1d as it still did in the 1930s.
The lay-out is very familiar to readers of 19th century newspapers. It quickly expanded from four pages to eight, of which the first three were for advertisements only. Page 4 was basically for House of Commons reports, page 5 news from abroad and the United Kingdom, page 6 for commerce and market reports, page 7 for sport (mainly racing and cricket) and page 8 for more news and Births, Marriages and Deaths.
Forman's right wing convictions were often openly shown, especially at election time. In June 1865 he gave maximum coverage for all of Sir Robert Clifton's meetings but had little time for his Liberal opponents, Charles Page and Samuel Morley, particularly after the infamous fight in the Market Square between rival supporters on 26 June. Their agents, he wrote, 'have secured the services of an enormous number of so-called Lambs who should be styled Wolves'. Actually these Lambs, or thugs, were prominent on both sides. To be fair to Forman, he did print a letter from A. J. Mundella, who was outraged that his messengers had been accused of recruiting the Bludgeon Brigade, 'a scandalous libel'. On 8 June 1869 a full page was devoted to the funeral of Sir Robert Clifton, all the columns divided by thick black lines.
In February 1870 the newspaper gave its full support to the Independent and Constitutional candidate, Mr. Digby Seymour, Q.C. On 22 February an advertisement proclaiming, 'Mr. Seymour will address a Monster Meeting in the Great Market Square' was accompanied by a long editorial extolling the virtues of this True Blue'. In spite of all his exhortations Thomas Forman and Seymour lost, Forman certain that 'bribery has gained the victory'. However, two Conservative candidates were returned in 1880, and the Daily Guardian prospered as the town increasingly turned to the Tories in the late 19th century.
He continued to take an active part in the management of his papers until well into the 1880's. In 1875 he had been made a J.P. for the Borough, and he was consistently one of the most energetic members of the local Conservative party. Otherwise he made no further efforts to take up a conspicuous position in public life in the town.
Thomas Forman died at his home, Castle Grove, in The Park, on 26 July 1888. He had been ill for a considerable time. His death was reported in the Daily Guardian in a single sentence, although his other paper, the Evening Post, was rather more fulsome. However, the rival papers were generous in their tributes, although the Nottingham Daily Express curiously placed its piece second in its Local News column after announcing that The annual show of hounds in connection with Lord Galway's pack was held at Serlby Hall yesterday'. The Evening News recognized his worth to Nottingham: 'Few of his townsmen were better known and, irrespective of politics, his demise will be regretted by a wide circle of friends ... He was a gentleman of large business capabilities, shrewd and possessed of sound judgment which made his counsel valued by political and other friends'.
The newspapers he had introduced to Nottingham continued to prosper after his death, controlled by the dynasty he had established. Following his sons, T. Bailey Forman, a grandson, entered the business in 1908. Even during the General Strike in 1926 the Guardian was published daily. In the following month, June, Thos. Forman & Sons moved to their new factory on Hucknall Road, Carrington. In June 1953 they purchased the Nottingham Journal and Nottingham Evening News and three months later the two morning papers were amalgamated and came out as the Guardian Journal. The two evening papers, the Post and the News, were amalgamated in July 1963. Ten years later the printing dispute which began on 19 June 1973 finished off the Guardian Journal, which ceased publication that day. Now the only newspaper left in Nottingham was the Evening Post, which increasingly became a daily rather than simply an evening paper, until recently it was logically re-titled The Nottingham Post. Thomas Forman's Daily Guardian survived in one form or another for 112 years and his Post continues to prosper, a remarkable legacy left by the talented printer from Lincolnshire.
< Previous