Thoroton Society Record Series
Thoroton Society of Nottinghamshire, Record Series, vol. 46: Church Life in Georgian Nottinghamshire: Archbishop Drummond's Parish Visitation Returns 1764, edited by Howard Fisher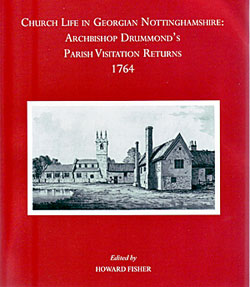 It was customary during the 18th century for newly appointed bishops to undertake a 'Primary Visitation' or initial inspection of each parish in their Diocese within eighteen months of their consecration. In advance of the visit a list of queries was drawn up and circulated to the clergy for them to complete with information about their parishes.
This edition by Howard Fisher prints transcripts of the individual Parish Returns for nearly the whole of the Archdeaconry of Nottingham - broadly coincident with the county of Nottinghamshire – during the visitation by Archbishop Drummond of York. They shed invaluable light on the state of the Church of England in an East Midlands county in the Georgian period.
The Visitation Questions asked about topics such as whether the parsons lived in their parish or elsewhere, whether they employed curates and how much they paid them, how many people there were in the parish and how many attended church, how many nonconformists there were, what type and frequency of church services were held, and what schools and charities were there. The Parish Returns also name the incoming and outgoing churchwardens and provide estimates of the population size of each parish.
The information supplied by incumbents about other livings which they held inside or outside Nottinghamshire has been supplemented in this edition by additional biographical details showing each individual parson's earlier and subsequent careers in the Church abstracted from other sources.
Among the formal answers are some that reveal the personalities of the clergy, for example those of the outspoken rector of Rossington which include the observation (in Latin) that preaching in his church was like 'a voice crying in the wilderness'!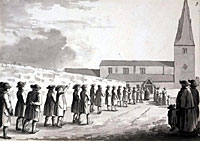 School procession in 1786, Kirkby-in-Ashfield (image courtesy of the British Library).
The volume is illustrated with views of Nottinghamshire churches, fourteen of them reproductions of the superb series of drawings executed between 1773 and 1792 by the Swiss-born artist Samuel Hieronymus Grimm for Dr Richard Kaye, rector of Kirkby in Ashfield after 1765 and later Dean of Lincoln.
Please note that this book has now SOLD OUT (December 2013).