Book launches and reviews, Summer 2000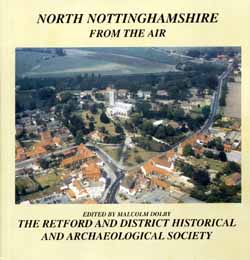 Malcolm Dolby, North Nottinghamshire from the Air (Retford and District Historical and Archaeological Society, 2000: £8.50 incl. p&p). Copies available from Bassetlaw Museum, Amcott House, 40 Grove Street, Retford, DN22 6JU. Cheques payable to Retford & District Historical & Archaeological Society.
This book was advertised by Eric Coddington in Newsletter No.19 and launched in conjunction with the Bassetlaw Roadshow on 8 April. Malcolm Dolby and team have produced an excellent set of overhead pictures for this beautifully illustrated book on the Bassetlaw Hundred of Nottinghamshire. Malcolm's captions bring the pictures to life, and provide an excellent overview of an area of the county perhaps less well known than it should be to members of this Society. With Center Parcs, three power stations and several collieries among the illustrations, the book reminds us that the north of the county is not just agricultural in its interests.
John Beckett
---
Barbara Brooke and Nigel Brooks, Stapleford at the Dawn of the 20th Century.(Stapleford & District Local History Society, 2000: £4.50). Copies available (£6 incl. p&p) from Stapleford & District Local History Society, 57 Westerlands, Stapleford, Nottingham, NG9 7JE. Cheques payable to the Society.
Stapleford and District Local History Society was formed only five years ago, but under the enthusiastic leadership of Barbara Brooke, eleven members have come together to produce this splendid little book about a community which became a thriving industrial village in the second half of the 19th century. Subjects covered include education, employment, transport, sport and leisure, shops, public services, churches and law and order. The book is excellently illustrated and in publication terms it represents another triumph for Susan Griffiths Local History Press, to which all local history societies should turn for advice when preparing their own publications. Congratulations also to Stapleford Town Council and Broxtowe Borough Council for financial support. The book is a snip at £4.50, and an excellent read.
John Beckett
---
Newark parish church of St Mary Magdalene
St Mary Magdalen, Newark, described by Pevsner as being among the 'two or three dozen grandest parish churches of England', now has its own comprehensive history. Brenda Pask's magnificent study was published on 4 March with a ceremony in the church attended by a large congregation including Miss Jean Moore, Mayor of Newark.
Professor John Beckett, launching the book, congratulated Miss Pask on a splendid production which brings together research on the church building and the people connected with it -- among them the infamous eighteenth-century cleric Dr Bernard Wilson who was briefly excommunicated for 'chiding and brawling' at a church meeting, and organist William Hunter, who shot himselt in the Song School House in 1802!
Professor Beckett commented that the book commemorates the generations who have worshipped at St Mary's, celebrates the present -- with all its problems of falling numbers of declining income -- and enlightens the future generations that Brenda confidently anticipates will maintain this magnificent building'.
Copies of Miss Pask's book are available from The Rector, Church Rectory, Bede House Lane, Newark, NG24 1PY; (hardback price £41, softback £21, both include postage: cheques payable to "Newark Parish Church Book Account").
Brenda Pask has also authored Newark Parish Church's entry on the Southwell Diocesan website:
http://southwellchurches.nottingham.ac.uk
Reviews taken from Thoroton Society Newsletter, Summer 2000.