Book launches and reviews, Summer 2006
Society, Religion and Culture in Seventeenth Century Nottingham edited by Martyn Bennett
Martyn Bennett will be known to Thoroton members through occasional lectures to the society, and for his Record Series volume of the Upton Constables' Book. Martyn has edited this collection of essays written by staff and former postgraduate students from Nottingham Trent University's early modern social history symposium, FORWARD. It brings together the results of recent research on a wide range of social phenomena, such as Kirsteen Macpherson-Bardell's essay on witchcraft, crime, the road to civil war, and literary culture. Essays on religion by Ken Gibson and Stuart Jennings look at the career of minister Richard Bernard and Protestant dissent in the county up to 1662. The late Anne Mitson's essay on credit networks in rural communities points the way to the funding of the agricultural revolution, whilst Linda Lees explores the crime women committed in the county. The book provides fascinating insights into the county's history during the 17th century, and sheds interesting light on the national story during this most exciting of periods. With a preface from the Thoroton Society's Chairman, the book is well worth a read! Unfortunately it needs to be read from a library copy, since Edwin Mellen Press has priced it at £69.95p.
John Beckett
Lost Houses of Nottinghamshire by Philip E Jones
(Nottinghamshire County Council, 2006. Price £5.99; Available from Thoroton bookstall, Nottinghamshire Archives and public libraries)
Philip Jones, a member of Thoroton Council, has written this short illustrated book for Nottinghamshire County Council. Despite its title, the book is actually about more than sixty of the larger country houses that have disappeared from the county over the past six centuries, and this gives it a certain nostalgia value. Many of the houses discussed here have been 'lost' since 1918, and the fact that they are described as such suggests a sense of mourning which would have been missing if the book had been titled 'Demolished Houses of Nottinghamshire'. Although some of the houses were lost long ago, including the splendid Haughton Hall, the majority have come down since 1918 because they were redundant and unsaleable on a market awash with such properties. We might yearn after Nuthall Temple - as I do each time I join the Ml at junction 26 - or the glories of Clumber, let alone many of the smaller houses illustrated in the book; but their loss has been a product of market forces in a world which no longer includes servants. Country houses were a unique British phenomenon, but they were also about the land and estates that went with them, and when these were sold the house often became untenable. Perhaps we should be thankful for those that did survive! The book will be on sale on the Thoroton bookstall, and is an easy read with lots of illustrations, some of which I had not previously seen.
John Beckett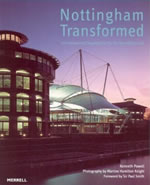 NOTTINGHAM TRANSFORMED
Architecture and Regeneration for the New Millennium
by Kenneth Powell
(Photography by Martine Hamilton Knight. Merrell, £24.95)
Author Kenneth Powell is one of the country's finest architectural writers, and he records in a very easy manner the regeneration and development that has taken place in the City over the last quarter of a century. His text is enhanced - graced, perhaps - by the fine photography of Nottingham architectural photographer Martine Hamilton Knight.
After an introduction covering briefly the history, architecture and present state of Nottingham, six chapters (The Lace Market, Canal Corridor, City of Business, City of Learning, City of Culture, and City of Leisure) examine and assess over sixty major projects. There is a foreword by Sir Paul Smith and an afterword by Cllr Jon Collins. Well-known schemes up and running are featured, as well as others in the pipeline, with designs coming from both national and local architectural practices. Where appropriate a few buildings outside of the City's boundary are included. This is a handsomely produced book that will give pleasure and delightful surprise to many, whilst being an inspirational resource for developers and planners.
Ken Brand
Note: The book was the best selling non-fiction book at Waterstones during the first week of May.