Book launches and reviews, Winter 2008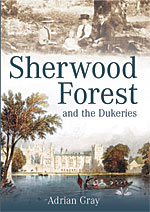 Adrian Gray, Sherwood Forest and the Dukeries Phillimore, 2008: ISBN 978-1-86077-482-9)
Anyone with an interest in the history of Nottinghamshire will welcome a book on Sherwood Forest, and this is a good read with plenty of pictorial material. The transformation of the Forest from a medieval royal hunting park, to a landscape of large houses with associated parks, and then to an industrial landscape as coal mining reached the area, is well handled, although the reader might be forgiven for wondering what happened to the Forest. Less commendably, there is a sense that the author is so keen to be inclusive that anything that can remotely be connected with the Forest area is thrown into the mix without much thematic discrimination. The text is based on only a limited number of secondary sources, and the vast riches of the Portland and Newcastle estate papers have not been raided. Thorotonians will be interested in footnote references to 'Journal of the Thoroton Society', which suggests the author was a little lax with the proof reading, but as a good read on the topic this is well worth dipping into.
John Beckett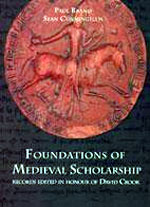 Foundations of Medieval scholarships: records edited in honour of David Crook, ed. by Paul Brand and Sean Cunningham, The Borthwick Institute and The National Archives (2008): ISBN 9781904497240
Dr. David Crook, who was editor of The Thoroton Record Series 1986-97, is currently a member of the Society's Council, and a frequent contributor to our Transactions. Many Thorotonians will know that he spent his career at the Public Record Office, now The National Archives. Following his retirement in 2007, a festschrift has been produced celebrating David's work. The book, published jointly by the Borthwick Institute and The National Archives, contains contributions on a range of medieval documents. David is described as 'the leading archivist historian of his generation', (Professor Nicholas Vincent, UEA) and the line-up of scholars who have contributed to the volume indicates just how widely regarded David is in the field of medieval records. The book includes a memoir of David, largely from his colleagues at TNA, a list of his publications, and a splendid colour photograph of him with his family and two Beefeaters outside Buckingham Palace when he was awarded the OBE in December 2007.
John Beckett