Book reviews, Winter 2016
MEDIEVAL GRAFFITI: THE LOST VOICES OF ENGLAND'S CHURCHES by Matthew Champion
Ebury Press 2015 £12.99 ISBN 9 7800 919604 14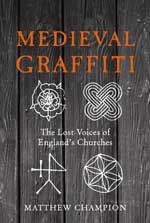 This fascinating little book throws light on largely unnoticed carvings and artwork on the walls of churches. Not the great works of art by professional painters and sculptors but the, often crudely scratched, designs by ordinary people. They include ships (Thorotonians saw a fine one at St Mary's Church, Stow in Lindsay, on one of the excursions last year), word puzzles, heraldic designs and not a few curses. One or two may not be reproducible in a prim journal such as your Newsletter! Some were created to ward off demons or the 'evil eye', whilst others were simple builders' accounts.
Medieval graffiti have been known about for many years, but only one previous academic survey has been published1. Matthew Champion has, however, published a number of papers in various journals, some of them difficult-to-locate, describing graffiti in specific churches. The types of graffiti covered in the book include compass-drawn designs, such as fairly complex sets of interlocking circles - surely made by stonemasons, who would have had access to such a tool as a pair of compasses. Crosses are, not unsurprisingly, quite common. Some are elaborate, and were most likely to have been made at the time of the consecration of the church whilst others are crude scratchings, perhaps a mark of faith by a mediaeval worshipper. Ships appear on the walls of many churches in Norfolk and Suffolk. One theory is that they represent ships lost at sea, and are a memorial to crew members who did not come home. A number of churches contain inscriptions which are accounts of money owed to builders and others, whilst the walls of some churches bear musical notation, such as at Norwich Cathedral and St Alban's Abbey. Birds and fish appear on the walls of many churches.
The book includes a chapter on masons' marks, which tend to be well known, and also one rather superficial chapter on mass (scratch) dials.
The book contains a useful glossary and an index. However, a future edition of the book would be greatly improved by the inclusion of a list of references. I had to search diligently on Google to find the Pritchard reference, which is mentioned several times. The book does, however, include a list of suggested places to visit, in a number of counties. One church in Leicestershire is mentioned, and four in Lincolnshire, but sadly none in Nottinghamshire. This book is a useful contribution to a little-studied area of research into church history; one, moreover, where amateur historians can make a contribution to our knowledge.
1. Pritchard V English Medieval Graffiti CUP 1967 John Wilson
LINCOLN CATHEDRAL: THE BIOGRAPHY OF A BUILDING by Jonathan Foyle
Scala Arts & Heritage Publishers Ltd. 2015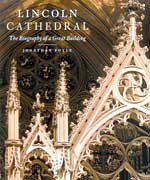 Writing a relatively short book about a building which has been in existence for nearly 1,000 years was never going to be easy. This new study of the complex architectural history of Lincoln Cathedral makes a brave and effective attempt to condense this history into an enjoyable and readable text. Like most of England's Cathedrals, Lincoln's construction and subsequent re-building was undertaken in stages over long periods of time, making for a complicated narrative. Jonathan Foyle has succeeded, in this book, to bring to life this complex architectural development whilst also managing to place these developments within a wider social context.
Obviously written for a general audience this lavishly illustrated book leads one through the reasons for the cathedral's original construction from 1072 onwards, the dramatic destruction of much of the cathedral by an earthquake in 1183, and then through the vicissitudes of its hugely drawn out re-building from c. 1192 to c. 1280, and finally to the additions of the central bell tower and spire and, much later, the two western towers with their smaller spires in the 14th century. Throughout this story Jonathan Foyle attempts to include much of the latest scholarship and thinking about the building's development though without confusing the reader with too much architectural jargon or too many inconclusive theories. The result is a very readable introduction to one of the wonders of English medieval architecture.
The designers of this book have compiled an extremely careful selection of mostly high quality illustrations and they have managed to position most of these images on the same page as their references in the text. There are a few exceptions; the illustration of one of the most spectacular and unusual features of cathedral, the Bishop's Eye on page 106 is far too small and the illustration of Worcester Cathedral's chapter house on page 68 is out of focus.
It is perhaps unfair to complain about omissions, but Jonathan Foyle's concentration on the construction of the medieval fabric leaves little room for its later history. The scant references to the various 19th and 20th century restorations by J L Pearson and Charles Fowler (who is not even mentioned) belie the extent of their work and its importance to the survival of the building today. It might seem from this book that no significant additions were made to the cathedral in the 20th century; even Duncan Grant's controversial paintings within the Russell Chantry completed in 1959 are not illustrated or discussed.
These few quibbles aside, this book, which is a refreshingly personal view of the history of this great building, will I am sure be enjoyed by all those members of the society who attended Jonathan Foyle's lecture in July as well as by anyone intending to visit Lincoln Cathedral in the near future.
Pete Smith
THE LOST MISSIONARY: From Salford to San Francisco: the search for Henry Layland Knight by Christopher Richardson
Loaf on a Stick Press, Nottingham, 2015, £2.00 ISBN 9 78095 691397 5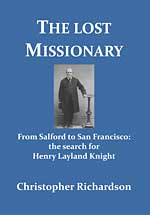 This little book tells the story of Henry Layland Knight, whose early life and activities as an Owenite socialist from Salford, and a 'Social Missionary' in Yorkshire, Leicestershire and Nottinghamshire, were recorded in Christopher Richardson's previous book A City of Light. Henry was the leader of a group of seventeen adults and a number of children who emigrated from Nottingham to Illinois in the USA in 1842 to establish a socialist community. The subsequent lives of these emigrants and of Henry Knight have so far gone unrecorded and in this book Richardson sets the record straight. Henry and his party of emigrants arrived at Ridott, Illinois, after a sea journey of 65 days from Liverpool. There, they attempted to set up a socialist community, based on the ideas and principles espoused by Robert Owen, the pioneer socialist who was involved in the early Co-Operative movements. However, 'A dissension arose for some unknown reason and part of the colony departed for the western wild, and has never been heard of since, except indirectly'. The community broke up within about two years. Several of the members of the community have been traced, although none returned to Nottingham. Others just disappeared, including Henry Layland Knight and his wife Margaret. However, Mr Richardson managed to obtain information from Henry's great-grand-daughter in California. And what a tale! There is no information on Henry and his family's first six years after leaving the community, but Henry, Margaret and their five-year-old daughter Emily appear in the Federal Census of 1850 in Grundy County, Missouri, where he is described as a farmer. Henry fought as a soldier in the Mexican-American war at some point between 1846 and 1848. He was admitted to the Bar in Missouri sometime between 1850 and 1852 and began to practice as an Attorney. In 1852, Margaret's family emigrated to the USA and joined Henry and Margaret, having travelled by covered wagon drawn by oxen, a journey that took six months. Eventually the family moved to California, after their homes had been destroyed by wildfires.
Henry became involved with the Californian Working Men's Party, which organised anti-Chinese riots against the large working community of Chinese people in California and in 1878 Henry and his colleague Kearney were indicted on charges of conspiracy and riot.
In 1887, Henry became a war pensioner on account of his service in the Mexican war, and he died in December 1890 at the age of 71.
The book, which is well produced and very readable, includes a useful bibliography.
John Wilson
A46 NOTTINGHAMSHIRE: THE ARCHAEOLOGY OF THE NEWARK TO WIDMERPOOL IMPROVEMENT SCHEME, 2009 Nicholas Cooke and Andrew Mudd
Cotswold Wessex Archaeology 2014.Cotswold Archaeology Monograph No. 7 and Wessex Archaeology Monograph No. 34. ISBN 978-0-9553534-6-8. £34.95. Available from Oxbow Books(http://www.oxbowbooks.com/oxbow/)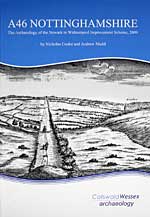 This substantial publication presents the results of archaeological investigations conducted by Cotswold Wessex Archaeology (a joint venture between Cotswold Archaeology and Wessex Archaeology) in advance of dualling the A46 from Newark to Widmerpool. This new road follows for much of its 28km length the course of the Roman Fosse Way, with major deviations around the Roman towns of Ad Pontem and Margidunum. The fieldwork was conducted mainly in 2009, and represented the last of the many stages of archaeological work that were carried out along the proposed route since the first assessment of its archaeological potential by Trent & Peak Archaeological Trust in 1992.
Following an introductory section outlining the background to the project and the methods of investigation and analysis, the report considers in turn the key sites that were explored during archaeological work. Attention is focused first upon the major sites that were investigated (Chapters 2-8) and subsequently upon five minor sites that were identified during evaluation and targeted for further work (Chapter 9). The report concludes with a period synthesis (Chapter 10), which includes general discussions of the Late Upper Palaeolithic, the Early Holocene environment, Mesolithic to Middle Iron Age activity, the Late Iron Age to Romano-British periods and the Anglo-Saxon and later landscape.
The most significant discoveries were made in the Trent Valley near Farndon, where excavations of a nationally rare example of a Late Upper Palaeolithic open-air site yielded unprecedented evidence for in situ flint knapping by the itinerant hunter-gatherers who had frequented this area during the final warm phase of the last glaciation (the Windermere Interstadial). Other areas of particular interest include the Bingham Basin, where work focused upon the analysis of environmental remains elucidating landscape changes since the last Ice Age, the hinterland of Margidunum and an area focused upon the Saxondale roundabout just west of Bingham. At Margidunum, excavations immediately south-west of the town defences revealed Romano-British stone buildings, wells, graves and other remains indicating dense roadside settlement, while excavations to the north-west of the Fosse Way revealed a remarkable density of Iron Age and Romano-British settlements, associated fields and boundary systems (including an unusual triple pit alignment) and a sunken-floored Anglo-Saxon building. Close to the Saxondale roundabout, evidence was obtained for extensive activity from the Bronze Age to the Early Medieval period (including Middle Bronze Age cremation graves, roundhouses and other structural traces of later Bronze Age and Iron Age settlement, a rectilinear Romano-British field system and an Anglo-Saxon cremation cemetery). Southwards of these key sites, excavations revealed Iron Age settlements at High Thorpe and Cropwell Wolds, and at Stragglethorpe an Early Bronze Age ring-ditch that may originally have encircled a funerary barrow and was itself used for a minimum of six inhumation burials.
These discoveries provide significant insights into the changing environment of Nottinghamshire and the character and extent of human activity from the Late Upper Palaeolithic to more recent times, and the volume is recommended for anyone with an interest in Nottinghamshire's past. Congratulations are extended to the authors for their comprehensive discussion of the archaeological and environmental evidence, and in particular for their prompt publication of this impressive body of work.
David Knight, Trent & Peak Archaeology
NOTTINGHAM IN THE GREAT WAR by Carol Lovejoy Edwards
Pen and Sword Military - ISBN 9781783831906 - £9.99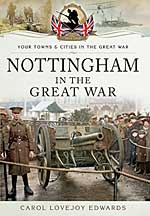 This is another in the excellent series Your Towns and Cities in the Great War published by Pen and Sword. This volume deals with the response of Nottingham to the war, the opportunities and challenges it presented and the effect it had on the city and city people. Much is made in histories of the Great War of the suffering of the soldiers and the carnage wreaked by the years of warfare. But less attention has been focused on the impact of the war on people back at home. Death and desperation were not only the lot of the military, their families at home suffered from some of the harshest winters; there was a lack of food and fuel; and there was a series of flu epidemics.
Carol Lovejoy Edwards, a local writer and amateur historian, has thoroughly researched this period of the city's history and found many fascinating and heart-rending stories. Of especial interest are accounts of how Nottingham women found unheard of work opportunities because of the lack of the men formerly employed in industry; and also in the new work the war itself provided for female hands.
Barbara Cast