Book reviews, Summer 2018
'What buys a king's shilling?' by Terence Woolley
Terence Woolley Publications £7.99 ISBN 978-0-9576599-4-0.
This latest book by Terence Woolley is set during the early nineteenth century, and is about an army lieutenant, Joshua Kerry, who has grown up in Nottingham before he 'gained the king's shilling' by joining the army. The first third of the book is set in India where his company is supervising the safety of the East India Company, and the last two thirds of the book take place in and around Nottingham. This is quite an exciting book ranging from army life in India during the Napoleonic wars, followed by life in Nottingham and surrounding villages where the leaders of the framework knitters have reached the end of their patience with their employers, a mood which later was to erupt in the Luddite Riots. Almost an account of 'out of the frying pan into the fire'!
Woolley's knowledge of the old geography of the city of Nottingham and his descriptive prowess are able to paint a vivid picture of the contrasting poverty and wealth of a divided society. He also describes movingly the violence of the outburst of criminal damage aimed at the wealthy managers of the poor framework knitters as they strove against the unemployment caused by the growth of machinery and their abysmally low wages. Woolley's descriptions of a soldier's life in India at the time, and of the abject poverty of people who had no means of paying for medicines or for food when times were hard, and of the inhuman nature of justice at the time are movingly documented in the book.
This is not meant to be a learned history book. It is a fast-moving historical novel in which the concern of the hero (Josh) to get back to his Indian wife and child is intermingled with the traumas of contemporary early nineteenth century life of his family in Nottinghamshire. As is true for many novels, this book ends happily with justice being done to the criminals, Josh's concerns for his Nottingham relations are eased, and he is sent back to his company in Madras where he is reunited with his wife and child.
An exciting read, although a few items of proof reading are required in its printing. Disentangling some of the names of the different gangs of machine-wreckers can also be quite challenging.
Alan Langton
The White Book (Liber Albus) of Southwell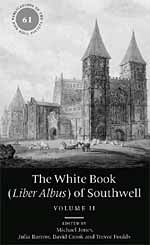 Two-volume set, edited by Michael Jones, Julia Barrow, David Crook & Trevor Foulds, with contributions from Neil Bettridge, Jean Cameron, Paul Cavill and Teresa Webber.
This is the first complete edition of an invaluable and extensive collection of medieval documents compiled between c.1350 and 1460 and which ranges from papal bulls to royal charters to the privileges granted by many archbishops of York. Thanks to their great variety, the documents are important not simply for ecclesiastical history but for broader social and economic trends in medieval Nottinghamshire either side of the Black Death.
Published by Boydell & Brewer for the Pipe Roll Society, the two volumes run to 944 pages and include two colour and 14 black and white illustrations. Its published price is £100 but members may order with a special 25% discount and pay £75 plus £3.70 p&p.
Order online at https://boybrew.co/2q4QT4b and enter code BB584 at the checkout or call Boydell's distributor, Wiley, on 01243 843 291 and quote the same code. If you have any queries please email marketing@bovdell.co.uk
Buildings in the Broadmarsh Area of Nottingham: An Architectural and Historical Investigation by John Minnis
Historic England, Research Report No. 60/2017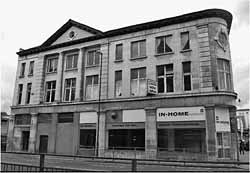 Former Petrol station on Canal Street
This report was commissioned by Historic England as part of its Heart of Nottingham Heritage Action Zone project, undertaken in partnership with Nottingham City Council.
This extremely detailed report concerns the buildings within a single block of the Broadmarsh Area bounded by Carrington Street, Canal Street, Greyfriars Gate and Collin Street. It begins with a brief history of the original development of this area in the 1820s as largely back-to-back housing, though it concentrates its attention on the surviving buildings which were all redeveloped between 1890 and 1935 as commercial premises. These clearly reflect the social changes that characterised this period as they include a petrol station and a dancehall.
Each of the 8 separate buildings is then discussed in detail, first with a brief outline of their history, then a description of their facades, and interior (where permitted) and the method of their construction. Each building is then summarised and its place in the wider general development of the architecture of the period is discussed. For example, the design of Gordon House ( 6-12 Carrington Street) is based on the design of the recently completed Selfridge's Store on Oxford Street.
The report is lavishly illustrated using many of the drawings provided for their original planning applications, now in the Nottinghamshire Archives, and with good quality colour photographs of not only their familiar facades but also of their rarely seen rear elevations and where possible their interiors.
This report will be of interest to all concerned with the conservation, history and development of Nottingham. It is only to be regretted that such detailed surveys cannot be provided for all parts of the city. The report is downloadable as a pdf from the Historic England website.
Pete Smith
The Chairmakers of Worksop Michael J. Jackson
Worksop Archaeological and Local Historical Society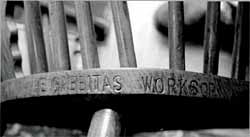 Chair with backstamp from the workshop of Elizabeth Gabbitas.
Worksop Archaeology and Local History Society have recently published an excellent volume which is a must for all enthusiasts of locally made artisan furniture and, in particular, local craftspeople.
"The Chairmakers of Worksop", compiled and written by Michael J Jackson, is a comprehensive history of a now lost craft which flourished in Worksop - that of chair-making. The book is a 50-page volume which represents many years of research on the chair making industry in Worksop, a town little known as a centre for this craft. It contains a full list of Worksop chairmakers and the years they were actively producing chairs. The last recorded chairmaker was John Kelk who carried on until the early 20th century; he and his work grace the front cover of the book — a fitting tribute to woodcraft now largely disappeared.
Chair making in the town began around 1820 with John Gabbitas setting up in his workshop in Worksop's Common End, now Victoria Square. There are still members of the Gabbitas family living locally. John employed workmen who themselves, with his expert tuition, would also become craftsmen. These included Isaac Allsop, Benjamin Gilling and John and Joe Godfrey. All produced chairs of quality in local elm and ash, with the chairs often marked with the maker's name.
Michael was a long-time and well-known member of the Thoroton Society until his death in 2017, which occurred just as this book was going to print: this is a fitting memorial to a great historian and advocate for the town of Worksop. The book is available at a cost of £10, including postage and packaging. To buy a copy send a cheque payable to WALHS (Worksop Archaeological and Local Historical Society) to Harry Richardson, 3 Newcastle Court, Tuxford NG22 0GY.
Barbara Cast
Station of Nations: the history of RAF Balderton by Colin Savill BA
Newark Air Museum 2018 £17 ISBN 978-1-9996353-0-5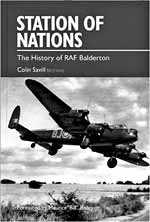 Balderton, just to the south of Newark, was mentioned in the Domesday Book and for centuries was a small farming community. Prior to the onset of World War 2 there was a rapid expansion of the Royal Air Force and many new airfields were needed. Land around Balderton was requisitioned for use by the Air Ministry in 1939 and a number of landowners lost land with little compensation. In 1941, RAF Balderton was opened as a satellite airfield for RAF Finningley with, initially, grass runways. During 1941, a tarmac perimeter track was laid.
The first 'residents' of RAF Balderton were no. 25 OTU (Operational Training Unit) which acted as a 'finishing school' for aircrew flying Handley-Page Hampden bombers. Various other units followed. The book details the stories of the squadrons and other units who were based at Balderton, and personal stories of many aircrew. Many of the individual stories are deeply moving. For example, on Saturday 16th August 1941 a Hampden bomber crashed into a row of houses on London Road, Balderton, killing two of the crew and six children who were sleeping in their home.
Other units at Balderton included Royal Canadian Air Force squadrons. By late 1943, the US Air Force were present at Balderton, which was one of twelve RAF stations to house the Douglas C-47 (Dakota) and the gliders they would tow for airborne assault, including for D-Day, 6th June 1944. Later that year, Lancaster bombers were based at Balderton.
The author of this fascinating book is a trustee of the Newark Air Museum. After service in the RAF he became an engineer. The material for the book was researched by the RAF Balderton Research Group and they have done an excellent job. Through this book, the service of all those who were based at RAF Balderton can be remembered. Many of them did not come back from their missions.