Book reviews, Autumn 2020
Marian Bannister: Heroic Nurse on the Western Front and at Dunkirk by Jill Oakland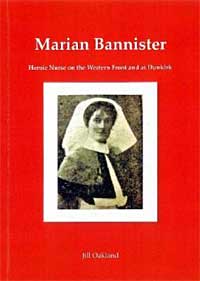 Published by Beeston and District Local History Society, 2020
ISBN 978 0 86071 823 9, 57 pp. Copies available from Waterstones.
Marian Bannister was born in 1879 and brought up in one of the poorest parts of Nottingham. She was one of seven children born to Samuel Bannister and his wife Harriet Widdowson. Two of the children died very young. Marian was the second of the children to be born, and she died only in 1970, by which time she was 91. She did not marry, and she spent the great majority of her active life as a nurse. It was in this capacity that she served on the Western Front in the First World War and returned to France when the Second World War broke out in 1939. She was among the last women to be evacuated from Dunkirk. Jill Oakland has woven the story of Marian and war into a longer biographical narrative which includes her training as a nurse, and her active career in medicine. The book is also well contextualized: readers will learn a great deal about nursing in the late nineteenth and first half of the twentieth centuries, including the role of nurses in the World Wars. Marian Bannister was brought up in Nottingham where her father, Samuel, had several shops and thriving business interests. The family moved to Beeston, where Samuel became an Urban District Councillor. He could afford to educate his children well and Marian went to High Pavement School. She then managed a grocery shop on Colwick Street on behalf of her father, before deciding to become a nurse. She trained in Sheffield, and then spent time in Lincoln before moving in 1912 to Hastings for midwifery training. From there she moved to West Hartlepool, and then on to Hull Royal Infirmary. She was in Hull when the First World War broke out on 4 August 1914. Three months later she was one of 2,000 or so trained civilian nurses who was accepted into the Queen Alexander's Imperial Military Nursing Service Reserve, and on 5 November 1914 she crossed the Channel to Boulogne.
Marian's war started at number 5 General Hospital, Rouen on 7 December 1914, under canvas. She stayed at Rouen until June 1915. Jill discusses Marian's various postings to different positions in northern France through the wartime years. Despite the Armistice in November 1918, Marian remained in France to help nurse victims of the Influenza Pandemic. She was demobilised in November 1919, and within days had taken up a new peacetime role at the London Hospital for Diseases of the Throat. By June 1921 Marian had moved on again, this time to the post of Matron of the Ministry of Pensions Hospital, at Highbury, Birmingham. The rather splendid house which had been built in 1878 by the Birmingham MP Joseph Chamberlain, was turned into a convalescent hospital for recovering soldiers. Marian showed the Prince of Wales around in 1928 and stayed at Highbury until it closed early in 1932. Marian returned to Beeston, where she stayed for two years, but she was not ready to retire and in 1934 she took a post in Skegness before returning to London to take up another position, this time with the Home and Colonial Nurses' Association. When the Second World War broke out in September 1939 Marian returned to the front. Marian's age was against her at this point, but her seniority and previous experience in northern France counted in her favour. She crossed the channel to Cherbourg on 12 October 1939 and remained in France during the period known as the Phoney War. This came to an end in Spring 1940 and Jill writes vividly of Marian's experiences retreating across northern France, under heavy aerial bombardment and ducking under trains to avoid pieces of flying shells. She and her nursing staff reached Dunkirk on 26 May. At 9 p.m. that evening Marian was among the nurses and patients who left for England on the Worthing, a heavily overloaded hospital ship. The nursing staff on board worked through the night tending the wounded until they docked at Newhaven at 5 a.m. on Monday 27 May 1940. In these dramatic conditions Marian Bannister's war came to an end. She was given notice of her retirement, which was to be on 30 June 1940. She was not yet finished, moving in July 1940 to become Matron of Alton Emergency Hospital in Hampshire, where she stayed until the end of the war. It must have been something of a come-down compared to sitting in a railway carriage for a whole day with fragments of shell raining on the roof! And so her remarkable career came to an end, and Marian returned to Beeston where, with her sister Ann, she bought a house in Endsleigh Gardens. Here she tended her garden and talked to passers-by, but we know little about these years. Her story took on its own momentum when she died in 1970. One local paper described how she was the last woman to leave the beach at Dunkirk, as she 'stayed to the last to evacuate the wounded'. Well, not quite, but the sentiment is uncontestable: Marian Bannister was a remarkable woman. Even without the two World Wars she would have been recognised for her nursing career. As it was, she twice went to war, and on both occasions was in the thick of things (or at least as far as women were permitted to go in the thick of wartime).
John Beckett