Book reviews, Spring 2022
The Creation of a Civic University: The Centenary Cust Foundation Lecture, 2021
ISBN 978:0-902719-29-3.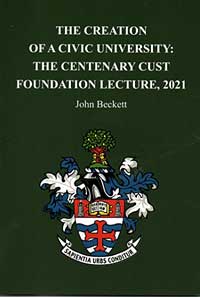 This book, as an occasional paper published by the Thoroton Society and the University of Nottingham, is an exemplary record of how the role of the Cust Lecture was important in obtaining the University College of Nottingham a charter as a full University.
It is both an historical record but also a great tribute to John Beckett's variety of historical academic projects over his 41 years in the History Department of Nottingham University. As I read this written record of the Centenary Cust Lecture one could hear John's voice as he gave the lecture online in June 2021. It has been recorded for posterity but publishing the lecture, including an Introduction by Richard A Gaunt, Thoroton Society Chair of Council, and the Introductory note from John Beckett, has added to its relevance both presently and in the future. From the supper party for 50 people on the evening of 21 February 1921, John has described in detail and explained who Harry Cust was, the development of the Committee for National Patriotic Organisations and how the endowed annual Cust lecture developed and became an opportunity for getting the University College a University charter. The Cust Lecture event during the interwar years developed and was promoted by University College with not only visiting speakers but also international guests. John also explains the role played by Jesse Boot leading to the movement to Highfields and in time the two Universities emerging from 1948 when the University Charter to Nottingham was granted. He then explains how development of the University since then has taken place, including the continuation and survival of the Lecture.
Finally there is John's reflection on how Nottingham University has turned out 100 years after the 1921 Dinner Party. The written record now published in this book is both a history of the development of a Lecture and a University, but also can be seen as a tribute to all the detailed research work by John Beckett over many years.
Paul Baker
This book is on sale for £5 and can be purchased by contacting Rob James by email: sales@thorotonsociety.org.uk
Reminder too that the Society has a number of excellent books for sale that can also be purchased from Rob James:
Church, Land and People: Essays presented to John Beckett. Volume 50 of the Record Series at £22 plus £4 post and packaging.
The Nottinghamshire Church Notes of Sir Stephen Glynne 1825-1874, edited by Lawrence Butler. Price £12+£3 post and packaging
Newstead Abbey: a Nottinghamshire Country House: its Owners and Architectural History 1540-1931, by Rosalys Coope and Pete Smith at £18 plus £4 postage and packing
Village Government and Taxation in Late Stuart Nottinghamshire: The Gedling 'Town Book' 1664-1714, edited by Edward White. At £5 plus£3 postage and packing.