Transactions of the Thoroton Society of Nottinghamshire, Volume 100 (1996)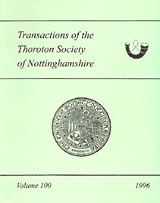 'A very old and crasey house': the Old White Hart Inn, Newark, Nottinghamshire by John Samuels, F.W.B. Charles, Adrian Henstock and Philip Siddall.
The thirteenth century west front of Newstead Priory, Nottinghamshire by Jennifer S. Alexander.
A case of patronage deferred: the chancel of Bunny church, Nottinghamshire and its patrons by Jennifer S. Alexander.
A Nottinghamshire village in the Jacobean period: the East Bridgford maps of 1612-14 by Kenryo Ashikaga with Adrian Henstock.
The Nottinghamshire History Lecture, 1996: 'Truth is a thing desirable': propaganda and Nottinghamshire during the English Civil War by Angela Brown.
Two military account books for the Civil War in Nottinghamshire by Martyn Bennett, Stuart Jennings and Martin Whyld.
The early eighteenth century landscape gardens of Worksop Manor, Nottinghamshire by Virginia Baddeley.
Leenside: the churches and a nineteenth century Nottingham slum. by E. Peter Bailey.
Shorter reports
Highlights from Trent & Peak Archaeological Trust by Daryl Garton and Gavin Kinsley.
Excavations on an Iron Age and Romano-British settlement near Gonalston, Nottinghamshire by Lee Elliott and David Knight.
A Romano-British duck beaker from Red Hill, Ratcliffe-on-Soar, Nottinghamshire by R.S. Leary.
A 'porcupine' sceat from Adbolton deserted medieval village, Nottinghamshire by Lee Elliott.
Excavations on the site of the Minster Chambers, Southwell, Nottinghamshire by Lee Elliott.
Ordering Transactions
Please see the Ordering Thoroton Society publications page for information on purchasing copies of the Transactions.