Transactions of the Thoroton Society, vol 113 (2009)
Editors' Notes
Victoria County History (VCH) Nottinghamshire
As John Beckett's article in this volume of Transactions shows, the VCH was active in Nottinghamshire before the first World War and had close links to the Thoroton Society. It has not progressed since that time, despite a number of efforts to revive work between the 1950s and 1970s. Now, Nottinghamshire County Council has made available some funds for 2009-11 to start work on the topographical volumes, left incomplete in 1914. It has asked Philip Riden, a native of the county and currently the VCH Derbyshire county editor, to work with volunteers in Nottinghamshire for one day a week so that local studies can be prepared. Initially these are likely to be published in digital format, but it is hoped that sufficient enthusiasm will be roused for work to go forward at a level which will secure future funding and widen the range of parishes being studied. For more information, contact Mr Riden at philip.riden@nottingham.ac.uk or on 01246 554026. This is an opportune time for work in the county given that the Chair of our Council is currently the national Director of the VCH.
Local History in Nottinghamshire
The Society's Council has been concerned that with the effective collapse of local history courses in the county, delivered through the University of Nottingham's Continuing Education department and the WEA, the opportunities for studying the subject have been severely curtailed. Together with the Nottinghamshire Local History Association, the Council commissioned the well known local historian (and member of the Thoroton Society) Sue Clayton to have a look at what is on offer, what demand there is, and whether Thoroton and NLHA should seek somehow to fill the gap. At the time of writing the survey is still ongoing, and the Council has not yet considered the findings or the recommendations, but this is clearly an area of concern to us all. The retirement of Dr David Marcombe from the University of Nottingham in September 2009, and the subsequent decision of the School of Education to close down much of the work he had been undertaking (the certificate courses and so on), has left a significant hole which we may no longer be able to rely on public funding to fill.

The John Player and Sons Advertising Archive
Nottingham City Museums and Galleries and the University of Nottingham have embarked on a Knowledge Transfer Partnership to develop and document the John Player and Sons Advertising Archive. This is one of the first Knowledge Transfer Partnerships to be undertaken within the museums sector. The John Player's Advertising Archive consists of over 20,000 objects from the company's history, dating from the 1890s to the 1980s and including original posters, counter cards, packaging, tin and enamel signs, photographs and company literature. The project will document each item in the archive and improve accessibility, including making material available online. This redeveloped resource will allow both academic researchers and the interested public - in particular the many Nottingham communities who have a personal link with Player's - to explore the archive. The team will work with the local community, particularly former employees of Player's, throughout 2010 and 2011 to help shed light on the stories behind many of the items in the collection. The project will also seek to draw on the expertise of those working with other relevant collections in Nottingham, in particular Nottinghamshire Archives and Nottingham's Local Studies Library at Angel Row. Once documented, the material will be used in exhibitions at the Museum of Nottingham Life and Nottingham Castle Museum. Research into not only the company and its relationship to Nottingham, but also the nature of advertising through the twentieth century will provide both Nottingham City Museums and the University with resources for students and the public. Evocative images such as the John Player's Navy Cut sailor, the "Player's Please' slogan and the John Player Special colour-scheme (which adorned the Lotus Formula One cars throughout the 1970s and 1980s) make this archive a fascinating and important resource for the city and its people. Over the next two years various public events will take place to assist in the development of the archive, followed by a touring Player's exhibition in 2011. If you have any information that you think may be helpful, please contact Andy Newnham by email andrew.newnham@nottinghamcity.gov.uk, by telephone on 0115 9153602 or by post: Andy Newnham, Museum of Nottingham Life at Brewhouse Yard, Castle Boulevard, Nottingham NG7 1FB.
Nottinghamshire County Council, Libraries Archives and Information Recent Publications
The publications programme aims to promote the local history and heritage of Nottinghamshire and in particular the resources of the Library and Archive Service. It seeks to identify and extend the range of published material and produce a small number of high quality publications a year which are commercially viable and have popular appeal. Recent publications have included Turning Back the Pages on Ravenshead by Philip Jones (£3.95): These Uncertaine Tymes, Newark and the Civilian Experience of the Civil Wars, 1640-1660 by Stuart Jennings (£6.95); and In Grandmother Gell's Kitchen, A selection of recipes used in the Eighteenth Century edited by Carol Barstow (£5.95). Publications can be obtained from Nottinghamshire Archives, major libraries or by post from Libraries, Archives and Information, 4th floor, County Hall, West Bridgford, Nottingham NG2 7QP (please add £3.00 for postage and packing).
Archaeology - Climate Change
As your archaeology editor writes these words in early January the thick snow on the ground outside the office window, and television news reports of blizzards, ice and treacherous roads, might cause a thinking observer to wonder if all of the brouhaha about global warming, particularly as evidenced at the recent Copenhagen climate conference (en.copl5.dk/) could possibly be true. It is important to keep in mind the distinction between weather (those vagaries of rain, wind and occasional snow that we experience from day to day) and climate (the gradual trends in wind, rainfall and temperature that are measured and judged over generations). So although it may snow today and the freeze is the greatest affecting the UK for thirty years, the globe is still warming! The theme of climate change is particularly pertinent this year as 2009 saw the (somewhat delayed) release of the government's climate forecasts for the next 100 years in the form of the UK Climate Projections 09 report. What then does future climate change have in store for Nottinghamshire? Taking the medium emissions scenario (that is assuming the human race cleans up its polluting act to some degree) by 2050 we can expect the summer temperature to have increased by two to three degrees centigrade, summer rainfall to be up to 30% less and winter rainfall (which might well include snow) up to 30% more (ukclimateprojections.defra.gov.uk/content/view/2166/528). This may sound like little change, but we should recall that a mean winter temperature of between one and two degrees centigrade colder than present characterised the Little Ice Age of the 17th to 19th century. Archaeological evidence tells us that such past episodes of climate change were marked by times of great instability in weather (floods, blizzards, gales - it all begins to sound familiar). You might well ask how this affects us as archaeologists and historians. The answer is to a considerable degree, as we have just recently begun to comprehend the extent to which actual climate change and the impact of human adaptation to that change will affect cultural heritage. The Council for British Archaeology hosted a fascinating workshop 'A New Climate for Heritage? Tackling climate change impacts on the East Midlands historic environment' in July at the Bolero Suite, Nottingham Arena. Interested readers will find details of the workshop and the papers given on the CBA's web site at www.britarch.ac.uk/conservation/climate/workshop. One outcome was a matrix of possible impacts of future climate change on heritage which includes both direct impacts (flooding affecting historic buildings in low-lying areas) and indirect affects (the need for air-conditioning or climate control systems in historic buildings). Overall, this makes sobering reading for anyone concerned with cultural heritage. The seriousness with which the impact of future climate change on heritage is being taken can be judged from the recent Arts and Humanities Research Council decision to spend a significant part of their scarce research funding on this theme. As archaeologists, we should always take the long view; the human race has weathered the experience of great climate change in the past, has adapted and survived. Paul Pettitt's paper on the Palaeolithic of Church Hole Cave, Creswell, in this volume provides ample evidence of this.
Economic Change
Turning to change of a different sort, Malcolm Dolby and Daryl Garton's excellent report on the excavation of a Romano-British coin hoard from Little Morton, near Babworth, provides evidence for one past response to a changing economy. Economic uncertainty has been close to our hearts as archaeologists over the past year. In the last volume, the impact of the global recession on archaeology was reported. Over the past year, the Institute for Archaeology (which has closely monitored the situation), reports that 400 archaeological jobs have been lost, following the collapse of the U.K. housing market in autumn 2008. However, the figure stabilised in the three months to July 2009, and a modest increase in the numbers of individuals working as archaeologists has taken place over the three months to October 2009. Much of that increase has been related to large infrastructure projects such as road building (for example, Cotswold Archaeology and Wessex Archaeology have employed significant numbers of new staff on the A46 south of Newark). It is uncertain what will happen when these projects come to an end and many organisations fear further job-losses or failure in 2010, with field staff the most threatened.
Recent Publications
Graeme Guilbert has recently published a report on his excavation of a Neolithic ring-ditch at Holme Pierrepont, Great Briggs Excavation of a Neolithic Ring-Ditch on the Trent Gravels at Holme Pierrepont, Nottinghamshire. BAR 489, 2009. Great Briggs is particularly dear to the heart of your archaeology editor, as it was there, rattling along a quarry road in the back of a transit van, that he entered the world of 'professional' archaeology.
Roger Jacobi
It is with great sadness that we note the death of Roger Jacobi. Roger was for some years a lecturer in the Department of Archaeology at Nottingham University and was the outstanding Palaeolithic archaeologist of his generation. He made significant contributions to the Palaeolithic archaeology of Nottinghamshire, with work at Farndon (Daryl Garton and Roger M Jacobi, 'An extensive Later Upper Palaeolithic flint-scatter at Farndon Fields, near Newark, Nottinghamshire', Archaeological Journal, 166, [2010]) and at Creswell (with Paul Pettitt; their recent work is reported in this volume). Paul has been kind enough to write an appreciation of Roger, which is printed below. It is fitting that the Transactions should recall Roger's outstanding contribution to a field where, as another distinguished Nottingham scholar once commented, the evidence is sparse, but the quality of thinking exceptional.
Roger Jacobi: An appreciation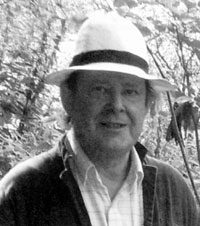 Roger Jacobi was the greatest expert on the British Middle and Upper Palaeolithic that ever lived. When I first became aware of his work in 1988 during prehistory tutorials with Lawrence Barfield (who also, sadly, passed away last year), he seemed to me the distant luminary, one of the last great antiquarians who could justifiably claim to have held just about every artefact from the British Upper Palaeolithic. I use the term 'antiquarian' with its positive connotations; how many scholars these days have forsaken the intimate acquaintance with the artefacts and sites that comprise the bread and butter of their discipline, for the fashionable flummery of theory and posture? Not Roger. Little did I know, as I eagerly digested his 1980 classic 'The Upper Palaeolithic of Britain with special reference to Wales', which really became the benchmark for the period, that I would one day excavate and write with Roger, and that we would become firm friends. All of this was an immense privilege, and damned good fun.
Working with Roger was always entertaining and, of course, informative. A few years ago a number of us assembled at Franks House, The British Museum, for a celebratory lunch nearby in honour of Roger's sixtieth birthday. I was lucky enough to sit next to him, and the following few hours summed up, I think it is fair to say, the 'Roger experience' many of us cherished - several glasses of good wine with pleasant conversation about the Palaeolithic. Although having held positions at the universities of Lancaster and Nottingham, he was in recent years based at The British Museum in his role as a principal researcher on the 'Ancient Human Occupation of Britain' project. His meticulously ordered desk at Franks House was a familiar sight to many specialists and symbolic of Roger's ordered and analytical mind. Dozens of flint and other artefacts were always laid out upon it - whichever site Roger was currently working on - and he always had something of interest to show us all when we passed. He applied his meticulous analyses to breathe fresh life into a number of old collections from important sites, notably the Early Upper Palaeolithic site of Beedings (Sussex); the Late Upper Palaeolithic site of Gough's Cave in Cheddar Gorge; Kent's Cavern, Devon; the caves of Creswell Crags; Oldbury in Kent, and the Late Upper Palaeolithic open sites of Nottinghamshire including Farndon Fields on which he only recently penned a paper with Daryl Garton. Not that his expertise ended with lithics; he could identify to taxon the smallest fragments of fauna, and his attempts to pass on some of that skill to me, either at Creswell or in the reference collections at the Natural History Museum (another of his familiar haunts), often passed over my head.
Roger was far from desk-based however. He would fly around the country to museums and sites old and new; some of his favourites such as Victoria Cave were in the Settle area where he would stay with his old friend Tom Lord; in and around Cheddar in Somerset where he became acquainted with Margaret Chapman and conducted fieldwork in the Hyaena Den at Wookey; to Creswell, and to the Lower Palaeolithic sites dug by colleagues in East Anglia. Creswell was a particular favourite, and Roger's association with it stretches back several decades. He knew the caves and the sediments as intimately as the artefacts that he has so assiduously published, and we spent hours poring over the Late Upper Palaeolithic engravings on the walls of Church Hole and Robin Hood Cave. He played a central role in our excavations outside Church Hole cave at Creswell, where he struck a charismatic figure in his blue overalls and Panama hat, in his element, identifying every scrap of tooth, bone and stone before an audience of delighted students and colleagues.
I have never visited a single museum that did not have Roger's meticulous notes tucked away with the artefacts; his knowledge and memory (and index card system) were legendary. He knew every archive, and many descendents of the amateurs and professionals who conducted early excavations at major British sites. He was open and generous with that knowledge; it would be a rare Palaeolithic archaeologist in this country who did not owe him some debt. As a critic he was firm, but fair and encouraging; if he held opposing views it was as a gentleman and he was always happy to be proven wrong (though he rarely was).
Roger developed with Andy Currant of the Natural History Museum a mammalian biostratigraphy for the British Isles. This took meticulous work over the best part of two decades, and has justifiably become a benchmark of faunal change over some 100,000 years of time, and an immensely useful tool for palaeontologists and archaeologists. He has been central to the dating of the Red Lady of Paviland, to the understanding of Early Upper Palaeolithic leafpoints and their relevance to Neanderthal extinction, and, perhaps most of all, to the Late Upper Palaeolithic settlement of Britain. Perhaps Roger's most enduring and productive association was with the Oxford Radiocarbon Accelerator Unit and its four archaeologists, John Gowlett, Rupert Housley, myself, and (currently) Tom Higham. From the inception of the unit in the 1980s, Roger single-handedly developed a precise chronology for the late Middle Palaeolithic and Upper Palaeolithic of Britain. In later years, with Tom, he branched out onto the continent to refine our understanding of the chronology of the Middle-Upper Palaeolithic transition. He was avidly working on these projects right up to the end.
I shudder to think how many times Roger has been acknowledged in the publications of academics. Many of Roger's papers are now classics. Some he has updated over the years, others are destined to remain perennially useful. For me, 'The Upper Palaeolithic of Britain with special reference to Wales', 'The Creswellian, Creswell, and Cheddar', 'Some observations on the British Earlier Upper Palaeolithic', and his definitive studies of assemblages from Gough's Cave, Beedings and Creswell stand out. There will be nothing like this again.
Paul Pettitt, Department of Archaeology, University of Sheffield.